Leadership Lesson Plans and Tools
Get quality leadership lesson plans, activities, exercises, and inspirational stories and anecdotes, all at no cost.
Receive Free Leadership Tools and Resources!
The purpose of this summary is simply to ensure that you fully understand the value of what the Leadership Tools Monthly News newsletter provides.
In this sample issue we introduce you to the format of the Leadership Tools Monthly News
Take a moment to review the various sections where we will provide quality leadership lesson plans and other valuable leadership content. High-value content is at the heart of our newsletter.
Once you become familiar with the purpose and format of each section, you will have the information necessary to realize the full benefits of our free monthly newsletter.
We are confident that you will soon look forward to receiving each edition, complete with our newest leadership lesson plans, tools and resources.
Section One - Introduction:
The first section of the newsletter provides a brief description of the Leadership Tools Monthly News e-zine.
The leadership information provided here is to educate new subscribers about the quality of our leadership lesson plans, as well as detail the many extras provided in our newsletter. The text reads something like this:
Welcome to Leadership Tools Monthly News
Providing leadership lesson plans with original content on key leadership topics including:
Business Planning
Leadership Development
Sales Management
Customer Service
Team Building
Delivering leadership lesson plans with fresh ideas, results-focused tools and resources – to assist leaders in achieving THE TRIPLE WIN.
The Triple Win consists of creating and supporting a work environment where:
Win #1 – Employees are positively engaged and feel highly valued.
Win #2 – Customers are consistently satisfied and remain loyal.
Win #3 – Owners/shareholders
realize optimum returns on investment with continual improvement quarter-to-quarter and year-over-year.
Section Two - Table of Contents (TOC)
Here we provide a quick glance into our newest leadership tools, activities and lesson plans - and other high-quality content that is about to be unveiled.
Each section of the TOC has a recurring title - to provide a consistent framework for our newsletter.
Each section is included to serve a specific purpose. The purpose of each section reflects the needs and feedback shared by regular visitors to our web site.
You will notice that we 'sprinkle' selective leadership quotes throughout the publication to support our leadership development tools, key learning statements and thoughtful recommendations.
The TOC reads something like this:
T A B L E O F C O N T E N T S
Site News - Headline seen here along with brief description.
Lessons-in-Leadership - Headline seen here along with brief description.
Meeting for Results - Headline seen here along with brief description.
Reader Meter - Headline seen here along with brief description.
Next we take each section included in the TOC and explain in greater detail what you, our valued reader, can expect each month in terms of quality and high-value content.
Section Three - Site News
This section is where we provide updates on any changes or additions made to our website.
For example, when we add a new link to an outstanding article that highlights original leadership lesson plans, we will mention the update here.
Whenever we add a brand new page on a leadership training subject, we will notify our readers here - as well as on our daily BLOG.
Bottom line, the Site News section is where we will provide any information related to updates to our web site.
Section Four - Lessons-in-Leadership
Here we provide commentary on a select leadership topic. The leadership lesson plans and stories shared here are meant to be thought-provoking, inspirational, motivational and provide a sense of purpose to our readers.
Commentary for our leadership articles highlight current events and situations that provide key learnings for leaders who aspire to continually grow and develop.
Leadership lesson plans can easily be shared and utilized with your own team members, adding greater credibility to you as a leader in the eyes of your team members.
Becoming a strong leader does not happen overnight. Leadership skills are not developed simply by attending a one-day course on the subject of leadership. Nor is leadership an ability that is gifted only to a fortunate few by means of genetic code.
Leadership is a skill that is developed over time, and when used effectively in key situations can make the difference between winning and losing, success or failure, and even life or death.
The Lessons in Leadership section is focused on providing leadership tools and resources for your continual leadership development.
Section Five - Meeting for Results
This section highlights leadership lesson plans/activities/workshops/exercises that a leader can use successfully at a staff meeting, sales meeting, group presentation, etc.
A strong leader recognizes that he or she is always 'on stage' in the eyes of their team.
Staff meetings provide a key opportunity to utilize our best-in-class tools to set and re-enforce expectations, recognize performance and address key issues.
The Meeting for Results section is dedicated to supporting leaders with quality leadership lesson plans, high quality tools and resources that will ensure their team remains focused on achieving results to maximize profitability and ensure quality growth.
Section Six - Reader Meter
This section is based solely on the feedback and suggestions of our readers. As all good leaders do, we are continually assessing the quality of our leadership lesson plans, tools and resources. We are committed to meeting the needs of our customers.
Whether you have positive or not-so-positive feedback regarding any of our leadership activities, stories, tools, workshops or other - we want to hear from you.
Did you find value in one of our leadership lesson plans? Are you willing to provide a testimonial? If so, Contact Us with your feedback.
The Reader Meter is where we share the thoughts of our readers. Here we celebrate our successes and we are committed to quickly addressing any area where improvement is needed.
Haven't subscribed yet? Take action now and receive immediate access to all of our free leadership tools and resources. Subscribe For FREE
Receive Free Gift!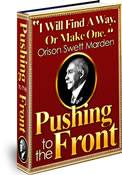 This is a wonderful book that you will never forget. Packed full of valuable leadership and life lessons. A timeless, century-old self-help classic that you will wish you had read years ago. The ebook is our gift to you as a valued reader.
(click on image)

"This website has improved my confidence and helped to promote my team building skills among my team members. I look forward to reading each edition of your free monthly newsletter."
- John Paulson