Orison Swett Marden Chapter22
CHAPTER XXII
OUTWARD BOUND
In "The Hobbies of Famous Men and Women," a series of articles which appeared in the New York Evening World, in 1923, Louis M. Notkin said: "Some people make their life work their hobby, while others make their hobby their life work. Doctor Marden belongs to the former class.
"Surely God would not have created such a being as man,
with an ability to grasp the infinite, to exist only for a day!
No, no, man was made for immortality." - Lincoln
Marden expresses this idea somewhat differently: 'I would say that my avocation has been identical with my vocation,' he said to me. 'There is nothing I like to do quite so much as writing. I have used the dictaphone for many years, and seldom dictate less than from three to four thousand words a day. I am never quite so happy as when I am creating something which may encourage and inspire those who are in need of such help. I have never played golf or any of the other games so popular with many men. But I have always been in love with my work. Nothing else gives me quite the same pleasure or satisfaction.'"
By whatever name it may be called, "hobby" or "avocation," there was one thing outside his vocation which had become a pet interest with Doctor Marden — the Aldine Club. This well-known New York club, at the corner of Fifth Avenue and Twenty-Third Street, comprises in its membership a large number of men allied with the publishing industries. Of its three honorary members, Doctor Marden was one, the other two being Theodore Roosevelt and Lyman Abbott.
From the time he became a member of the club Marden worked for its success as if it were a purely personal concern. His long experience in the hotel business fitted him in a peculiar way to give it invaluable help at a time when its finances and waning membership sorely needed such help.
The present large membership, prosperity and high standing of the club are due in no small part to his efforts. As Chairman of the House Committee and President, for seven years, he was instrumental in raising it to a high level of efficiency and popularity.
Although he was a member of the New Hampshire Society, the New England Society, the Social Science Club, and other organizations, the Aldine Club got most of the time that could be spared from his editorial work.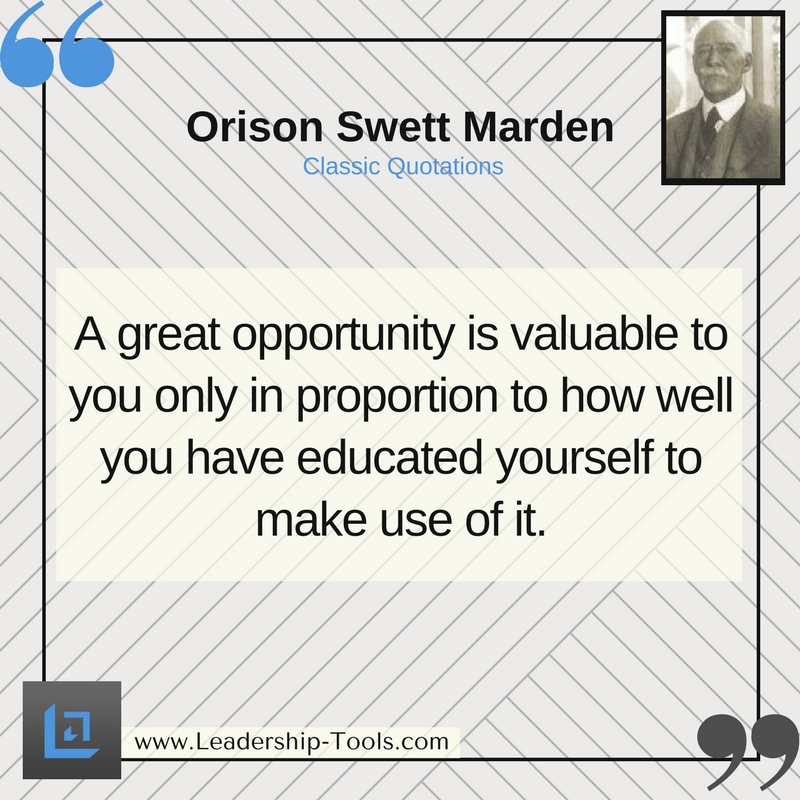 After the United States entered the World War, he was active in securing for the club prominent speakers from every country in Europe, whose sympathies were with the Allies.
On all such occasions the club was thrown open to the public; and its President, acting as Chairman, introduced the speakers and did everything in his power to promote the cause for which the whole country was then feverishly working. Those meetings over which he so happily presided were always crowded and among the most enthusiastic and successful of their kind.
When prior to his departure for California, perhaps through some premonition that after all he might not return, he insisted on resigning from its presidency, the Aldine Club gave a historic reception in his honor. As a token of their affection and esteem, his associates presented him with a purse of gold and an illuminated testimonial, bound in crushed Morocco, containing the following engrossed resolutions:
"No man is the puppet of a blind fate or destiny. However poor is conditions, or however handicapped he may be, he has that in him which makes him master of own destiny."
"The members of the Aldine Club herein gratefully record their appreciation of the self-sacrificing service so long and faithfully rendered by Orison Swett Marden in various capacities and for many years as President of this Club.
While his vocation has been in fields of wider usefulness, his avocation has been the Aldine Club.
Since its days of financial adversity and heavy liabilities, — in which he was one of those who shared a personal risk, — the Club has emerged to a condition of prosperity, thanks also to the cooperation of its officers past and present, during his administration.
It is a wholesome thing, viewing his long, brave labors for the spread of higher ideals in this materialistic day, for us to unite in tribute to this gentle, unassuming, democratic spirit, and to the principles and precepts with which his life has been so well squared.
Elder brother of the discouraged, his books have carried uplift and hope in many languages and to many lands. The Aldine Club trusts that it may long retain in its membership, as one of its valued assets, the influence and the prestige of Orison Swett Marden. The hopes of the Aldine, the prayers of friends and members of the Success staff who looked forward to the restoration of his health and his return to New York within a few months, were doomed to speedy disappointment.
From the beginning of his leave, the first reports from California were discouraging, and soon became alarming. Doctor Marden was in his seventy-fourth year. He had led a strenuous life of unremitting work, with very few vacations.
Although his iron will triumphed over Nature for a time and kept him at his desk, he was in the last stage of exhaustion when he started on his long journey across the continent. Scarcely had he arrived in Los Angeles when the reaction set in. He was taken suddenly ill and had to be moved to the Clara Barton Hospital.
"Life will yield its own to each, just in proportion to the degree of his faith in himself, and the insistence with which he claims his own, and works for it!"
There, in an effort to save his life, operations were performed, but without avail. He lingered in full consciousness for a few weeks longer, but even that indomitable will, which had so long propped up his failing body - was powerless to make it respond. Its vitality had been drained to the vanishing point.
Previous to the operations there had been letters, showing the editor's old-time interest in his magazine. Afterwards, daily telegrams from Mrs. Marden, who was constantly at her husband's bedside, kept the Success headquarters in New York in touch with him. For a short time, the tone of the daily message fluctuated. Some days there would be a note of hope, which the next day's message crushed, until the final telegram of Monday, March 10, 1924, announcing that the end had come at 2:10 that morning.
Although the waiting Success staff thought they were prepared for the worst, they found, when it really came, that they were not. Unconsciously they had been hoping. Their chief had so often triumphed where everyone else saw only failure, — his indomitable courage had carried him over so many mountains that stood between him and his desires, — who could tell that in this struggle with Death he might not yet be the victor!
Great was the shock when they were summoned to hear the last telegram read. Gathered together in the big, sunny editorial room, untouched since his departure, so full of his presence, they mourned their beloved leader.
Later, when the telegraph wires flashed the announcement to the four points of the compass, the press of the country paid tribute to the personality and work of the author and editor whose life had been spent in the service of humanity.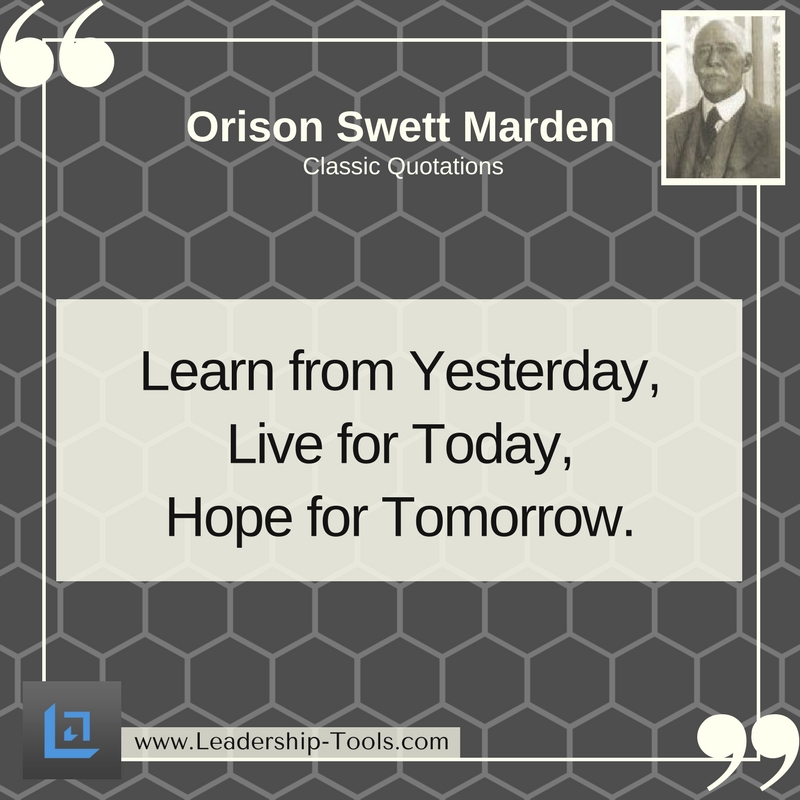 The following, from the Chicago Evening Post, entitled "The Passing of an Optimist," one of the shortest of these editorials, is typical of the sentiments expressed by all of them:
Word comes from California of the death of Orison Swett Marden, a man whose name is known and loved by many an American to whom came the first clear vision of the value of character and the worth of hard work from Doctor Marden's writings.

He was an optimist of the true type; that is to say, he believed thoroughly in the inherent good of human nature and in the beneficial purpose of the universe. It was his faith that the man who sought the best earnestly and honestly would find the universe on his side.

Doctor Marden was a prolific author. Since 1897 a book has flowed from his pen with each succeeding year, and always it carried a message of hope and inspiration.

With short cuts to achievement he had no patience; nor did he estimate success purely in terms of dollars. That a just measure of material good would come to the man who followed sound principles of living, who wisely employed his abilities, and merited the confidence of his fellows, he rightly believed; but the making of manhood, clean, intelligent, high-idealed was the chief aim he sought and urged upon others.

He was the friend of young men and of boys; he took a deep and helpful interest in the fellow who had made a misstep. His influence reached into many a strange quarter. It started the man in the penitentiary cell on the way to better things, and snatched many lives from the verge of suicide.

In 1897 he launched a magazine, to which he gave the name Success, and which survives him to continue the advocacy of his sunny gospel. In all that enters into strong, lovable, helpful character he was, himself, a success.

He practiced what he preached. We have plenty of scoffers and cynics today; plenty of writers who have abandoned faith in the finer possibilities of human nature, — so many, in fact, that the passing of an optimist is an event worthy of note and evoking sincere regret.
On Thursday, March 13, 1924, at half-past three o'clock in the afternoon, the funeral services were held in Los Angeles, on the Pacific Coast. On the same day, at the same hour, Eastern friends of Doctor Marden assembled for a memorial ceremony on the opposite side of the continent. There, in Unity Church, New York, the members and officers of the Success organization, with representative men and women from every section of the country, gathered to pay their last tribute to the man they had known and loved in life.
Sun Parlor, Glen Cove, Long Island
Where Dr. Marden did much of his writing.
Among those who felt his passing most keenly, and who cherish as one of their most precious recollections the memory of his last visit to them, after the reception given him at the Aldine Club, are his friends from Czecho-Slovakia, Dr. Hermann Wetche, a physician, and his wife, Madame L. V. Wetche, a pianist of distinction.
Both had been readers of the Marden books in their homeland, and loved their author long before they met him when they came to New York to live.
With tears in her eyes, and a tremor in her voice, Madame Wetche told the writer of his visits to their home, especially during the absence of his wife and children in California. "How I wish I could recall more exactly," she said, "the delightful, witty, often very touching and invariably most interesting chats, we enjoyed with him as we sat around our little table. And when he would receive one of the sweet childish letters from his beloved Baby Laura, with what delight the happy father would produce it and how he would chuckle as he read its quaint, funny sentences to us."
"And how thoughtful he was! If we only happened to mention that a certain vegetable was good, or that we liked it, the next day probably, our generous friend would come with his satchel loaded with it, fresh from his garden."
'Some of my jewels,' he would remark, with that merry twinkle in his eye, as he would take the vegetables from his satchel, where they lay beside his real jewels, — his manuscripts, some of which were probably written on the train."
"The last time our beloved friend came to see us, he had, as he called it, his 'bag of gold' with him — the gift of gold which had been presented to him by the Aldine Club in recognition of his long and valuable services. Like a pleased and proud boy, he made each of us hold it, 'to feel how heavy it was.'"
"His was a golden heart, ever ready to find good in every one. He deserved his ideal family, and also the gratitude of the entire world, where his books will ever live to help and cheer us on and upward."

Chapter Links: The Life Story of Orison Swett Marden
Prior Chapter
» Chapter Twenty-One - A New Friend And A New "Success"
Next Chapters
» Chapter Twenty-Three - The Message Of His Writings
» Chapter Twenty-Four - His Views On Religion
"Set your sights high, the higher the better. Expect the most wonderful things to happen, not in the future but right now. Realize that nothing is too good. Allow absolutely nothing to hamper you or hold you up in any way."