Hello,


New Leadership eCards
In this edition, we are pleased to announce our brand new collection of leadership ecards. Effective leaders understand that a small gesture can make a positive impact on your team. Sending a quick ecard along with a thoughtful message goes a long way toward securing the trust and loyalty of your team members.
Additionally, we are excited to share our official Leadership-Tools t-shirt, and our unique approach to creating products that leaders will enjoy. We'd like your ideas about other designs for leadership swag.
Additional details are provided below, so let's get started...



Site News

Reminder: Free Tools Password
Join Us On Social
Leadership Tools & Resources
Reader Feedback

Free Tools Password Reminder
Don't forget the password to the Free Tools Download Page.
The current password is... SUCCESS (all uppercase)
Due to security concerns, we may change the password on occasion. We announce password changes in this newsletter.
---
Join Us on Social
Receive updates in real time. Follow us on your favorite social platform.


Facebook Twitter Google Plus Instagram
Pinterest YouTube

New Collection: Free Leadership eCards
Why are ecards so valuable to a leader?
Leaders are do'ers. They are continually running from one task to the next and it's easy to forget to take time to reward and recognize team members.
Whether you are in a management role or not, our leadership ecards provide a quick and easy tool that you can use to quickly recognize people for their important contributions.
The image below shows a sample of our new ecards that are now available. To view the entire collection, go to Leadership eCards.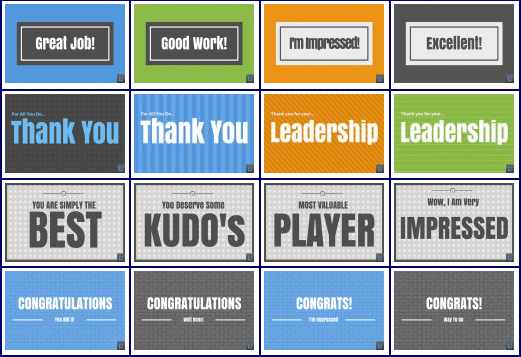 Our ecard system allows you to add music to your ecard, but most importantly we provide space for you to add a thoughtful (and therefore meaningful) personalized message.

The real power behind sending an ecard is not the ecard itself, but rather the message you choose to communicate - so take some time to make your message meaningful.

While our ecards were designed to address many occasions, it's your message that will ultimately stick in the mind of the recipient.

Yes, it's your personalized message that provides the real magic, and it's free!

We encourage you to send an ecard right now. Consider the following questions for ideas on who might be worthy of recognition:
Who is your top performer?
Who is your most consistent contributor?
Who do you believe is your most effective leader?
Do you have a new team member to welcome?
Who impresses you the most?
Who is having a birthday or employment anniversary?
Is someone retiring soon, or being promoted to a new position?
Who can benefit from a little extra encouragement?
These are just a few occasions where our leadership ecards can provide value.
Think about the various projects and activities that are currently happening in your place of business and you are sure to identify additional opportunities to recognize others.
Take time today to demonstrate to your team members that you understand how hard they work, and that you truly appreciate them for their many important contributions.
Be that leader who is known for "leading from the heart" by consistently lifting people up and being a supportive force in the workplace.
A simple activity like sending an ecard with a thoughtful message goes a long way toward earning the support and respect of your team.



Leadership T-Shirts

We are pleased to announce our official Leadership-Tools t-shirt.
This is just one of several new products we are working on to enhance the quality of gift ideas available at our Leadership Gift Store page.
Over time we will work to provide gift ideas and swag that are unique and fun. In addition, we want to create products that will help you and your team to remain focused on your goals and to continually strive for self-improvement and leadership development.
In our research, we've learned that intuitive leaders won't wear or display a product that screams, "I AM A GREAT LEADER!".
Makes sense, right? After all, who wants to be that person? How many true leaders do you know that would ever make a point of telling other people that they're a leader?
In fact, you'll know you are a good leader only when other people start calling you their leader, not when you start telling them.
Keeping this in mind as we create new gift ideas our goal is to offer products that use designs that are attractive, unique and fun; designs that you will be proud to wear; designs that mean something important to you, but may or may not display an obvious message to someone else.
This was the approach we took in creating our official Leadership-Tools.com t-shirt. Rather than display the name of our website; which would be self-serving and probably not attract that much interest from our visitors, we opted to only use our logo in an attractive, yet simple and non-descriptive manner.
As a subscriber or visitor to our website, you recognize the Leadership-Tools logo, but others will simply see a unique and attractive design.
It is our hope that you will wear the t-shirt proudly understanding that our mission is to inspire, motivate and support you with affordable and high-quality leadership tools and resources.
Even more importantly, we want you to wear the t-shirt feeling empowered by the knowledge that you are working to improve yourself and enhance your ability to effectively lead and serve others.
Additional t-shirt designs will be coming soon. Got a great idea for a new leadership t-shirt design? Share it here.
T-Shirts are sized for Men and Women, and are available in a variety of colors. Check it out at our Leadership Gift Store.




Here's a small sample of our latest collection of reader feedback...
"Site is above average. Lots of healthful information."
Miriam Monzon
"Information provided is exceedingly above expectations. Thank You!"
Lindiwe Thete
"Excellent. Love the site!"
John Smith
Montreal, Quebec
Let us know what you think, and better yet, tell us what you need.
---
Have A Hobby or Special Interest?
Why Not Earn Income From It?
This is where our Leadership-Tools.com journey began.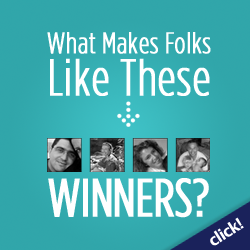 ---
Contact Information
For more information, free tools, quotes, articles, tips, book reviews and other high-quality resources, check out our entire web site at: Leadership-Tools.com
---



All reprints of our articles or blog entries must not be altered; must be printed in whole, and must place the following credit line with a working link back to our site:
"Information contained herein is used by permission only and is the property of Leadership-Tools.com
Copyright © and Trademark ™ 2003 - 2017, Leadership-Tools.com