Hello,


Leadership Speeches,
Interviews and Courses
to Develop Your Team
Are you interested in obtaining free leadership speeches and world-class courses that you can use to further develop leadership qualities in yourself and for members of your team?
In our last edition we shared ideas on how to use short video clips to help strengthen your leadership messages and add fun to your meetings.
In this edition, we'll take a similar approach for helping you to develop your team using leadership speeches, interviews and courses.
Plus, since the holidays are fast approaching we've got some great ideas for leadership gifts!
As promised, we're now making Volume Three in our Leadership Series for Successful Living program available to all subscribers... keep reading for details.
So let's get started... here's what this edition of The Leadership-Tools Newsletter will cover...



Site News

Reminder: Free Tools Password
Join Us On Social
New Mobile-Ready Design
Leadership Tools & Resources

Leadership Development
Free Online Speeches & Courses
New Leadership Gift Store
Share Your Gift Ideas
More THANK YOU Gifts

Leadership Series for Successful Living
Download Volume One: Ambition
Download Volume Two: Character
Download Volume Three: Hour of Opportunity
Volumes 4-5 Coming Soon
Reader Feedback

Your Comments/Questions/Suggestions
Note: This is the last in our series of three weekly newsletters to catch you up on what's new and improved on our website. Going forward, new editions will be published monthly, or as we deem appropriate to ensure we make the best use of your time.

Free Tools Password Reminder
Don't forget the password to the Free Tools Download Page.
The current password is... SUCCESS (all uppercase)
(Due to security concerns, we may change the password on occasion. We announce password changes in this newsletter.)
---
Join Us on Social
We invite you to follow us on your favorite social platform.


Facebook Twitter Google Plus Instagram
Pinterest YouTube
---
New Mobile-Ready Design
Leadership-Tools.com has a brand new web design!
Update: We're past the half way point of updating all of the webpages for Book Reviews.
Once the Book Review section is completed, we'll focus our attention on updating each of our existing leadership tools. Our goal is make each page, and every free tool, even better.
We'll continue to update you on our progress in future newsletters.
Thank you for your patience as we continue work on converting old pages over to the new design.
See how our site has evolved over the years.




Leadership Development
(Interviews, Speeches, Courses)
As a subscriber to this newsletter, it's clear that you are interested in leadership development for yourself and your team. You understand that leadership training is not a one-time event, it's an on-going journey.

To further assist you we've completely revamped our Self Improvement page, and added several sections for the purpose of inspiring you to take action and continue in your leadership development efforts.

New sections include Daily Actions, Leadership Interviews, Speeches/Presentations, Workshops & Courses.

In the spirit of self improvement and ongoing leadership development, why not invite a world-class expert to address your staff at your next team meeting?

It's easy to do and it costs you nothing but a little time and effort. With minimal audio/visual support (laptop and a monitor or projector) you can introduce your team to some of the world's best leadership training.

We've hand-picked several great selections for your consideration. Choose just one or two and begin the process of familiarizing yourself with this type of learning opportunity.

Each speaker provides important "golden nuggets" of leadership advice that you can integrate into your own leadership style.

If you're like most leaders, you'll hear a story; an example or a lesson and for some reason that idea will resonate within you - it will STICK.

As you continue to seek out new leadership tools and resources, more stories, lessons and ideas will stick, and when they stick they become part of you.

Later, you'll find yourself telling a similar version of the same story, or you'll take that idea and apply it something else that you've experienced in your life - and then you'll share that message with others.

This is the process of leadership "development". No one simply becomes a great leader. Leadership is learned and developed over time.

The great news is that more than ever before, the available leadership resources are vast, growing and readily available. We'll continue to be on the lookout for more great content.

If you are aware of other available leadership videos that you think we should highlight, please let us know.



New Gift Store Ideas


We invite you to check out our newly refreshed Leadership Gift Store.

The purpose of the gift store is to provide readers with gift options that will appeal to you and members of your team.

We are still in the process of considering gift items to include in the Leadership Gift Store, and we'd love to hear your ideas.

For example, would you like us to offer gift products like T-Shirts, Mugs and Mousepads with leadership related quotes or sayings?

Leadership gifts should be unique, affordable and fun. The best gift is something that the receiver will view as thoughtful and of personal value.

Share your gift ideas here




For the first time in 10 years, we are providing FREE ACCESS to The Leadership Series for Successful Living, which is based on the works of Dr. Orison Swett Marden, known world-wide as The Father of the American Success Movement.

Each of the five volumes come with free copies of the Ebook, Audio Book and Companion Workbook.

As a subscriber you now have access to Volume One: Ambition, Volume Two: Character and Volume Three: Hour of Opportunity.

Using the password: thankyougifts

ACCESS VOLUMES 1,2 and 3

We will add Volumes 4-5 in future editions of this newsletter - so stay tuned!




Thanks so much to all who took the time to share feedback last week... here's just a few of the inspiring comments we received:
"Excellent! One stop website for all leadership training and information."
Dohadeva Samugam
Singapore
"I have been impacted by the materials from this site; and I have used them to impact others here in Uganda and East Africa "
Allan Shepherd, Central Uganda
"Excellent, I'm looking forward to learning and growing with your materials."
Russ Watson, Elk Grove, California
Please let us know what you think. What do you want to see more of, less of? What are the tools you need that we are missing?
---
Got A Hobby or Special Interest?
Why Not Earn Income From It?
This is where our Leadership-Tools.com journey began.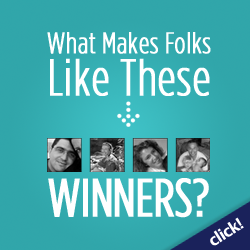 ---
Contact Information
For more information, free tools, quotes, articles, tips, book reviews and other high-quality resources, check out our entire web site at: Leadership-Tools.com
---



All reprints of our articles or blog entries must not be altered; must be printed in whole, and must place the following credit line with a working link back to our site:
"Information contained herein is used by permission only and is the property of Leadership-Tools.com
Copyright © and Trademark ™ 2003 - 2016, Leadership-Tools.com