Hello,


Leadership Goal Setting
Lead to Succeed in 2006!
---
LEADERSHIP TOOLS MONTHLY NEWS
Providing leadership tools with original content on key leadership topics including:
Business Planning
Leadership Development
Sales Management
Customer Service
Team Building
Delivering leadership strategies with fresh ideas, results-focused tools and resources to assist leaders in achieving THE TRIPLE WIN.
The Triple Win consists of creating and supporting a work environment where:

Win #1 Employees - are positively engaged and feel highly valued.
Win #2 Customers - are consistently "delighted" and remain loyal.
Win #3 Owners/shareholders - realize optimal return on investment with continual improvement quarter-to-quarter and year-over-year.
Remember, the Leadership Tools Monthly News is FREE, your information is always kept PRIVATE and we only publish the newsletter monthly. This ensures that you will receive quality tools and content without becoming overwhelmed with too many emails.
---
Volume IV - January, 2006 Issue
---
T A B L E O F C O N T E N T S
Lessons-in-Leadership

Leadership Goal Setting – Lead to Succeed in 2006!

Meeting for Results

Leadership Tools Library – What's Your Biggest Wish?


PLUS!.. Ordinary People Can Achieve Their Lofty Goals
Excellent 2006 Weekly Goal Setting Support Tool

The Juice Bar

Buy A Ticket! / Set Goals To Succeed

Reader Meter
Site News

Updates - and What's Coming Soon
---
Lessons In Leadership
Leadership Goal Setting
Lead to Succeed in 2006!
"What you get by achieving your goals is not as important as what you become by achieving your goals."
- Zig Ziglar
Here's hoping that each of you enjoyed the holiday season and the New Year celebrations as much as I did. With every new year we've become accustomed to re-committing ourselves to take the necessary steps to improve the quality of our lives.
If you're like most people, you've made some of those promises and you've started out with great intentions, only to be distracted and eventually derailed from pursuing your goals.
The skill of goal setting is just that – a skill. Goal setting is a skill that most people were never taught in school. Rather, many learn the benefits of goal setting from their employers who understand the importance of getting clear on how to break down a goal into bite sized pieces and how critical it is to maintain focus on the process through regular tracking and reporting.
Your New Year's resolutions probably consist of the most important goals that you need to achieve for long-term health and happiness. Your goals might include items such as: Losing those unwanted pounds so that you can enjoy a more active and healthy lifestyle; re-connecting with old friends and family that you've drifted apart from; addressing the important issues in your most valued relationships; or, doing a better job of setting a more worthy example for your children by taking ownership of the key challenges in your life.
All of the above are examples of wonderful goals that should be pursued with laser-beam focus.
The trick to adhering to your New Year's resolutions is to follow the same key steps to goal setting in your personal life that you are required to adhere to in any effective professional work environment. These steps include the following:
Choose Goals That Are Meaningful
Give some considerable thought to the goals that you are going to commit to. Your most meaningful goals will create a strong sense of emotion in you.
Choose goals that inspire you. Once you achieve the goal, will it add value to your life? Ask yourself what it is that you really want and why you want it. How will meeting the goal benefit you, those you love, and those who love you?
By clearly understanding the emotional, physical, health and financial reasons for achieving a goal, you will avoid setting the wrong goals for the wrong reasons.
Personal goals that evoke passion are more likely to be achieved. Motivation stems from what we are passionate about. When we can successfully link our goals to our passions we instantly gain leverage that helps us to become successful.
Once you've decided on your goals, commit to them publicly. Announce your goals only to family, friends and co-workers who will remain supportive of your efforts. Never share your goals with people who are likely to sabotage you or those who are negative and will not support you.
Make a long list of all the benefits of achieving your goal. Keep the list close to you so you can add to it throughout the year. Keep the list in a place that you will visit often, such as your daily planner, so that you can constantly remind yourself of why the goal is important to you.
Create A Plan That Is Measurable & Specific
Once you have determined what your goals are, your next step is to create a detailed action plan that breaks down the various tasks that must be completed in order to successfully achieve each goal.
With a measurable and specific plan, you are very likely to accomplish your goal. However, without a solid plan, your chances of success are substantially decreased.
An good action plan is squarely focused on the outcome of each task and how it contributes toward the achievement of the overall goal.
Whenever you are determined to achieve a specific goal, draw up a success blueprint using our free Master Action Plan (M.A.P) Tool. This free tool is truly your MAP to success.
This process will allow you to effectively think through each task and ensure that your time is spent in the most productive manner possible. The M.A.P. tool asks the important questions "How much? Of what? By when? By whom? and.. Why is it important?"
If you encounter difficulty, get help as quickly as possible. Your goals are much too important to put off to another day, next month or "someday".
Stay On Track Using Time Targets
Unfortunately, time is in limited supply. Once a minute or an hour has passed, you can never regain those precious moments. Time cannot be recycled – it can only be leveraged or lost.
It's a simple fact that in this age of multitasking, dual career/daycare mom's and dad's – the scarcest commodity of all, is TIME. The most efficient way to maximize your time is to utilize a time management day timer or planner. Planning your day effectively is key to being able to make steady progress on your personal goals.
With our busy schedules and high demands, it's unlikely that anyone wouldn't find a time management product useful. In fact, we strongly encourage our readers to start referring to time management as "Life Management". It's that important!
Life management is about taking personal ownership of every aspect of your life. Holding yourself accountable to achieving your most important goals is a discipline that is more easily developed using a time management system. As we've mentioned many times on our website, we recommend the RPM system, which is fully explained in Time Of Your Life.
Expect & Predict Obstacles, Adjust Quickly and Keep Pushing Forward
Where you are today is not so important as where you are going. In addition, we can all expect to experience roadblocks as we pursue our M.A.P.. How we respond to various challenges and how quickly we adjust to overcome them - will ultimately determine how successful we are at achieving our goals.
If you think about it honestly, you'll admit that the sum of all your past decisions have placed you directly where you are today. In the same spirit, the choices you make now and going forward will determine where you'll be in the future.
We all choose where we are in life by the decisions we make, or fail to make. If you don't like where you are today then now is the perfect time to choose a new path. Every individual is encouraged to believe that in one great moment of decision, a person's entire life can be transformed.
Take some time to seriously determine where you want to be in this world and how you can get there – then, begin the journey. Persistence will eventually prevail.
One of the problems many people face is that they look at successful people and believe "that could never be me". What people must understand is that every person who says this – is absolutely right.
However, it is also true that every person who says "that CAN happen for me" is also 100% absolutely correct.
The key learning here is that each person's BELIEF will determine his or her outcome.
In Summary:
We've broken down the above goal-setting information into the following key actions to get you started:
Identify your goals by writing them down. Choose goals that are meaningful and commit to them publicly.
Develop a master action plan (M.A.P.) to reach your goal.
Set a deadline for the achievement. Establish a specific end-date. Use a good time management system to plan and track your progress.
List any potential obstacles you must overcome as you pursue your goals.
Identify the people and groups you need to work with to reach your goal. BELIEVE you can do it.
Write down the benefits of achieving your goal. ("How will this postively impact my life?")
Keep your benefits list close to you to stay focused on the prize and gain inspiration to achieve your goals.
On a periodic basis, it is important to re-evaluate your goals to make certain that they are in alignment with what you truly value and want out of life. As we learn and grow, our values change. Therefore, our goals in life change as well.
Remember that personal and career goal setting is a life-long process. Once you have completed one goal, be sure to replace it with another. This way you will always continue to experience personal growth and self-development and reap the benefits that goal setting provides.
"Think little goals and expect little achievements.
Think big goals and win big success."
- David Joseph Schwartz
---
Meeting for Results
Leadership Tools Library
What's Your Biggest Wish?
PLUS!.. Ordinary People Can Achieve Their Lofty Goals
"Goals are not only absolutely necesary to motivate us.
They are essential to really keep us alive."
- Robert Schuller
In September of 2005, we celebrated our third anniversary online. During that short period of time we are proud to have brought a wide variety of free tools and resources to our readers.
We are equally excited to report that in 2006 you will continue to see even more quality tools, available to you - free of charge.
Now, we'd like to hear from you. Please take a moment to think about the kinds of leadership tools that you and your team members could really use.
Consider making this a topic of your next team meeting. Ask your team members about leadership tools that are on their "biggest wish" list. What special tool(s) would make your management experience easier and more efficient?
Please share your ideas by completing our Contact Us form.
We look forward to hearing your "biggest wish" ideas.
---
Brand New! 2006 Weekly Goal Setting Tool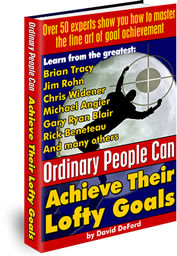 We're fairly certain that you've never seen an e-book like this one.
The greatest minds of our day have contributed their best ideas on goal setting to help you succeed.
Ordinary People Can Achieve Their Lofty Goals, an e-book by David DeFord. David has interviewed and compiled high-quality data and best-practice ideas from experts from the top of the personal development field.
These experts have contributed their tips and encouragement to help you live the life you want. You'll gain wisdom from Brian Tracy, Jim Rohn, Chris Widener, Michael Angier, and 50 others.
Having reviewed the entire book, I encourage you to read one chapter per week throughout 2006.
Make this your primary goal setting tool. By continually reading one chapter per week over the entire year you will continue to be motivated to stay on track with your goal setting action plan.
Learn from some of the most knowledgeable experts in the field of self-development and personal growth on how to finally achieve your most lofty goals.
Unfortunately this tool does not come free of charge like most of our leadership tools. However, the book is very affordable and offers much more in real lifetime value than what David is actually asking for the price of the book.
Click on the link provided here for more information about Ordinary People Can Achieve Their Lofty Goals and learn how to receive David's e-book, plus $600 worth of tremendous bonuses - all for only $27.
As you'll read on David's sales page, he is raising the price of the book on February 1st - so don't miss out.
I believe you'll be glad you made this small investment in yourself for the coming year. If you have any doubts about the quality of the content, keep in mind that David offers a full money back guarantee if you aren't completely satisfied - so you really have nothing to lose.
I personally loved reading the book. I hope you enjoy it to.
"Your goals are the road maps that guide you
and show you what is possible for your life."
- Les Brown
---
The Juice Bar
Buy A Ticket!
Set Goals To Succeed
Buy A Ticket To The Best Show In Town – Your Life!
Recently I came across this little story that I feel helps put a lot of what we choose to do, or not to do, into a clearer perspective. I encourage you to think about your goal setting choices as you read the following:
One day there was this Priest (Note: Please feel free to replace "Priest" with "Minister, Rabbi or Mullah" or whatever term suits you best – as this is a non-denominational story.

At any rate, the story goes on to say that this man of God became quite enamored with the weekly State Lottery.

Each week without fail, he turned on his TV to tune into the weekly lottery drawing.

Week after week, as you might expect, the Priest failed to win the lottery.

As each week past, the Priest began to become depressed, and he even started to doubt his faith.

Eventually, after repeated failures to win the weekly lottery, the Priest became so discouraged and outraged that he screamed out in desperation... "Lord, why are you not allowing me to win? PLEASE LORD, let me win the lottery."

Suddenly, at that very instant, all four walls of his room began to shake violently. Through a newly formed crack in the ceiling a piercing white light filled the room. The Priest was in awe as he heard a thundering voice from high above him say...

"For heavens sake, give me a chance. BUY A TICKET!"
I really like the above tale as a great reminder to us all to stop placing so much emphasis and effort into what's going wrong in our lives. Instead, we should put that same energy into figuring out what we must do to take personal ownership of the changes and improvements we seek to achieve.
For every goal we set, we must research and prepare ourselves to succeed in achieving each goal. We must "buy a ticket" to our own success, rather than expect others to simply give us what we want.
"When you determine what you want, you have made the most important decision in your life.
You have to know what you want in order to attain it."
- Douglas Lurtan
---
Reader Meter
Reader Feedback
As always, your comments and feedback are greatly appreciated. Thanks to all our readers who so graciously take the time to provide feedback and comments of encouragement.
"I am just learning about management. Evaluations are such a scary thing to me and I am glad to find your site."
- Laura Sigmund
"I have been enjoying your monthly Leadership Tools newsletter. It is inspiring, educational and heart moving. Your resources are transformational in nature. Any leader can experience change if he carefully studies how. Your articles have helped provide a good framework for effective management. Thanks very much for these resources."
- Bawa Leo
"The information provided in this site is incredible. There is a lot of information that will benefit my team. There is great value in the free information alone. Awesome! The information provided in this site is priceless."
- Bob Stauffer
"Just started looking through it, but impressed so far. I want to encourage team building, positive communications and foster effective change within my organization, but am not financially backed by senior management to be able to purchase tools, so the free ones are appreciated!"
- Natasha Erker
"What an Excellent site - covering some key topics around Leadership and what makes a good leader. I'm trying to influence the leadership team within a Contact Centre environment and help them to grow into stronger Leaders. I have picked up some fantastic hints & tips on your website and have thoroughly recommending it to many colleagues within the IT industry."
- Tasha Taylor
"Excellent. I was searching website after website for some customer service tools/handouts to distribute at my company for Customer Service/Pharmacy Week and still not finding much to use, but when I happened upon your site, I found EVERYTHING I was looking for in one place!"
- Renee
"The sample feedback 360 Degree Feedback Leadership Survey was excellent. This is exactly what I was looking for. I am completing a leadership portfolio for a graduate course and I contacted someone that gives leadership training for some assistance and they directed me to your site. Excellent information."
- Natalie Wright
"The 360 degree feedback tool brought me to your site. Every mouse click brings more information and great assessment tools to my desktop. Thanks!"
- Heidi
"Excellent. I have learned so much about leadership from your site. Thank you for being there to give us so many leadership tips."
- Pelina
This is where the Leadership-Tools.com journey began.

Let 2006 Be Your Year To Succeed.
---
To all of our subscribers: Please let us know your thoughts by completing our:

COMMENTS/FEEDBACK/TESTIMONIALS FORM
---
To request any of our high-value free tools click on the appropriate link located at:

FREE TOOLS PAGE
---
Want to revisit a past issue of Leadership Tools Monthly News? Check out the following:

BACK ISSUES INDEX
---
Our Open-Door Policy

Making communication flow easier is an important task. This is something that we assess often because it truly is that important. We need to know what is on your mind, what your needs are, and what you'd like to see from us in the future.

In addition, we want to be certain that you have multiple ways of staying in touch with us. To this end, we offer the following:
---

Whitelisting

One of the biggest issues we have in our efforts to communicate with our readers is that some of our subscribers do not receive our newsletters because their spam filters are blocking our emails - even though we NEVER use spam.

Increasingly, ISPs (ex., earthlink.net, comcast.net) and mail services (ex., Hotmail) are using filtering systems to try and keep spam out of customers' InBoxes. Sometimes, though, they accidentally filter the e-mail that you do want to receive.

Please do not blame your ISP or mail service. The volume of spam is enormous and the algorithms to figure out what is spam (and what is not) are complicated. So mistakes do happen

We all have to deal, unfortunately, with the fallout of what spammers do to the Internet.

Unfortunately, this issue is not going away anytime soon. However, you can take action now to ensure your receive every one of our newsletters. You can "whitelist" our site address with your email provider.

Whitelisting simply means you will add our site to your list of acceptable sites that you wish to allow past any spam filters.

Check your email provider instructions on how to whitelist us so you never miss an issue of our newsletter.

---

Web Log (BLOG)/RSS Feed

Another way for you to stay in touch with us is to add the Leadership Tools Web Log (BLOG) to your RSS reader. Not sure was an RSS reader is? No problem, simply go to our WEB-LOG (BLOG) PAGE

(If you have a Yahoo or MSN home page you can easily add our BLOG/RSS Feed to your list of daily content. Just click on the Yahoo or MSN button at the bottom of our BLOG page, or search "Leadership Tools News" in the Search Content section in your MyYahoo or MyMSN homepage.

You will notice that many of our BLOG entries cover various leadership issues, site news and leadership lessons.)

---

Site Map

We now provide an updated SITE MAP PAGE for our readers. The Site Map was created in an effort to make navigation of our site easier and more convenient.

In summary, in the spirit of adopting an "Open Door Policy", readers now have:
the ability to ensure each newsletter is received by whitelisting our site address
access to our daily BLOG
the ability to more easily find what you are looking for through our new site map
Remember, the best way to ensure you never miss an update or monthly issue of our newsletter is to add our RSS/BLOG feed to your MyYahoo, MyMSN, Google or other RSS feed reader today.

---
Site News
UPDATES - and What's Coming Soon!
Hey Folks! We're About To Be Published! - we are proud to announce that our article last month on "Taking Ownership" was recently recognized by best selling author, David Riklan. David will be including our article in his upcoming book 101 Ways To Improve Your Life. Some of the other co-authors of this book include Zig Ziglar and Brian Tracy, so we are in excellent company! More to come on this once the book is finalized and ready for market. We'll be sure to keep you updated.
AMBITION - Your Driving Force to Your Greatest Achievements - In The Works.
Life's Ultimate Experience List - In The Works. Set Your Goals, and Go For It. Make your life, a life worth living.
and much more.... so stay tuned!
---
Contact Information

For more information, free tools, quotes, articles, tips, books and other high-quality resources, check out our entire web site at: Leadership-Tools.com

All reprints of our articles or BLOG entries must not be altered in any way, must be printed in whole, and MUST place the following credit line with a working link back to our site at the end of the text:
"Information contained herein is used by permission and is the property of Leadership-tools.com. Receive their FREE monthly newsletter Leadership Tools Monthly News, by subscribing at https://www.leadership-tools.com