Hello,


Leadership In Goal Setting
Creating Your Personal M.A.P.!
---
Leadership Tools Monthly News
The Ultimate E-zine on Leadership!
Providing leadership tools with original content on key leadership topics including:
Business Planning
Leadership Development
Sale Management
Customer Service
Team Building
Delivering leadership strategies with fresh ideas, results-focused tools and resources to assist leaders in achieving THE TRIPLE WIN.
The Triple Win consists of creating and supporting a work environment where:

Win #1 Employees - are positively engaged and feel highly valued.
Win #2 Customers - are consistently "delighted" and remain loyal.
Win #3 Owners/shareholders - realize optimal return on investment with continual improvement quarter-to-quarter and year-over-year.
As you have a chance to create your own WINS using our leadership strategies and tools, please take a moment to forward our e-zine [remember it is a FREE resource] to your friends and colleagues.
If a friend DID forward this leadership e-zine to you, and you like what you see - we would be honored to have you as one of our loyal subscribers.
Remember, the Leadership Tools Monthly News is FREE, your information is always kept PRIVATE and we only publish the newsletter monthly. This ensures you get quality tools and content without being overwhelmed with too many emails.
---
Volume II - May, 2004 Issue
Leadership In Goal Setting
Creating Your Personal M.A.P.!
---
T A B L E   O F   C  O N T E N T S
Lessons-in- Leadership

Setting Goals For Personal Growth!

Meeting for Results

Creating Your Personal M.A.P. (Master Action Plan)

The Juice Bar

Six Servants For Success.

Reader Meter
Site News

Article Vault Is Priceless!
---

Leadership In Goal Setting
Setting Goals For Personal Growth!
"To win…you've got to stay in the game…"
- Claude M. Bristol
Where do you see yourself in 10 years?
Do you have an idea of what you'd like to be doing in five years?
In the next twelve months, what will you accomplish that will ensure you meet your five or ten year goals?
In the next 90 days what steps will you take to pursue your dreams?
How about in the next 30 days or even in the coming week?
What steps are you taking TODAY toward achieving your goals?
For many people all of the above questions are tough to ask. Tough because in most cases people don't have a clear plan to obtain their goals. In fact, a lot of folks simply have never taken the time to sit down and determine what their goals are!
Goal setting is not only a skill, it's a very important discipline that all successful people employ on a regular basis.
Setting goals does not have to be difficult. If you are willing to invest just a few hours of time to get clear on what it is you want, determine what steps you need to take in order to make steady progress and TAKE ACTION DAILY- you will be well on your way to realizing your dreams.
"Men who have left their mark upon the world have been men (and women) of great and prompt decision. They have been men (and women) who do something – and do it at once."
- O.S. Marden
Indeed, the hour of decision is at hand. Decide now to gain some much needed "leverage" on yourself by writing down your goals for daily viewing.
Follow these Six Steps To Achieving Your Goals:
Identify Your Goals - think about what you want to accomplish over the next 12 months is the key areas of:

Finance
Career
Spirituality
Family
Friends
Emotionally
Physically
Other

List The Pros - under each goal, list all the ways in which you and your family will benefit when (not IF) you meet the goal. Make your list as detailed as possible.

Each Pro listed becomes part of your ultimate payoff. Reviewing this list often will help to motivate you throughout your journey.

List The Cons - anticipate all the challenges and/or barriers that might prevent you from meeting each goal. Don't fool yourself here. Everyone runs into roadblocks. The key to overcoming each roadblock is to approach each obstacle with a positive CAN-DO attitude.

Always remember that "persistency" is characteristic of all who have accomplished anything great. When your progress is hampered, remain determined to overcome whatever issue stands before you.

Only YOU can decide whether you will fail or succeed. No one else has that power over you – unless you allow it.

"The world makes way for the determined man. (or woman)"
- O.S. Marden

Identify The Skills Needed to Succeed - before achieving a particular step in your plan, you might need to invest in yourself to acquire the necessary knowledge and/or skill to achieve the task at hand.

If this means you need to sign up for a class – sign up for a class and learn all you can. If you can't afford to take the class now, then take action to save or borrow the funds needed so that you can afford the class.

Allow no excuses to get in your way. If indeed you are committed to realizing your goals, then you will be successful.

Be persistent and you will prevail. Stay faithful to your goals and experience the fullness of what life has to offer.

Surround Yourself With Successful People - each person is a product of his/her environment. You are where you are today as a result of the choices you have made up to this point in time.

Many of these choices include whom you currently associate with. Are your friends supportive of your goals? Do these people have their own goals they are working toward? Do you learn from them and they from you?

Choose wisely whom you spend your time with. Expand your circle of associates to include those who are currently on a path of personal growth and success.

Join associations and clubs that will place you squarely in front of people of ambition and influence. These relationships may very well pave the way to overcoming many future obstacles.

Take Action Daily! - the only thing more important than putting your goals in writing is putting your goals to WORK. Rest assured, no one is going to complete your plan for you.

Keep your goals in front of you on a daily basis. Gain leverage on yourself by posting your goals on your refrigerator, on your computer, in the bathroom if necessary – anywhere that you will see your goals on a regular basis.

These constant reminders will keep you from becoming complacent and putting off tasks that can be accomplished today.

Communicate your goals to anyone who will be supportive. If you think your family or friends will make fun of your goals, or suggest that you are unrealistic – DON'T TELL THEM.

There is simply no good reason to set yourself up to ridicule or to receive any kind of negative influence.

Protect your goals, and yourself, by sharing your detailed plans only with those who will be helpful and supportive.
Begin today by utilizing our free goal setting tool, described in the next section.
Begin; to begin is half the work. Let half still remain; again begin this, and thou wilt have finished.
- Ausonius
---
Meeting for Results
Creating Your Personal M.A.P. (Master Action Plan)
"The greatest discovery of my generation is that human beings can alter their lives by altering their attitudes of mind."
- William James
No one will argue that the shortest distance between two points – is a straight line.
As you plan your strategy for achieving your goals, you are well advised to focus your time and attention on specific "high-impact" activities.
Too often we tend to spend time on tasks that are just "busy work".
Busy work consists of tasks that are perhaps helpful, yet time consuming. Tasks of this nature are not of the utmost importance as we work to achieve our goals. In other words, we should be spending more of our time on other things that move us closer to achieving our ultimate objectives.
Activities that focus on results – are what we consider to be high-impact activities. These are activities that when done consistently will add the most value and make the most positive impact on our lives.
Consider using our free M.A.P. (Master Action Plan) tool to help you identify your goals, as well as those high-impact activities that will ensure a successful outcome.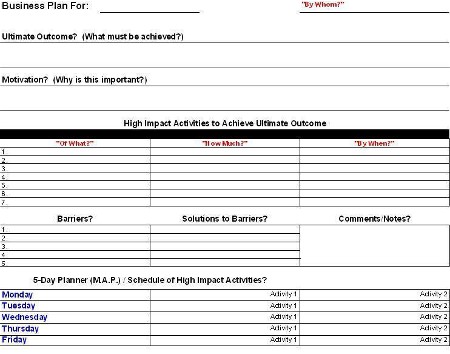 Request your free M.A.P. tool by completing the request form located in the Reader Meter section of this newsletter.

Start creating your Master Action Plan today!

"The finest eloquence is that which gets things done."
- David Lloyd George
---
The Juice Bar
Six Servants To Success.
"I am not discouraged, because every wrong attempt discarded
is another step forward."
- Thomas A. Edison
As you commit to the habit of goal setting and begin to experience your newfound zeal for life, remember this important quote:
"I have six honest serving men. They taught me all I know.
Their names are What, and Why, and How, and Where,
and When and Who"
- Rudyard Kipling
By living life with these six "servants" at your side, your focus will remain clear, and your progress will be steady.
Not only should you stay focused on these six questions, but you should remain focused on ONLY these six questions – for these are indeed proven, high-impact questions that will help you gain the most ground in the shortest period of time.
"Knowing that you have complete control of your thinking you will recognize the power…"
- Mikhail Strabo
---
Reader Meter



Our Readers Are Engaged!



We've found that as we continue to add invaluable, yet free, tools to our site - readers have been responding with great enthusiasm.

Just listen to what we have been hearing from our loyal readers:

"Was looking for a quick introduction to 360 feedback on the web, and your site answered my query! Thanks!"
Peter

"Thank you for provideing such excellent resources. These are exactly the tool that are neeeded to assist individuals in attaining life-long success. May you continue to be richly blessed as you have blessed and continue to bless so many others including myself. I am going to tell everyone I know about this site!"
Brenda

"Learned about this tool from the Chief Nursing Officer at another facility and I look forward to learning more about my leadership style-THANKS!"
Tracy Eveland

"I am new to your site, however, I am very impressed with the variety of tools, resources and information that you provide. And the fact that you provide free tools as well is icing on the cake. Thank you for providing such a valuable and informative site."
Tanya

In addition to the above testimonials, we've received the following quote submissions:

Quote submissions from reader – Jopeel

"I figured that if I said it enough, I would convince the world that I really was the greatest." - Muhammad Ali

"Success is the ability to go from one failure to another with no loss of enthusiasm" - Winston Churchill

"No one is useless in this world who lightens the burden of it to anyone else." - Mother Teresa

"A clear conscience is more valuable than wealth." - Filipino Proverb

Quote submissions from reader – Elizabeth

"Confidence is a behavior, not a feeling." - W. Leitzen

"Leaders make announcements not excuses." - W. Leitzen


To all of our subscribers: Please let us know your thoughts by completing our:

READER METER COMMENTS/FEEDBACK FORM
---
If you would like to receive the Free Word File containing our "M.A.P. (Master Action Plan)" tool - which will walk you through how to effectively set realistic and measurable goals - simply click here to request your:

NEW! FREE M.A.P. (Master Action Plan) TOOL
---
If you would like to receive the Free Word File containing our "10 Key Questions" tool – asking these ten questions will provide insight to leaders who wish to gauge their overall effectiveness as a leader - simply click here to request your:

NEW! FREE 10 KEY QUESTIONS TOOL
---
If you would like to receive the Free Word File containing our "Leadership Assessment" tool – this tool is a great way to quickly assess your leadership effectiveness - simply click here to request your:

NEW! LEADERSHIP ASSESSMENT TOOL
---
If you would like to receive the Free Word File containing our "My Favorite Things!" tool - which will ensure you always know how to effectively reward and recognize each employee based on "what they want" - simply click here to request your:

FREE MY FAVORITE THINGS TOOL
---
If you would like to receive the Free Word File containing our "360 Degree Leadership Assessment" tool, simply click here to read the details and to request your:

FREE 360 DEGREE ASSESSMENT TOOL
---
If you would like to receive the Free Word File containing our "Performance Appraisal" tool, simply click here to read the details and to request your:

FREE PERFORMANCE APPRAISAL TOOL
---
If you would like to receive the Free Word File containing our "Net Worth & Wealth Ratio" tool, simply click here to read the details and to request your:

NET WORTH & WEALTH RATIO TOOL


As we add new tools throughout the coming year, we will be sure to update this part of our newsletter to ensure our free tools are always easy to request.
---
Site News
Article Vault Is Priceless!
If you haven't checked out our Article Vault lately, we encourage you to do so. Over 50 brand new articles have been added over the past few months.
The Article Vault is being filled with quality information and tools for your benefit. Want to check out the Article Vault?



CLICK HERE!
As always, here is your quick reference for all past issues of Leadership Tools Monthly News - we call it our



Leadership Tools Monthly News - INDEX!
We will continue to add each past issue to the Index and keep the link available in this section of the newsletter for your convenience.
UPDATES - Coming Soon! Initiatives in-the-works include:

Leadership E-cards - Special E-cards that you will be proud to send to your friends, team members and employees.
Leadership Article Directory - Highlighting other works from leadership experts across the globe!
Life's Ultimate Experience List - Set Your Goals, and Go For It! Make yours a life worth living!
Much more but.. We aren't quite ready to reveal some of our long-term plans. But don't worry, you will be the ultimate winner! ;-)
Stay tuned.
---
Contact Information

For more information, free tools, quotes, articles, tips, books and other high- quality resources, check out our entire web site at: Leadership-Tools.com

Questions or feedback on leadership strategies, lesson plans, stories, tools or resources can be directed to: Leadership-Tools.com

Visitors may easily ask questions or request reprint authority for one of our original leadership lesson plans or other information contained in the e-zine by using the following request form: Questions/Feedback Form

All reprints MUST place the following credit line:

"This article and all information contained herein is used by permission and is the property of Leadership-tools.com Receive their FREE monthly e- newsletter Leadership Tools Monthly News, by subscribing at www.Leadership-tools.com. Personal information is never shared or sold. All information remains private."