Hello,


Happy New Year!
Here's wishing you all the best of success in 2019. It's been a busy (and productive) 2018 and we have some exciting news to share in this issue.
As we begin a new year, now is the perfect time to start setting your goals for 2019!
In our last newsletter (Wow, has it really been since July, 2017?) we let you know that our free Goal Setting for Success ebook was completely revised. So, if you haven't established your goals for the coming year, now is a great time to get started.
Since our last newsletter we've been hard at work updating ALL of our leadership tools - check out the details that follow.
Additionally, we've added some new leadership tools we think you'll find valuable.
Online courses are popular with busy professionals and aspiring leaders, but quality courses can be expensive. We have some great news about free and low-cost Leadership Courses available from highly reputable organizations. Read on for more specifics.
Finally, we have a FREE GIFT for you! Plus, we're announcing a new section of our site offering Leadership Game Templates. These tools provide a great way to infuse fun and energy into your team meetings. Check it out!



Site News

Reminder: Free Tools Password
Leadership Tools & Resources

UPDATED: Executive and Life Coaching eBook
UPDATED: Business Planning Course eBook
NEW Business Plan Template
UPDATED: Business Letter Writing Template Collection
NEW: Online Leadership Courses
NEW: Leadership Game Templates (Free Gift!)
Reader Feedback

Free Tools Password Reminder
Don't forget the password to the Free Tools Download Page.
The current password is... SUCCESS (all uppercase)
Due to security concerns, we may change the password on occasion. We announce password changes in this newsletter.
---
Join Us on Social
Receive updates in real time. Follow us on your favorite social platform.


Facebook Twitter Google Plus Instagram
Pinterest YouTube
---

UPDATED: Executive and Life Coaching eBook
We are pleased to announce our fully revised free Executive and Life Coaching eBook. Leaders can use this tool to learn and teach universal laws for self-improvement and leadership development.
The updated guide covers 27 chapters with powerful leadership lessons and advice.
At the end of each chapter, there are suggested Coaching Activities that you can do on your own or with your team members.
Review these lessons for your personal and professional development. Then use the guide to more effectively coach and develop your team.

---
UPDATED: Business Planning Course & New Template
As a leader or business owner, it's your responsibility to become knowledgeable in all things relative to your business. Writing a comprehensive business plan is one of the best ways to make certain your business is prepared for future success.
Our newly revised Business Planning Course ebook provides a complete business plan guide toolkit for new or existing business owners wanting to run a more efficient and productive business.
Plus, we've added a brand new free Business Plan Template that will help to ensure all the important aspects of your business are ready for success.

---
Collection of Business Letter Template (Updated!)
To assist you in providing clear and effective written communications we've completely updated and expanded our collection of 14 Business Letter Templates.
Using these templates leaders can better address some common, and not so common, business communications.
Leaders who do not properly document sensitive communications can put their business at risk, so we've addressed this need by providing templates for sensitive subjects such as terminations, apologies, complaints, collections, and more.

---
NEW: Leadership Courses
In our research to determine what kind of leadership tools and resources people are looking for, we discovered that there is a high interest in taking online courses for both personal and professional development.
Naturally, we were most interested in what is being offered in the area of leadership development.
Great news! After scouring the net, we discovered a handful of high-quality free online Leadership Courses!
Each course offered has been verified as a free course. However, be sure to use the links we've provided on our web page to access the course(s) and follow our instructions or you may be asked for payment.
More exciting news about Leadership Courses will be coming in the following weeks - so be sure to read our next newsletter. Hint: A new partnership, new tools, adding real value to you and your team. You don't want to miss our next newsletter. :)

---
NEW: Leadership Game Template (Free Gift!)
Teams benefit from working in a fun and creative environment. The ability to play a game while learning and developing new skills is a great way for leaders to support and energize their team, while creating a healthy and positive workplace.
We've added a brand new section to our website all about using Leadership Games to engage your employees.
Using games in your meetings encourages team members to be both mentally and physically engaged, which increases retention of the subject matter and makes for a more enjoying work experience.
As a Special New Year's gift to our subscribers, we're providing this link to receive a free copy of the paid version of our Leadership Jeopardy Excel Template. As you'll see, this tool has been completely updated and improved from the prior version and we have plans to add additional leadership games in the future.
Be sure to read the full instructions for Leadership Jeopardy to get the most benefit from the game.
Enjoy and Happy New Year!




Here's a small sample of recent reader feedback, or as we like to say "our fuel for the soul"...
"Excellent! Easy to find inspirational books"
Maria Tenorio
Straten Island, New York
"I love the tools! They definitely get you thinking. "
Cyndi Hernandez
Dallas, Texas
"Excellent website content. No fluff and just the exact right content one needs to see."
Leo Angelo Salinel
Marikina City, NCR
Phillipines
"Wonderful range of resources (books, videos, activities, etc.) Well done!"
Melinda English
Houston, Texas
"Valuable information available for the price of your email address it's very low price for customizable tools. This is really appreciated."
Akeela Davis
Vancouver, BC
Canada
Please take the time to let us know what you think. Better yet, tell us what you need. :)
---
Have A Hobby or Special Interest?
Why Not Earn Income From It?
This is where our Leadership-Tools.com journey began.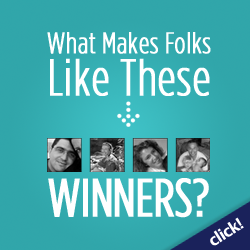 ---
Contact Information
For more information, free tools, quotes, articles, tips, book reviews and other high-quality resources, check out our entire web site at: Leadership-Tools.com
---



All reprints of our articles or blog entries must not be altered; must be printed in whole, and must place the following credit line with a working link back to our site:
"Information contained herein is used by permission only and is the property of Leadership-Tools.com
Copyright © and Trademark ™ 2003 - 2019, Leadership-Tools.com