Sales Management Strategies, Tips & Advice:
Share Your Sales Management Stories
Sales management strategies are continuously changing as our economy changes. But there are key principles to selling that are proven and time-testing.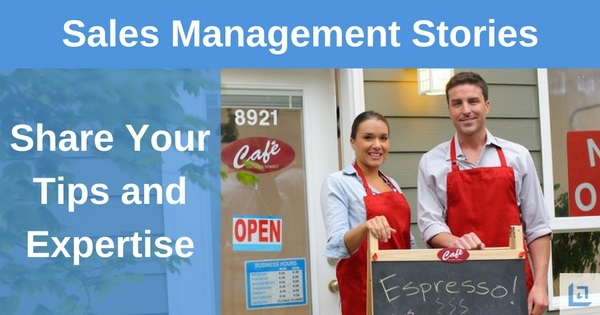 We've all heard, or experienced, the horror stories that are associated with a sales job. (High stress; increasing quotas; cold calling; high pressure selling tactics, etc.) 
Today the really great companies and sales people understand that those old tactics are short-term sales management strategies, which always end up in creating disgruntled employees, unhappy customers and decreasing profits. These strategies simply aren't sustainable, nor should they be.
As some in the sales industry have become more enlightened, they realize that sales can't be just a numbers game. For any sales business to succeed and grow long-term, it must offer a valuable product or service that meets a customer need, at a price the customer is willing to pay.

The key to selling is not about persuasion, it's about having a quality conversation that clearly identifies the customers needs and helps them understand the value your product can offer in addressing that need.
Sales people are relentless observers; always on alert for possible opportunity - even in their off hours.
Furthermore, when given the choice between Product A or Product B, when either product will fill the need, the salesperson must know how to create a positive relationship in order to win the business. Great sales people are great "relationship builders".
A smart sales manager will train the entire sales staff to leverage client relationships by asking them for warm leads or referrals. In addition, he will partner with other department managers within the company to cross-promote products and services for the purpose of gaining a larger share of the customer's overall business.
Sales teams do not experience great results without using effective sales management strategies. This is where you come in!
This page was created to allow you to SHARE YOUR STORIES and sales management strategies. Share your best practices, tips and advice for successful selling. Please assist others to increase their sales effectiveness.
Unfortunately, too many companies do not invest in a quality sales training program. Most companies do not conduct research to identify and provide their sales staff with the most effective sales tools. In many cases, it is up to the sales employee to figure it out on his own, which only leads to higher turnover and lost opportunity for the business.
Imagine being that newly hired sales employee. You arrive on the first day of your new job - you meet with the boss where he informs you of your sales goals, and then leaves you with the wonderful message, "Okay, now go out there and start selling!"
The sad fact is that this type of scenario happens too often. Fortunately, there are still creative thinkers who don't let these types of barriers get in the way of their success. They quickly realize there is a gap in their knowledge and they begin figuring out how to move past their learning curve.
They start doing their own research about what sales management strategies will work for them. These people end up at this website, seeking valuable advice from someone who has been in their shoes. They seek to know what YOU know!
VIEW THE SUBMISSIONS OF OTHER READERS for an example of what we're looking for.
Inexperienced sales people want to learn and benefit from your experience. Your knowledge of selling and your insights on how to approach developing sales skills will be highly valued.
Sales Management Strategies & Ideas To Submit?
As a leader is sales production, you learned early on that if you are going to be in sales, you need to develop a thick skin and you also have to be persistent. Some of the sales topics you might consider addressing include:
How to develop a qualified lead list for prospective and existing clients.
Where and when to call on clients. (At home, at place of business, mornings, evenings, in person, over the phone, etc?
How to develop a calling plan? What to say when talking to a customer?
What sales management strategies will you use for following up with customers after the initial call?
How do you identify as many customer needs as possible and then cross-sell to those needs for maximum customer satisfaction, customer retention and business profitability?
As you can see, there are many ways in which you can share and help others to be successful in the sales arena.
Always do what's right for the client. That has to remain your number one priority!
When it comes to selling successfully, with integrity - it's not about the volume of phone calls or face-to-face meetings a sales person makes, it's about the care, planning, and value that goes into the calls made. It's about consistency, follow-up and service delivery.
Sales management is an ongoing, never-ending, constantly evolving process. Yet, so long as you never lose sight of adding value to the customer, your clients will continue to value you and help you to be successful.
I'll bet you have a few successful sales nuggets to share! Please don't be shy.
Share Your Thoughts On Sales Management!
Achieving quality sales results is key to our visitor's success. What advice can you offer? To submit your story, best practice or sales management tips - complete the form below.
Read Other Sales Management Entries
Click below to see sales management contributions from other visitors to this page...

Every submission we receive is reviewed and, upon approval, added to our list of sales management contributions.
Thank you in advance for submitting your sales management strategies, tips and best practices. We can't wait to read them!