Leadership Poem: Inspiration For Leaders
A leadership poem is a powerful tool that leaders can leverage to drive home a critical leadership message. Just one of many leadership tools to be utilized to motivate and inspire.
"Leadership poets provide the means to empower, inspire, ignite emotion
and create change in the heart and mind of the reader."
Dr. Martin Luther King once said that power is the ability to achieve purpose. Therefore the poet has a huge responsibility when it comes to the choice of the words she uses.
Everyone has in them the ability to be a poet since all of us are born with the ability to be truthful.
"One can only agree that when the skillful poet tells the truth, he often speaks the words that we recognize as our own."
The role of the poet is to be honest and to make others think inwardly. As a result, there is not much difference between a poet and a leader since both demand truth and thoughtful action.
We have compiled an online leadership poem collection, with the purpose of providing our readers with thoughtful tools and lessons that promote positive change.
The duty of a leadership poem is to provide wisdom and insight; to say how things really are, or a unique perspective on how things ought to be. In the wise words of Armando Martinez, "a poet must always be willing to speak up because a word or a line can save a life."
It would certainly be interesting to know how many inspiring poems have halted a suicide attempt; rescued a failing relationship; provided the necessary push for a person to take action - ownership, or control over his or her life.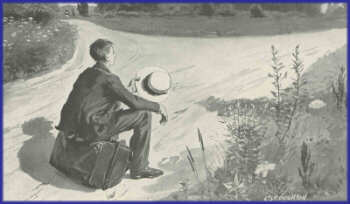 The following is a collection of leadership poems from a variety of leadership poets that we believe offer insightful lessons on life and the art of leadership.
You'll no doubt identify a leadership trait from each poem, which is why poem can be such effective leadership development tools. Enjoy.
The Leadership Poem Collection
Just Keep on a Fishin'
Supposin' that th' fish don't bite,
What's th' use o' yer retreatin'
An' sneakin' 'round by th' back way,
Jest appearin' 's'tho yew're beaten?
'Taint no use o' givin' up
An' be content with jest o' wishin.'
Come now! Throw in yer hook agin;
Mebby some old speckled beauty
'S a waitin' in that shady hole
Fer yew t' dew yer solemn dewty.
Come now! Throw in yer hook agin
An' grin 'n' jest keep on a fishin'.
Some day th' sun don't shine jest right,
Th' wind don't seem t' be a blowin'
From th' right quarter; so yew see
Yer ketch aint hardly worth th' crowin'
Over when yew git it home,
An' yew humps right down 'n' goes t' wishin'.
But what's th' use? Brace up, old man
An' put away yer dumps 'n' sorrow;
If yew aint got no bites t' day,
Jest try agin 'n' try t'morrow.
Try agin, yer luck'll turn;
Jest grin 'n' keep right on a fishin'.
Of course, yew've tramped 'n' tramped 'n' tramped;
Yer legs 'er short 'n' feet a draggin';
Yer back's a achin', 'n' all yew've ketched
Aint worth the while o' any braggin';
Yew're out o' wind; but 'taint no use
In settin' down 'n' jest o' wishin'.
Ther's lots o' things yew might wish fer
Thet other folks around are gittin'.
Jest throw yer hook right in agin,
An' grin 'n' jest keep on a fishin'.
Yer neighbor got his basket full!
Well, what o' that? Yew aint a cryin'
Because he found that dandy hole
'Fore yew was up, 'n' kept a tryin'?
Don't do no good t' git up late
An' poke around a jest a wishin'.
Git up, old man before th' sun,
An have yer bait all dug 'n' ready
T' make them specked beauties' feast,
Thet's shinin' in that pool so shady.
An' now's yer chance! Throw in yer hook!
An' grin 'bn' jest keep on a fishin'.
Yew're bound t' git yer bite some day
'F yew hang right on 'n' keep a fishin'.
Spit on th' bait, work every trick;
It's better 'n' t' only keep a wishin'.
I swan! I'd ruther fish all day
Without a bite than jest a wishin'
An nothin' doin' on th' bank.
Yew git some good fer jest a tryin'.
Yew have ben faithful, man. "Well done"
Will sound real good when yew're a dyin';
So never mind defeat t' day,
Jest grin 'n' keep right on a fishin'.

- Uncle Sant
Honesty Wins The Day
Leadership Poem
True worth is in being, not seeming,-
In doing, each day that goes by,
Some little good, not in the dreaming
Of great things to do by and by.
For whatever men say in their blindness,
And spite of the fancies of youth,
There's nothing so kingly as kindness,
And nothing so royal as truth.

- Alice Cary

Character Counts
Leadership Poem
When wealth is lost, nothing is lost;
When health is lost, something is lost;
When character is lost, all is lost.

- Motto over the walls of a school in Germany

Stop Wasting Time
Leadership Poem
Life is a leaf of paper white,
Whereon each one of us may write
His word or two, and then comes night.
Greatly begin! Though thou have time
But for a line, be that sublime, -
Not failure, but low aim, is crime.

- Lowell

Life Makes Way For The Determined
Leadership Poem
There is no chance, no destiny, no fate,
Can circumvent, or hinder, or control
The firm resolve of a determined soul.
Gifts count for nothing; will alone is great;
All things give way before it soon or late.
What obstacle can stay the mighty force
Of the sea-seeking river in its course,
Or cause the ascending orb of day to wait?
Each well-born soul must win what it deserves.
Let the fool prate of luck. The fortunate
Is he whose earnest purpose never swerves
Whose slightest action or inaction serves
The one great aim.

- Ella Wheeler Wilcox

Never Give Up
Leadership Poem
Never give up, there are chances and changes,
Helping the hopeful, a hundred to one;
And, through the chaos, High Wisdom arranges
Ever success, if you'll only hold on.

Never give up; for the wisest is boldest,
Knowing that Providence mingles the cup,
And of all maxims, the best, as the oldest,
Is the stern watchword of 'Never give up!'"

Be firm; one constant element of luck
Is genuine, solid, old Teutonich pluck.
Stick to your aim; the mongrel's hold will slip,
But only crowbars loose the bull-dog's grip;
Small though he looks, the jaw that never yields
Drags down the bellowing monarch of the fields!

- Holmes

Courage Counts
Leadership Poem
I like the man who faces what he must
With step triumphant and a heart of cheer;
Who fights the daily battle without fear;
Sees his hopes fail, yet keeps unfaltering trust
That God is God; That somehow, true and just,
His plans work out for mortals; not a tear
Is shed when fortune, which the world holds dear,
Falls from his grasp; better, with love, a crust
Than living is dishonor; envies it,
Nor loses faith in man; but does his best,
Nor even murmurs at his humbler lot;
But with a smile and words of hope, gives zest
To every toiler; he alone is great
Who by a life heroic conquers fate.

- Unknown
Daily Persistence
Leadership Poem
Yes, to this thought I hold with firm persistence;
The last result of wisdom stamps it true:
He only earns his freedom and existence
Who daily conquers them anew.

- Goethe

Enjoy The Ride
Leadership Poem
Why Don't You Laugh?
Why don't you laugh, young man, when troubles come,
Instead of sitting 'round so sour and glum?
You cannot have all play,
And sunshine every day;
When troubles come, I say, why don't you laugh?

Why don't you laugh? 'T will ever help to soothe
The aches and pains. No road in life is smooth;
There's many an unseen bump,
And many a hidden stump
O'er which you'll have to jump. Why don't you laugh?

Why don't you laugh? Don't let your spirits wilt;
Don't sit and cry because the milk you've spilt;
If you would mend it now,
Pray let me tell you how;
Just milk another cow! Why don't you laugh?

Why don't you laugh, and make us all laugh, too,
And keep us mortals all from getting blue?
A laugh will always win;
If you can't laugh, just grin, -
Come on, let's all join in! Why don't you laugh?

- From the "Independent"

Optimism Empowers
Leadership Poem
Let's find the sunny side of men,
Or be believers in it;
A light there is in every soul
That takes the pains to win it.
Oh/ There's a slumbering good in all,
And we perchance may wake it;
Our hands contain the magic wand;
This life is what we make it.

- Unknown

Choosing Happiness
Leadership Poem
Our lives are songs
God writes the words
And we set them to music at leisure;
And the song is sad, or the song is glad,
As we choose to fashion the measure.

We must write the song
Whatever the words,
Whatever its rhyme or meter;
And if it is say, we must make it glad,
And if sweet, we must make it sweeter.

- Gibbons

Focused Effort Prevails
Leadership Poem
The heights by great men reached and kept
Were not attained by sudden flight,
But they, while their companions slept,
Were toiling upward in the night.

We have not wings, we cannot soar;
But we have feet to scale and climb,
By slow degrees, by more and more,
The cloudy summit of our time.

- Longfellow

Thinking For Positive Change
Leadership Poem
Thinking
When you think you're beaten, you are.
When you think you dare not, you don't.
When you'd like to win, but think you can't
It is a sure thing that you won't.

When you think that you'll lose, you've lost;
For out in the world you will find
Success begins with a man's will –
It's all in the state of mind.

When you think you're outclassed, you are.
You have got to think BIG to rise;
You have to FEEL sure of yourself
Before you can win a great prize.

Life's battle does not always go
To the stronger or faster man;
But soon or late the man who wins
Is the one who THINKS he can.

- Unknown

Unproductive to Worry
Leadership Poem
Worry
The burdens that make us groan and sweat,
The troubles that make us fume and fret,
Are the things that haven't happened yet.

- George W. Bain

Wisdom of Age
Leadership Poem
The One I Hate
I have in me a tendency to hate,
Yet see with joy that tendency abate,
As each new year against my casement knocks
And leaves his drift among my temple locks.

For sometimes I hated hard and long,
And found, too late, that I had hated wrong.
I hold, at length, one dominant belief:
Hate comes but when acquaintance is too brief.

So now, when half inclined to nurture spite
Against some one I deem eschews the right,
I let not judgement yield unto my huff,
But say, "I do not know him well enough."

For always comes this thought to give me pause,
To plead the erring human's doubtful cause;
Although my eyes discover only ill,
God knows him through and through – yet loves him still.

- Unknown

Tenacious Persistence
Leadership Poem
The force that is going to carry you to your goal,
Is coiled up inside of you , in your energy, your pluck, your grit,
Your originality, your character, and your possession of a strong,
Persistent, tenacious purpose.

Whatever you do in life, keep in an ambition –
Arousing atmosphere.
Keep close to those who are dead in earnest,
Who are anxious to do something in the world.
You will catch the spirit of your environment.

- Orison Swett Marden

Worth While
Leadership Poem
'Tis easy enough to be pleasant
When life flows on like a song,
But the man worth while is the man with a smile
When everything else goes wrong.

- Ella Wheeler Wilcox

Power in Belief
Leadership Poem
To dare is better than to doubt,
For doubt is always grieving;
'Tis faith that finds the riddles out;
The prize is for believing.

- Henry Burton

Personal Ownership is Freedom
Leadership Poem
Our remedies oft in ourselves do lie
Which we ascribe to heaven; the fated sky
Gives us free scope; and only backward pulls
Our slow designs when we ourselves are dull.

How much I could do if I only tried.

- Shakespeare

The Power of "I"
Leadership Poem
I WILL DO MORE
I am only one, but I am one.
I cannot do everything, but I can do something.
And what I can do, I ought to do.
And what I ought to do, by the grace of God, I will do.
I will do more than belong...I will participate.
I will do more than care...I will help.
I will do more than believe...I will practice.
I will do more than be fair...I will be kind.
I will do more than dream...I will work.
I will do more than teach...I will inspire.
I will do more than earn...I will enrich.
I will do more than give...I will serve.
I will do more than live...I will grow.
I will do more than talk...I will act.
I will be more than good...I will be good for something.

- Anonymous

Break Bad Habits
Leadership Poem
Habit
How shall I a habit break?
As you did that habit make.
As you gathered, you must lose;
As you yielded, now refuse.
Thread by thread the strands we twist,
Till they bind us, neck and wrist;
Thread by thread the patient hand
Must untwine, ere free we stad;
As we builded, stone by stone,
We must toil unhelped, alone,
Till the wall is overthrown.

- John Boyle O'Reilly

Self-Help for Self Respect
Leadership Poem
Let others write of battles fought,
Of bloody, ghastly fields,
Where honor greets the man who wins,
And death, the man you yields;

But I will write of him who fights
And vanquishes his sins,
Who struggles on through weary years
Against himself, and wins.

Here lies a soldier, whom all must applaud;
Who fought many batles at home and abroad.
But the hottest engagement he ever was in,
Was the conquest of self in the battle of sin.

Who conquers self, - he is a hero born,
His name may die, forgotten by his peers,
But yet the seed he sowed in care and tears
Shall bear rich harvest through immortal years.

- F.A. Shaw

Thanks for visiting our Leadership Poem Collection - we hope you've enjoyed the poems we selected for your consideration.
Want to check out our Encore Collection of leadership poems? Click to read more leadership poems.
"A good leader inspires others with confidence in him;
a great leader inspires them with confidence in themselves. "
- Unknown