Library of Orison Marden Books
Learn From The Masters
The American Success Movement Lives On!
Orison Marden books has provided many universal lessons, which we have passed along to our readers throughut our website. In fact, subscribers to our free newsletter receive a special gift, a complete copy of Marden's original masterpiece, "Pushing To The Front" when you subscribe to our free newsletter.
If you have not read our introduction to Dr. Marden, we invite you do so at OSM - Pushing To The Front before reading this page further.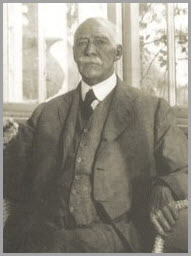 Dr. O.S. Marden
Here we will provide you with a more complete picture of Orison Marden books and teachings, as well as works from other early leaders and visionaries.
Over time we will work to develop his page into a complete library of the most important leadership books.
By reading the following pages, you will allow Dr. Marden and others to lead you step-by-step through an amazing process that will unleash the marvelous power that has always been silently living within you. After hearing his life story and applying his many leadership lessons, you'll develop the confidence to go through life knowing that there are no obstacles that you cannot boldly face and successfully overcome.
"You can finally break free from whatever it is that is holding you back!"
Upon reading Orison Marden books, which provided a complete library of success and leadership lessons, you'll learn that once your ambition is fully fueled; once you decide to take full and complete ownership of your life, nothing can stop you from achieving your dreams.
You will soon find yourself energized with a renewed focus and vigor. You will benefit from greater confidence and clarity regarding your current situation and future goals. You will no longer allow a bad relationship or a poor environment to impact you in negative ways.
Orison Marden books can provide you with inspiration for positive change in your life. You'll be astounded at the seismic shift that will occur in your life when you free yourself from using words like "can't", "but" and "won't".
"Orison Marden books have benefited men and women worldwide for over a century!"
As Dr. Marden explains in painstaking detail how to take control of your inner power, you will begin to think in terms of "I must", "I can" and "I will" – the limited landscape that you thought was your future will suddenly blossom with possibilities for wealth, happiness, joy, and good health.
So let's get started by learning more about Dr. Marden, the man. Once you read his amazing story, you'll better understand what motivated him to create a life and a philosphy that has helped and inspired millions to become their better self. "

Orison Marden Books and Chapter Links
br>
More Self-Help Leadership Books Available (Free PDF)
"There will be no success, without difficulties to overcome."
- O.S. Marden