Orison Swett Marden Chapter XX
The Life Story of Orison Swett Marden Chapter XX: 
Beginning all over again in your sixties is a different matter from beginning again in your forties.
But the balance in years was more than offset by the changed conditions of Marden's life.
This time he did not have to work alone in a room over a livery stable. In 1905, while Success was in the full-tide of its popularity, he had married a beautiful and talented Southern girl — Clare L. Evans, of Louisville, Kentucky.
His marriage came as a complete surprise even to those who were closest to him. He was in the middle fifties, and generally regarded as a confirmed bachelor — not that he was a woman hater or impervious to feminine charms. On the contrary, his was a nature that yearned for sympathy, companionship, and the joys of home.
He loved children, and had the highest ideals of woman and marriage. Previously, however, circumstances had denied him a home of his own.
With his meeting with Miss Evans began the great romance of his life. It was with him a case of love at first sight. Just out of her teens, tall, slender, with dark blue eyes, rippling brown hair and oval face, added to the grace and charm of manner peculiar to women of the Southland, Clare Evans well sustained the reputation of Kentucky, famed for its beautiful women.
The only daughter of an old Southern family, whose fortunes had been wrecked in the Civil War, Miss Evans, anxious to make use of her talent, was studying for the concert stage when Marden met her. She had a fine soprano voice, and had come to New York to continue her studies with a noted singing teacher.
Doctor Marden was introduced to her by a mutual friend, Mr. Arthur, who had a great admiration for the editor of Success and his work.
Mr. Arthur often talked of Marden to the girl, who shared his admiration for his friend's writings. The introduction took place at the Grand Central Station, New York. Miss Evans had been singing at a concert in Stamford, a near-by town, and, on her return, Arthur, accompanied by his friend Marden, met her at the train.
The three went to the Manhattan Hotel for dinner, and after a delightful evening the two men escorted the girl to her home.
If she had heard the editor's ardent language in voicing his impressions of her to his friend, the young singer might have been flattered. But had anyone suggested that she would one day marry him, she would have laughed at the idea as preposterous.
Of course she had a great respect and admiration for the editor; but, under any circumstances, the idea of marrying a man more than double her own age would be out of the question. Besides, was not her future irrevocably settled? She would never marry.
Nevertheless, if she had but known the iron will of the man whose acquaintance she had just made, it might have frightened her to learn that he had made up his mind to marry her!
But she had not thought of him again until their second meeting, while he had scarcely thought of anything else but her. He made some pretext for calling on her, and when, very soon after, she gave a farewell concert before leaving for Europe, he was there to applaud and throw bouquets at her feet.
His wooing was characteristic of the manner in which he went after whatever he had set his heart on. He persistently laid siege to the lady's heart. The fact that he got no encouragement only intensified his determination to win her.
Friends remonstrated with the girl for permitting his attentions, accused her of encouraging him, and reproached her for playing with a man old enough to be her father. She indignantly denied their charges and protested that, instead of encouraging him, she had done everything possible to discourage him, having already refused to marry him, but he would not take "No" for an answer.
Intent only on perfecting her voice, Miss Evans went abroad to have the benefit of European teachers and also the advantage of studying languages there. When Doctor Marden begged her to write him as a friend who was deeply interested in her future, she had not the heart to refuse. Soon after her arrival in Paris, she wrote him a little friendly letter. In reply she got a cablegram, announcing that he was starting for Paris on the next steamer from New York!
Immediately on arriving in Paris, the Doctor renewed his suit — or his seige, — under more favorable circumstances. The girl was lonely and glad to see a friend's face, to hear the sound of her home tongue. The only girl in a family of stalwart boys, she had always been the darling of the household. Worshipped by her father and mother, petted and made much of by her brothers, she had lived in an atmosphere of love. She missed that home atmosphere more than she missed the home comforts.
The Doctor tried to find a substitute for it. He was sympathetic, attentive, but unobtrusive, studying her pleasure, anticipating her wishes, — making himself indispensable.
"Strength does not come from physical capacity. It comes from an indomitable will."
- O.S. Marden

He gained ground, for, when he again asked the girl to be his wife, — instead of the uncompromising "No" of former occasions, she said, laughingly, "Well, I suppose I'll have to marry you to get rid of you!"
Only then did Miss Evans begin to think seriously of marriage. She thought she had put it away from her forever. She had no illusions about becoming a great prima donna, but she had always wanted to go out in the world and do things — render unselfish service, help people.
Even as a child she had often made her elders smile — through tears — at her interest in the Home for Aged Women in her native town, Louisville. No one could resist the appeal of bonnie wee Clare Evans when, once a week, she donned her hat and coat and went out to solicit clothes, money contributions, or little unusual luxuries for the inmates of the Home. How she loved to bring smiles to the faces of the dear old ladies, who valued her visits more than anything else she could bring them!
Here was an opportunity for the child grown to womanhood to satisfy her more mature ambition, as the help-mate of a man who was doing big things. She not only respected and admired Doctor Marden more than any other man she knew, but she loved his kindly nature.
Blended with her friendly feeling for him, was a touch of affection, such as a girl might have for her guardian, or her father. And she looked up to him as an intellectual giant — a great man who was doing a wonderful work for humanity.
What a glorious thing it would be to be able to help him in his work! The idea took hold of her imagination, fascinated her. Should she give up her musical career for the sake of this man and a home of her own?
Many times the girl asked herself this question before she yielded. But the man persisted and when she finally said "Yes," he felt that he had won the greatest victory of his life.
They were married in 1905, and, after a brief honeymoon in California, returned to New York, where, long before she had consented to marry him, the editor had prepared an apartment for his bride-to-be.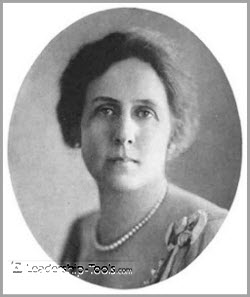 Mrs. Orison Swett Marden
From the first the marriage proved ideal. The disparity in years, instead of separating, seemed to unite the pair more closely. It gave to the love of the husband the added tenderness of a father for an adored child, while it created in the young wife a feeling of deference towards his opinions and wishes, which one nearer her own age could not have inspired. With similar tastes and ideals and the complete sympathy of each in the other's work, time but drew them closer to each other.
Soon after his marriage, Doctor Marden bought a farm in Glen Cove, Long Island. There, in their beautiful home, the husband and wife delighted to entertain their friends. There were born their three children — the eldest, a son, named for his father, and two daughters, Mary Newell and Laura Fletcher. This completed their happiness. Its completeness awed the man who had had so little of love in his early life.
Coming to him so late, he often felt as if it must be a wonderful dream, from which he would presently wake up to the old loneliness and the cold realities of a practical world. Could this gracious woman whose love he had won really be his wife? Those lovely children his? Or was it all a mirage that would vanish and leave him alone again?
In after years one of the children said, "Father looks at Mother as if she were an angel just come down from heaven, and might at any moment unfold her wings and take flight again."
This perfectly expressed his attitude toward his wife from the beginning to the end of their married life. He never seemed to have gotten over the joy and wonder of having won her, and the husband never ceased to be the lover.
"Ability is what you're capable of doing. Motivation determines what you do. Attitude determines how well you do it." 
- Orison Swett Marden
Orison Swett Marden Chapter XX , continued...
As for his children he worshipped them, sympathized with them in their childish joys and sorrows, and entered into all their little sports and games with a zest and enthusiasm equal to their own. There was no playfellow they enjoyed more than their father, and no happier moment of the day than when they sallied forth with shouts of delight to meet the evening train which bore him home from the city.
Dr. Marden's children returned his worship in full measure — and tyrannized over him, especially the youngest, Baby Laura. The adored and adoring young mother would often watch with amusement a little bedtime comedy, which was frequently enacted at the Glen Cove home.
The editor-author, thitherto, had not allowed the husband or father to interfere with his work. Baby Laura, however, could see no sense in this; and when he would come home evenings with his portfolio filled with manuscripts to be read, articles of his own to be revised, or chapters of a book to be reread and amended — she would match her brain against his to circumvent his plans.
It had become the rule, after Baby had been put to bed in the nursery upstairs, for "Daddy" to "tuck her in." He loved to do it, and, after finishing his task, smoothing her pillow and kissing her good-night, would return to his study on the same floor. Hardly would he be seated in his chair, with his eyeglasses adjusted and his work started, when a childish treble would come floating through the open door, "Oh, Daddy, I'm thirsty; please get me a glass of water!" Daddy would immediately drop his work, get the glass of water and take it to the thirsty one, then tuck her in and once more kiss her goodnight.
Baby would seem, however, to be afflicted with an unquenchable thirst, for this performance would have to be repeated at short intervals for half an hour or more until she would finally grow drowsy and fall asleep. But not once did the indulgent father show a sign of impatience with the child. Indeed, he enjoyed the bedtime comedy as much as the amused mother.
The memory of his own childhood made him very lenient to little harmless whims and childish devices of this sort, but the least display of ill temper, selfishness, rudeness, or any real fault of conduct or character on the part of any of the children, met with the sternest disapproval. No whining, no faultfinding, no unkind criticism of others, no gloomy faces, no complaints or grumbling, no tale-bearing, no gossip, no harsh words of or to anyone were permitted in the Glen Cove home.
"You may encounter many defeats, but you must not be defeated. Please remember that your difficulties do not define you. They simply strengthen your ability to overcome."
The Golden Rule was its one law. Obedience to it was the one condition imposed alike upon every member of the household.
The following copies of undated letters, written, probably, when Baby Laura had grown a few years older, express in some degree the feelings which filled the tender heart of the devoted husband and father:
MY PRECIOUS WIFE AND CHILDREN:
We never know what may happen to us in the future, nor how quickly the end may come, because of the many vicissitudes of life and the chances we all have to run of meeting with sudden death.
How many fathers go out from their homes in the morning in good health never to return! Then is all silence forever more; never another word from them to their dear ones!
Now, whatever may happen to me, I want you to know how dear you are to me, how much I love you all, how proud I am of you. I want you to know how precious — how priceless in his eyes — have been the little sacrifices you have made for Daddy's comfort and pleasure.
The giving up of your little savings to buy something you believed would add to his happiness, have touched your father's heart more deeply than you can ever realize.
Nothing has ever come into his life — or ever could come — which has given him a fraction of the satisfaction and happiness he has enjoyed in his little family, — mother, brother, and two little sisters. Ah, what a precious possession! What fortune, fame, or honor could compare with the wealth of love and life they have brought him!
He would rather go to his modest home than to the palace of a king, because he knows that love is enthroned there; that loving hearts are waiting to greet him, that his dear ones are never too busy at their play or their work to run to meet him when he is returning home.
Is there a man living who could not be happy in such a home? I sometimes wonder if any Daddy ever before had such wonderful children — who have never caused him any anxiety because of their conduct or habits, but, on the contrary, have given him the greatest satisfaction, in being obedient to their parents, in being kind and true, and just to one another, — to everyone both within and without the home.
Your father knows that you love your mother as dearly as you love him, but he wants you to understand how much you owe to her unselfish devotion. He wants you to know that you have a marvelous mother. Very few children have been so fortunate in that respect. She has devoted herself to you from your birth, and sacrificed her personal ambitions that you might have greater advantages. No children ever received more love, or better rearing than you have had.
You should thank God every day for that greatest of all blessings — a true Mother.
It has brought continual sunshine into your Father's life to see you responding so fully to her care of you — to see you growing into boyhood and girlhood, free from any taint of snobbishness, self-conceit, selfishness, envy—any of the little human meannesses, jealousies or smallness of spirit that mar character and are so peculiarly repellent in youth.
It is his hope to see you grow to manhood and womanhood, developing superb personalities, strong, self-reliant individualities.
Ah, my children, your Daddy cannot tell you how dearly he loves you, nor what great ambitions he has for your future; how anxious he is that you should become splendid citizens, that you should be successful and happy, able and willing to serve mankind to the limit of your ability.
He wants all of you to have a superior education, for he knows that to go out into life armed with well-trained minds will be worth more to you than to have a fortune with only an ordinary education.
While you are dearer to your Daddy than his own life, and while he would do anything in the world to make you happy, he can give you little more than an education. When he is called from here, you will not inherit a fortune, for he has none to leave, nor fame, for he lacks it, but he hopes to leave his children some-thing better than money or fame, — an unsullied name.
He wants to leave them a legacy that they will prize perhaps more than they would a money legacy, — a precious recollection, a sweet, beautiful memory of a happy childhood, a happy home, a kind, loving father.
MY PRECIOUS BOY ORISON:
I wish it were possible to put in words my hopes for you, and my expectations of you in the future.
I can picture you coming into manhood — a superb manhood, with fine physique, a splendid brain, superbly trained and equipped for a glorious future.
There is practically no position in this country to which you cannot aspire. No one, however, can open the door ahead of you but yourself, nor can anyone else keep it closed against you. Only through your own efforts, your own struggles, can your ambitions be realized.
All the possibilities of the giant oak are hidden in the acorn, and yet how many of these possible giant trees stop at the dwarf oak stage! The great majority of possible human giants stop at the dwarf stage, never go on to their giant possibilities.
My boy, you must not stop at the dwarf. You must not disappoint your father's ambitions for you. You can be a very much bigger man in the world than he has been. There are giant possibilities in you and you must keep climbing, growing, improving yourself at every opportunity, always bettering yourself until you measure up to a hundred per cent of those possibilities, until you lift yourself to the level of your highest gift.
I am sure that you will justify your father's faith in you, that you will not fall short of his expectations. Oh, how I wish I could follow you through the years of your struggles and watch you climb to the glorious future which I am sure is waiting for you!
I have always felt, from a child, the presence of my dear mother. For many years I have imagined her as a guardian angel watching her boy, warning him against wrongdoing, holding him back from going to bad places with other boys, from doing bad things. I seemed to hear her voice bidding me always to do right, not to disappoint my mother's hopes for me, her confidence in me. If there is any such thing after I have passed out of your sight, you may be sure I shall follow my boy. You will not be able to see me or to hear my voice, but I shall come to you, I shall try to inspire and encourage you, to strengthen you against temptation, to protect you in danger, and to help you hold fast to your highest ideals of manhood.
Remember, my son, there is no real satisfaction in doing wrong, no real pleasure in it; there is nothing in it compared with the pain, the regret, the sting of the bitter memory of it all. Doing right is the only thing that will give you satisfaction, — living uprightly, telling the truth, always being square, straight and clean.
Always think of your body as something very sacred, as a beautiful temple for the housing of something divine. Keep it pure and clean. Do not abuse it, do not desecrate it. Guard it as your pearl of great price. Purity is power, is self-respect. It gives strength, untold satisfaction, unalloyed happiness.
You are infinitely more fortunate than most boys in having such a remarkable mother. She is one in a million mothers. You can never begin to realize how she has shaped your life by her wonderful love and unselfish devotion. I know you will never do anything that will grieve or pain her — lessen her respect for you.
Before many years my work will be done. I cannot change the past; it is beyond my control; all I can do is to improve what of life is left to me, to make the most of every day as it comes, which I try to do. My ambition is, as it has always been, to put my 'O.K.' on every day's work.
If I could be put back where you are today, be given the chance to try again, with my present knowledge and experience, I would make a tremendous effort to improve on what I have done. Oh, how many of the pitfalls I have fallen into would I escape, how many blunders, mistakes, humiliating acts and experiences would I avoid!
But nothing goes back in this universe; everything is headed towards a definite goal, — like a crystal, like a Lincoln! All is traveling upward in its evolution towards perfection.
My life on this earth is drawing to a close, Orison; yours is just beginning. My hopes center in you. My dream is that you will carry forward the work that I have begun; that you will raise it to greater heights than I could have done. I can see you now in stalwart manhood, a strong figure in a commanding position, a power in the community, looked up to, respected and loved.
My boy, make my dreams for you come true!
Purchase The Life of Orison Swett Marden Audiobook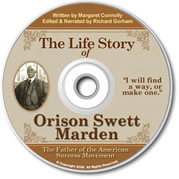 3 Minute | Audio Sample
When you purchase The Life Story of Orison Swett Marden audiobook, you also receive a free ebook version of this inspiring classic.
Listening to audio books are the perfect solution for the busy leader. It's easy to learn and grow by listening to inspiring audio books during your morning and afternoon commute; when working out at the gym or hiking outdoors.
Incorporate leadership audio books into your normal routine and make the most of each and every day.
Click to Order. Only $14.95



The Life Story of Orison Swett Marden | Next Chapters