Financial Management Tips and Tools

Our financial management tips and leadership tools provide you with a series of templates, which allow you to significantly reduce and eventually eliminate your debt.  You may customize these tools as you see fit.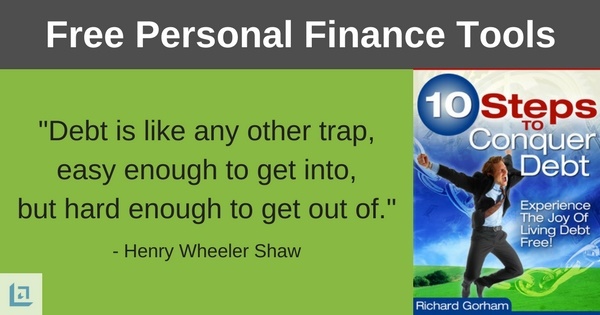 Download Free: 10 Steps to Conquer Debt eBook
Too often we make financial decisions based on what we are told from other members of our family, friends, neighbors, or from the mass media and advertising that bombards our TV, radio, newspapers/magazines, and online platforms .
We are constantly being enticed to "Buy – using five EASY payments!"  "But, wait, we'll DOUBLE the order!"
In our free ebook, 10 Steps to Conquer Debt, we will take you by the hand; provide highly effective tools and resources, and explain the truth about debt in a way that will energize you to begin reducing debt to improve your financial future.
Once we show you how to effectively tackle your debt, we'll teach you how to turbo-charge the debt-reduction process by creating new streams of income for your household.
"If a man rejects education, he walks lame to the end of his life"
- Plato

In order for a leader to be highly effective in the workplace, he or she must also be a leader of their personal life.
In our Life Balance - Success Wheel tool, we walk you through the process of identifying and rating yourself in your key life categories. One category that is on everyone's wheel is the Financial Category. 
The financial management tips and tools you will discover in 10 Steps to Conquer Debt provide quality direction for reducing debt and building financial wealth.

Financial Management Tips to Eliminate Debt
In 10 Steps to Conquer Debt, we provide clear financial management tips and specific instructions, along with the following free financial tools:
Getting organized is about more than cleaning off your desk or taking out the garbage. Organization of your finances is a critical step in reducing the amount of stress you are experiencing. 
When your personal finances are carefully organized, and when you know you have a plan in place to conquer your debt, the fear and worry you're feeling is dramatically reduced.

It's time you get specific about your financial plan. Collect all your financial paperwork and lay it out on the kitchen table. Yes, all those bills and statements must now be opened so you can effectively deal with them. 
Don't worry, we'll be there with you every step of the way, helping you to complete a personal financial statement so you will finally have a clear picture of your current financial condition.
You must be in firm control of your cash flow. No longer will you experience the shame of being charged multiple overdraft fees or receiving late notices in the mail. 
Using our Daily Cash Flow tool, you'll never again be surprised to learn that a bill is past due. Understanding how your money flows from day-to-day is essential to being a responsible money manager.

"One of the true test of leadership is the ability to recognize a problem before it becomes an emergency."
- Arnold Glasqow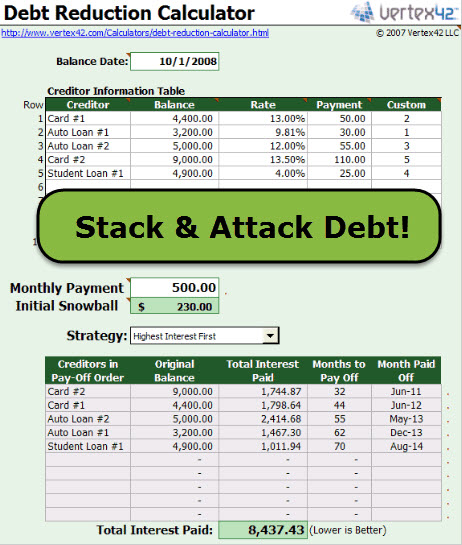 This state-of-the-art debt reduction calculator allows you to easily determine which debts to focus on first.
Paying off debt won't happen overnight, but once you've lined up your debt in the proper order, you'll be positioned to conquer your debt with absolute certainty. 
A good debt reduction calculator will save you hours of planning time, and quite possibly tens of thousands of dollars in interest payments over the duration of your debt reduction plan.
The best part about using the debt-stacker strategy is that you will most likely pay off all your debt in roughly half the time it would otherwise take.
Establish a budget plan to attack your debt one credit card at a time. Eliminate stress, worry and fear by having a clear action plan for your money.
Track your progress with our free personal budget spreadsheet. Discover how quickly the process of debt reduction can occur once you have a plan that is clear and actionable.

Cash creates clarity.  It's much easier for people to spend using plastic than cold hard cash. For some reason, cash is inherently more highly valued than all those shiny credit cards. Thus, cash is harder to part with. 
While you may not even blink when swiping a credit card, you tend to feel the pain of spending more personally when paying with cash. You can use this force to your advantage. We will show you how to create a simple cash budget envelope system.

Each step of our program is simple to understand - but that doesn't mean it's easy. You will be required to make some important changes in your financial life. 
More specifically, our program will help you to improve the quality of your relationship with money. Quality financial management tips and tools will show you that your money should be working for you, not the other way around.
"We tend to realize in life what we persistently hold in our thoughts
and what we vigorously struggle toward."
- Orison Swett Marden

Debt relief programs that work require the participant to first do one essential thing... Expect Success! This is one of our primary financial management tips to follow.
At Leadership-Tools.com we talk a great deal about Abundance, Prosperity & Success. We know firsthand that the way to demonstrate abundance is to hold it constantly in your mind and never allow anyone, or anything, to keep you from your focus.
People who successfully manage their money think differently than people who struggle financially. Successful people understand what many people are never taught.
"There are two ways of paying debt more quickly:  Increase production through greater efficiency, and increase thrift to lessen expenditures."
- Based on quote by Carlyle
Too often, debt relief programs promise the moon and deliver very little in terms of results. If this has happened to you, you must not allow yourself to feel defeated. Instead, refuse to let past experiences cloud your optimism for future opportunities.
Don't allow yourself to waste time talking about depressed markets, government bailouts or hard times. This kind of thinking will never help you to move toward financial success.
It's time to talk UP about your financial future. 10 Steps to Conquer Debt is a great tool to get you started.
Download 10 Steps to Conquer Debt eBook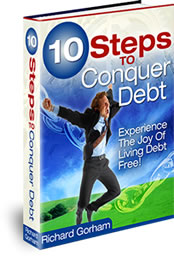 To download our free 10 Steps to Conquer Debt eBook, complete with all our financial management tips and tools, simply subscribe to our free newsletter.
As a valued subscriber, you will immediately receive a password that grants access our entire leadership tools library.
Your privacy is important to us. We never share or sell email addresses. 

More Leadership Tools