Cash Envelope System to Lower Monthly Expenditures
The Cash Envelope System approach is time tested.  Successful money managers have supported this approach for decades, because it's been proved to work.
Download Free: 10 Steps to Conquer Debt eBook
Cash budget items include those expenditures that are easily paid for in cash. Budget categories such as Gas, Groceries, Clothing and Entertainment are all areas of your budget where cash can easily be used for purchases.
In the prior step we introduced our household budget template, which allows you to create your monthly household budget. Most people would stop there and believe they had done all they could to ensure they would live within their means.
However, there is still more to be done to ensure that you are successful at staying within the bounds of your monthly budget.
The cash envelope system is simple and easy to use. First, you identify the categories within your budget spreadsheet that can be easily paid for using cash. 
"The Best Way to teach your kids about taxes is by eating 30% of their ice cream"
- Bill Murray
CASH (a tangible item of value that can be seen and held) is typically harder for people to part with - as opposed to quickly swiping a thin piece of plastic to make a purchase.
Once you've identified your cash categories, determine how much money you will assign to each category and then place that exact amount of cash into separate envelopes. 
We are providing a free Cash Budget Envelope System template to help keep you organized.
Free Cash Envelope System Tool
The following template provides you with a quick and easy way to track and better manage your cash. This free tool is available in our Leadership Tools library, once you subscribe to The Leadership-Tools Free Newsletter.
After printing off the desired number of cash envelope templates, simply staple, glue or tape the template to the back of each cash envelope. 
You can use a regular white envelope, or go to your bank and ask for a few extra Drive Up cash envelopes.
Write the total amount of budgeted cash at the top of each template. As you make a purchase, keep a running total of how much cash is being spent.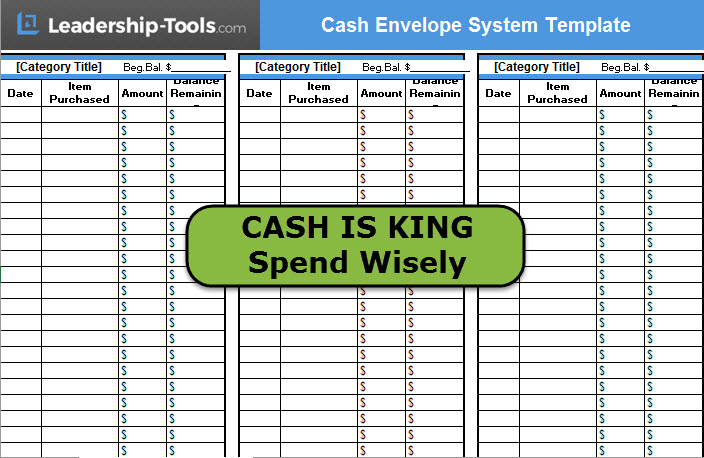 Envelope budgeting is a proven strategy that will keep you focused on the true value of the purchases you want to make. As you watch the cash diminish in each envelope over the course of the month, you will be constantly reminded of how much cash you are spending and how much cash is remaining until the next payday.
Over time, you will begin to challenge yourself to see how much cash you can have left over at the end of the month. When this happens, use a small amount of cash to reward yourself for a job well done. 
Next, take the bulk of the remaining cash and apply it toward your debt reduction program.
Cash Envelope System Categories
Cash budget envelope categories might include the following: 
Birthday Gifts

Gas

Entertainment

Charity/Donations

Clothing

Groceries

Mad Money
The more you plan to pay using cash the better. However, we suggest that you keep the number of envelopes to a manageable amount. We recommend using no more than five cash envelopes to begin with.
"There's nothing wrong with cash, it gives you time to think."
- Robert Pretcher Jr.

At first, using the cash budget envelope system might seem awkward. You may feel that it takes more time and is more work. That may be true, at first. However, once you get into a habit of managing your cash using this system you will realize the value that the process brings to your financial life.
Using cash provides another key benefit. As you use the cash envelope system you'll acquire an increased respect for money. 
"Happiness is a positive cash flow."

- Fred Adler
There is something about seeing the cash; holding it in your hands; entering each purchase on the envelope and seeing that balance decrease that provides a greater appreciation for those hard earned dollars. 
An envelope budget system is just one more tool that you now have at your disposal. Try it out for the next 3-4 months, realizing that it will take at least a month or two before it begins to feel comfortable. Then you can decide if you want to continue the cash envelope system or not.
Download 10 Steps to Conquer Debt eBook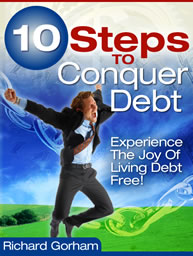 To download our free 10 Steps to Conquer Debt eBook, simply subscribe to our free newsletter.
You will immediately receive a password that grants access to our entire leadership tools library, including our cash envelope system template.
Getting started with the envelope system is simple and straightforward. Begin getting your financial life in order today.
Your privacy is important to us. We never share or sell email addresses. 

More 10 Steps to Conquer Debt Tools