The Life Story of Orison Swett Marden Chapter III
The Life Story of Orison Swett Marden Chapter III: 
The parents of Orison Marden were of the farming class and his training for his life work began almost in infancy.
His mother, Martha (Cilley) Marden, died at the age of twenty-two, when Orison, the second of her three children, was three years old. Although so young when she died, the boy had a lively remembrance of the girl-mother whose image never faded from his mind. He had no picture of her, but no artist will ever paint a lovelier picture of young motherhood than that which memory stamped in the mind and on the heart of the lonely boy. 
Marden's first conscious recollection of his mother visualized a sweet face bending over him in his cradle. During the stress and toil of the years, time swept away many landmarks and erased from his memory many faces from his youth, but one vision always remained — his mother's.
To the very end, as in the beginning, he could say, "I can close my eyes now and see my mother as clearly as if she stood before me. Her dark auburn hair, in the fashion of the time, clustering in curls round her oval face, her blue eyes shining with love, her slender form bending over me in my cradle."
His father, Lewis Marden, a robust, athletic man of thirty, was flattened by the death of his wife. But the claims of the living left no time for brooding over his loss. He must be up and working, — must now be both father and mother to his three motherless little ones, Mary, Orison and Rose. How should he manage this difficult and delicate task?
Rugged farmer, hunter and trapper though he was — standing six feet two in his stocking feet, and with strength proportioned to his stature — he didn't deem it possible that even he could add one more task to those that naturally fell to him as father and family provider. But Love's capacity for service cannot be measured in terms of bodily strength. It is the divine in man, a thing of the spirit that transcends human limits, and, when the need arises, does the "impossible."
So this lonely man, with the aching heart, without even the aid of hired help, took up the new burdens laid upon him. Anxious to provide well for the future of his children, he resolved to save expense whenever possible, and not only cared for the home, doing all the housework and cooking, but also made the clothes for his little family.
In that wild New Hampshire country, bear, deer and other smaller game abounded, and the farmer-huntsman, with the aid of his gun, had little difficulty in keeping the family pantry full.
For four years following the death of his young wife he farmed and hunted, plowed the soil and did the housework, fondly believing that when he should be taken from them, his children would not only be educated as far as he could provide for their education, but would also be financially independent.
"It is the divine spirit in man that transcends human limits, and, when the need arises, does the impossible."

At this juncture, however, a terrible accident, which for a time disabled Lewis Marden altogether, and ultimately caused his death, left his children at the mercy of an unsympathetic world. One day he tramped through the woods about four miles to examine a bear trap which he had previously set.

While on his knees, readjusting the bait, he accidentally sprang the trap, and a tree that was heavy enough to crush a large bear, fell on the trapper!
By what seemed almost a miracle he escaped with his life. Managing in some way to hold up the tree, he succeeded in working himself out from under it, crawling on his hands and feet to a place of safety, where he was forced to wait until help came.
Although his life was spared, he never fully recovered from the effects of his injuries. He toiled along for some months afterwards, in almost constant pain, always struggling for the children whom he might at any time be called upon to leave. To the end he deprived himself of needed comforts that they might have more when he was gone.
At the age of thirty-four the last call came. The spirit of sturdy Lewis Marden followed that of his young wife and his body was laid beside hers in the family burial ground. 
"The world is no longer clay, but rather iron in the hands of workers, and men have got to hammer out a place for themselves by steady and rugged blows." 
- O.S. Marden
Orison Swett Marden Chapter III , continued...
The following is a copy of his last will, made from the original document, now brown and worn with age:
In the name of God, Amen. I, Lewis Marden, of Thornton, in the County of Grafton and State of New Hampshire, do make and publish this my last will and testament in the following manner:
First, I resign my soul to the hands of Almighty' God, hoping and believing a remission of sins by the merits and medium of Jesus Christ, and my body I commit to the earth to be buried at the discretion of my executor, hereinafter named, and my worldly estate I give and devise as follows:
First, I give and bequeath to my son, Orison S. Marden, all my homestead situate in said Thornton County and State aforesaid, also all of my land, which I purchased of Frederick Marden, to have and to hold the same to him the said Orison S. Marden and his heirs and assigns forever, by his the said Orison S. Marden paying out to my Daughters, Mary J. Marden and Roselma F. Marden, the sum of One Hundred Dollars each when they become of age, and the income of all of my real estate together with all of my personal estate whatsoever is to be appropriated to the support and maintenance of my said Children, Orison S. Marden, Mary J. Marden and Roselma F. Marden, and I do hereby appoint Herod Fifield guardian of my Children, Orison S., Mary J. and Roselma F. Marden.
And lastly, as to the rest, residue and remainder of my personal estate whatsoever, after paying off all my just debts, I give and bequeath the same to my said son, Orison S. Marden, and I hereby appoint Herod Fifield my sole executor of this my last will and testament, hereby revoking all former wills made by me.
In witness whereof I have hereunto set my hand and seal, this fifteenth day of January, 1856. Signed, sealed, and declared by the above named Lewis Marden to be his last will and testament in the presence of us who, at his request and in his presence, have subscribed our names as Lewis Marden (L.S.) Witnesses thereto Thomas Wyatt, Jr.; Nathaniel Clarke; Elizabeth Tucker.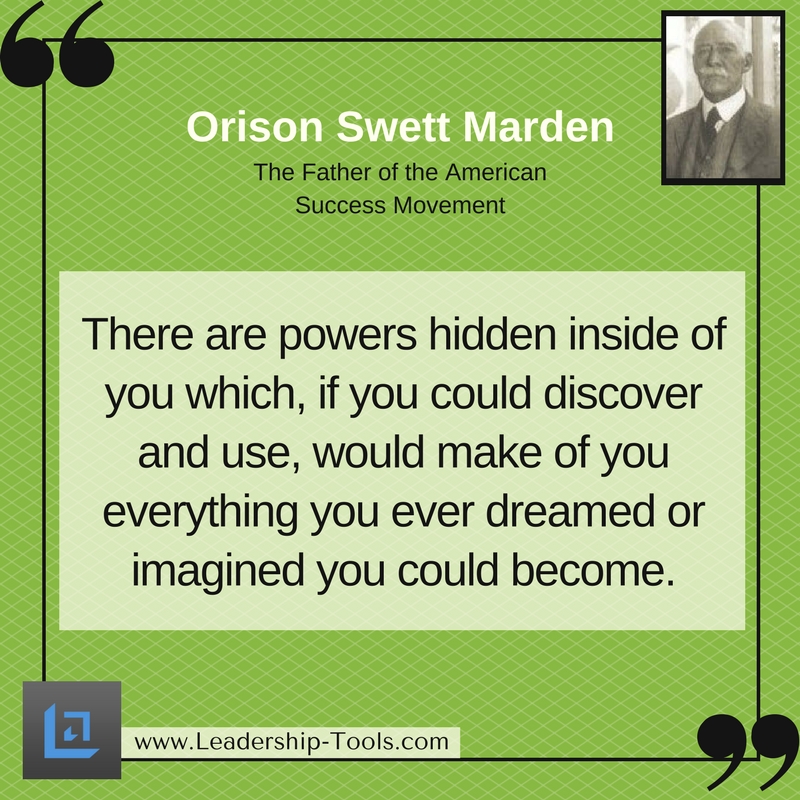 From the notes for his autobiography left by Doctor Marden, it appears that Herod Fifield was not the man his father would have deliberately chosen to guard the interests of his children.
Doctor Marden says: "Father had spoken to a man in whom he had great confidence about becoming our guardian in the event of his death. But before the matter was definitely arranged he grew suddenly worse. Then came a terrific snowstorm, and as we lived in a sparsely settled country where travel at any time was difficult, and in such a dangerous snowstorm, it was impossible to get in communication with this man.
In this crisis Herod Fifield, a neighboring farmer, fairly well-to-do, and a prominent man in the Baptist Church, was called in and appointed our guardian. Father died the next day. 
"What he did for the world cannot yet be fully estimated. But we do know that millions of men and women, regardless of race, creed or political conditions, are applying his practical philosophy in their everyday lives."
"One's primary purpose, main object of life is to GROW."
- Margaret Fuller

"Before he died, Father called me to his bedside and gave me good advice which I have never forgotten. He also said that he had some personal property which he did not want sold by auction, and specified the things he wanted us to have. Among them was a gun, a little red trunk, and some other things which he knew I would prize as having been used by himself."

"His watch, by which I learned to tell the time of day, Father gave to a friend to keep for me until I should be old enough to carry it. My guardian evidently intended that I should never have it, for he tried to get it away from this man to sell it, but I still have the watch."

The Life Story of Orison Swett Marden | Next Chapters