Goal Setting Software For Success?
EXHIBIT B: Financial Goal Planning Example
Goal setting software can be a great option for people who embrace new technology. However, in the example below we use Goal Setting For Success, which shows you how to establish goals using a simple paper planner.
"The real problem is not whether machines think,
but whether men do." - Elbert Hubbard
In the following information, we've provided a step-by-step example of how to use the Master Action Plan form (M.A.P.) most effectively.
Remember, this process does not require that you purchase any goal setting software.
(Image of the Master Action Plan (M.A.P.) form - Download your free copy by
Subscribing to our FREE monthly newsletter)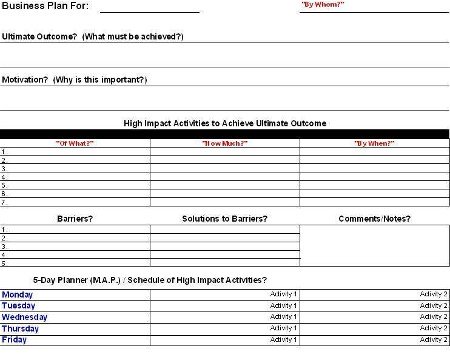 Once you've downloaded and printed the M.A.P. form, you are encouraged to review the following steps to complete your manual goal plan. This example provides a clear vision of how to establish a Financial Goal Plan without the use of goal setting software:
What's My Ultimate Goal or Outcome? (What must be achieved?)

To become debt free (excluding the house payment) within the next 18 months, with over $1,000 in my savings account for emergencies.

Why Do I Want To Do This? What's my purpose/motivation for achieving this goal? (Hint: Attach as much emotion to your purpose as possible for maximum leverage.)

To break the chains of slavery. "The debtor is slave to the lender".
To be able to maximize my greatest wealth-building asset, my salary.
To minimize the stress in my life stemming from financial burdens, which will allow me to live a more fulfilling life, without the strain or worry of debt.
To change the family pattern of living from paycheck to paycheck, which will enable my children to live a more prosperous and fulfilling life

What High-Impact Activities/Tasks Will Ensure My Success? (Hint: Be specific, answer How Much, Of What and By When?)

Write down all my Revenue and Expenses on a personal financial statement in order to assess just how large the debt issue is - this will be done within the next 2 days.
List all my debts in order from largest to smallest - so I can focus on paying off the smallest debt first. Each time a debt is paid off, I will use that money and add it to the next largest debt, creating a snowball effect against my debt burden - I will complete this within the next 3 days.
Create a detailed budget that accounts for every penny spent for the coming month. I will in effect spend all the money "in advance" on paper and then I will be resolute in sticking to my written budget in order to accomplish my goals - to be completed within the next 5 days.
At the end of each month I will assess my progress and complete my written budget for next month - to be completed every month for the next 18 months.
I will make a list of ways to earn more money to help accelerate the debt-snowball process. Activities might include looking for a second part-time job, starting a home business, having a yard sale, selling things on eBay, using store discount coupons, etc.

What Barriers Do I Anticipate? How Will I Overcome These Barriers?


Lack of willpower: Cut up all credit cards. Limit card use to one debit card.
Pressure to "Keep Up With The Jones'": Change my thinking. Know that if I live like no one else today, then later on I will truly be able to live like no one else. I'll be rich, and my broke friends will still be broke.
Living in a "I want it now" society: Change your mindset. Grow up! Realize that there are major forces at work to keep my spending out of control - take that fact as a personal assault and start fighting back! Stop mortgaging my future.
"My friends and family won't support me.": Let them know why I am not choosing to eat out, or go on lavish holidays. Educate them on my passion to get out from under this debt. Be resolute and determined not to give into any pressure. Grown ups must live on less than they make.

5-Day Planner:

Review the above high-impact activities. Use the 5-day planner to schedule your week to include the activities that will lead to your success. Continually assess and adjust the plan as needed.
Clearly, the above plan, while specific, is not all-inclusive. In other words, it's not a complete plan that will take you all the way through the end of the 18 months, but it's very close! The plan will need to be adjusted at regular intervals, either manually or using goal setting software, if that is your method of choice.
The above example represents an action plan that will get you off to a great start, with very specific stepping stones that can lead to achieving your goal successfully.
As you can see, the goal planning process isn't that difficult. Your ability to execute the plan is the true test. No matter how fancy or expensive any goal setting software may be, you can see that you can accomplish the same success using a paper planning system. Utlimately it's your own choices and actions that will determine your end results. If you prefer using goal setting software to organize your goals plan we recommend Tony Robbins', The Time Of Your Life goal setting software and planner system.
Another less expensive goal setting software is the Franklin Covey time management program. I prefer using the Time Of Your Life goal setting software because this program is highly focused on making sure your goals are well aligned with the true purpose in each of your life categories.
Whether you use a paper planner or goal setting software, you must maintain the focus and determination to move forward on your goals each and every day.
Success Lesson #32: Keeping Salary In Perspective
"Achievement does not depend so much upon the amount of money in your pocket as it does the amount of capital you have in yourself."
- Orison S. Marden
If there is one thing a young person should remember when just starting out in her career, it's that she should not place too much emphasis on salary in her first position.
Instead, it is much more important for her to keep in mind the benefits associated with a new role, and the opportunities it will provide for her to learn and grow within the industry.
Experience that gets results is truly what employers pay highly for. You must do what you can to gain as much experience up front before expecting someone to pay you for something you do not yet possess.
"The quality that you put into your work will determine the quality of your life."
In addition, make certain that any work with your name on it, is work that is done to the best of your ability. Your work says no less than your signature on a legal document. Your work is your fulfilled promise to your employer, each and every day.
The habit of insisting upon the best work that you are capable of doing, of always demanding of yourself the highest - never accepting the lowest, will make all the difference to you between failure and success.
When you get your first job think of yourself as actually starting out in business for yourself - as truly working for yourself. This mindset alone will allow you to see opportunities and open doors that would otherwise never seem apparent to you throughout your career.
Determine that you will call upon all of your resourcefulness, your inventiveness, your ingenuity, to devise new and better ways of doing things that will benefit your employer. Present new ways for your organization to save and earn more money, deliver better service, and you will soon be recognized as a leader among your peers.
Demonstrating a get-to-it-tive-ness approach will position you well for the next promotion.
Download Free Goal Setting For Success Tool
Receive goal setting guidelines for a complete performance action plan. Learn how to set goal plans for success without the need for buying goal setting software. The importance of goal setting activity cannot be overstated as setting performance goal objectives will definitely improve your life.
TO RECEIVE THE FREE GOAL PLANNING FOR SUCCESS TOOL: Subscribe to our FREE monthly newsletter. Instructions to access all leadership tools will immediately follow.
Next Goal Setting For Success Chapters
» CHAPTER 1 - Goals For A Great Life
» CHAPTER 2 - What Is It That You Want?
» SECTION 2.1 - Goal Setting In Balance
"The reason most people never reach their goals is that they don't define them, or ever seriously consider them as believable or achievable. Winners can tell you where they are going, what they plan to do along the way, and who will be sharing the adventure with them."
- Denis Waitley