Discover Powerful Quotes That Inspire Results
More powerful quotes that inspire!
Great leaders understand the power of the perfect leadership quote to that motivates and inspires team members to push forward and drive results.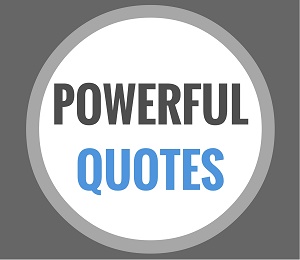 People are more easily inspired and motivated when they hear and connect with powerful stories and quotes. 

Quotations provide you with a tool that can be a powerful part of your leadership development plan. Inserting one or two meaningful quotes during a sales meeting or leadership presentation can help to get your team more engaged in the planning and implementation process.
"I am a leadership student who was browsing the Internet looking for leadership material to help me do my term papers. I found Leadership-Tools.com - Wow, what a site!"
- Nobby M.

Talk with your team about the meaning behind powerful quotes. Get them thinking about what must have been the thought process of the man or woman who first said these inspiring words, and how their vision and inspiration might apply to current events.
Powerful quotes can help aspiring leaders to mold and develop their own unique leadership style. It's simple really, the more we think, the more we learn and the more we grow. Powerful quotations can assist you toward this goal.
Check out the following quotes to influence you and your team to make that extra push toward a successful effort.
Powerful Quotes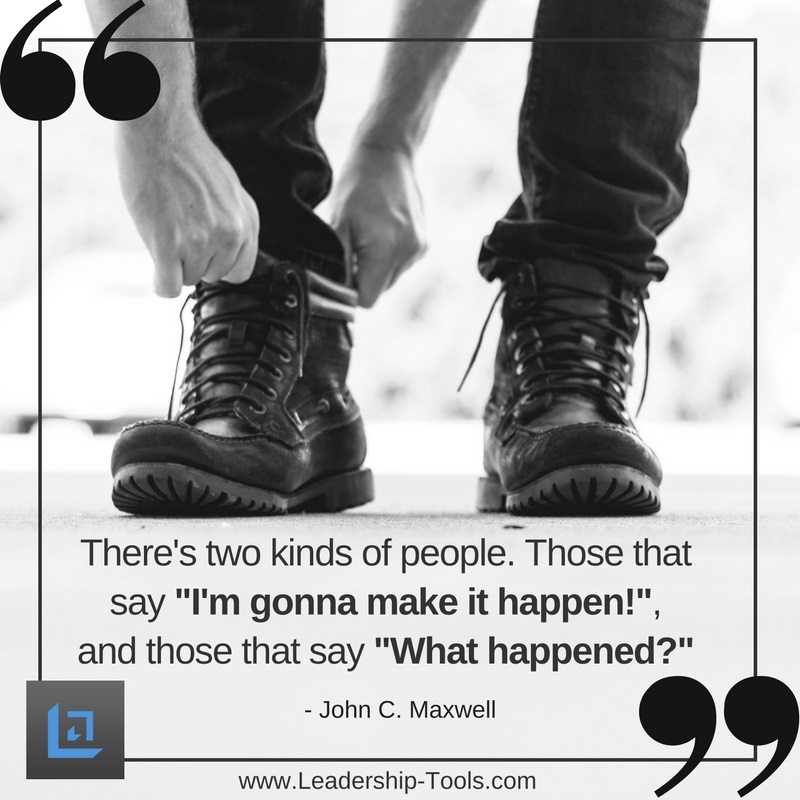 "You're either in or you're out. There's no such thing as life in-between."
- Pat Riley
"I cannot and will not cut my conscience to fit this year's fashions."
- Lillian Hellman
"The trouble with most of us is that we would rather be ruined by praise than saved by criticism."
- Norman Vincent Peale
"Assume nothing, pursue everything."
- Kevin Riper
"The best preparation for tomorrow is to do today's work superbly well."
-Sir William Osler
"We must not allow other people's limited perceptions to define us."
- Virginia Satir
"The mode by which the inevitable comes to pass is effort."
- Oliver Wendell Holmes
"One of the secrets of life is to make stepping stones out of stumbling blocks."
- Jack Penn
"To find fault is easy: To do better may be difficult."
- Plutarch
"One often learns more from ten days of agony than from ten years of contentment."
- Merle Shain

"Conduct is more convincing than language."
- John Woolman
"We learn the rope of life by untying its knots."
- Jean Toomer
"It is in our idleness, in our dreams, that the submerged truth sometimes comes to the top."
- Virginia Woolf
"He who stops being better, stops being good."
- Oliver Cromwell
"The secret to living is giving."
- Unknown
"Genius is one percent inspiration and ninety-nine percent perspiration."
- Thomas Edison

"Obstacles are things you see when you take your eyes off your goal."
- E. Joseph Cossman

"Life is a terminal condition. So do the best you can with the time you have left."
- Gerry Leeds
"Life has a practice of living you, if you don't live it."
- Philip Larkin
"There are two ways of spreading light - to be the candle or the mirror that reflects it."
- Edith Wharton

"The future depends on what we do in the present."
- Mahatma Gandhi
"Looking back, I have this to regret, that too often when I loved, I did not say so."
- David Grayson
"It is best to learn as we go, not go as we have learned."
- Leslie Jeanne Sahler
"You may be disappointed if you fail but you are doomed if you don't try."
- Beverly Sills
"Success and failure are not overnight experiences: It's all the small decisions along the way that cause people to fail or succeed."
- Unknown

"Every moment is made glorious by the light of love."
- Jalal Ad-Din Rumi
"Life isn't a matter of milestones, but of moments."
- Rose Kennedy
"You have to find it. No one else can find it for you."
- Bjorn Borg
"People are just about as happy as they make up their mind to be."
- Abraham Lincoln
"Knowing is not enough; we must apply. Willing is not enough; we must do."
- Johann Wolfgang Von Goethe

"As long as you're going to be thinking anyway, THINK BIG."
- Donald Trump
"Common sense is instinct. Enough of it is genius."
- George Bernard Shaw
"One can never consent to creep when one feels an impulse to soar."
- Helen Keller
"Be yourself, who else is better qualified."
- Frank J. Giblin II
"At some point, you've got to stop evaluating and start doing."
- Unknown

"What we do today, right now, will have an accumulated effect on all our tomorrows."
- Alexandra Stoddard
"The only place you'll find success before work is in the dictionary."
- May B. Smith
"When you come to a roadblock, take a detour."
- Mary Kay Ash
"The best things in life aren't things."
- Art Buchwald
"The greatest good you can do for another is not just share your riches, but reveal to them their own."
- Benjamin Disraeli

"Be absolutely determined to enjoy what you do."
- Gerry Sikorski
"To one who is afraid, all seems dim."
- Unknown
"Mistakes are the portals of discovery."
- James Joyce
"All changes begin in a moment - with a simple choice."
- R.T. Gorham
"It is better to be defeated with integrity, than to win without it."
- Unknown

"You don't just stumble into your future. You create your own future."
- Roger Smith
"Never lose a chance of saying a kind word."
- William Makepeace Thackeray
"It's the most unhappy people who most fear change."
- Mignon McLaughlin
"The words that we attach to our experiences, become our experience."
- Unknown
Quotes can indeed be powerful in supporting your message, and best of all they are plentiful and readily available.  We encourage you to make powerful quotes such as these part of your personal library of tools and resources.
Didn't find what you were looking for? Not to worry, we are providing several additional leadership quotations that inspire and motivate. See below - and enjoy.  Plus, check out our Pinterest page for more powerful quotes.
More Powerful Quotes