Setting Career Goals for Your Next Promotion
Section 4.1: Keeping It Real
When setting career goals it's important that your goals are clear and realistic. In your professional life you work in a certain environment that may or may not be actively supporting your professional growth and development. 
In addition, you may work for a supervisor who has little if any interest in seeing you rise to an equal or higher level. The one person you can count on, is yourself.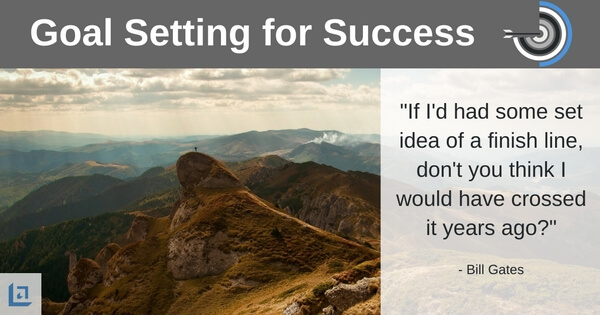 Download Free: Goal Setting for Success eBook
In planning your career path, it's important to identify what actions you will need to take to prepare yourself in advance of that next promotion. You must be crystal clear in what it is that you want, and what you'll need to do to ensure you are the perfect candidate for advancement.
As is true in all goal setting, it's important for your long-term success when setting career goals to use the S.M.A.R.T. approach, making sure each goal is: Specific, Measurable, Achievable, Realistic with Timelines
What does it mean to be "realistic"? Too often people allow themselves to be improperly influenced by other people, media outlets, or organizations within their community - to set a standard that is well beyond reasonable expectations.
This is not to say you shouldn't aspire to achieve great things. On the contrary, you should stretch yourself in order to make steady progress in life and to become your best self.
The key here is to stretch yourself incrementally, in stages, to ensure that you give yourself the time and the opportunity to learn and grow within a reasonable time-frame.
"Attack your goals with supreme confidence, determination and a firm disregard for obstacles and other people's criticisms."
There is a balancing act in terms of being "realistic" when setting career goals or personal goals. The key is to never set your goals so low as to deceive yourself into thinking that the smallest accomplishment is some great leap toward achievement.
On the flip-side, your goals should not be so grandiose that you set yourself up to fail, only to quit while proclaiming, "This goal setting stuff just doesn't work!"
Realize from the start that no matter how great your intention, most people simply do not stick with something that they believe in their heart is unrealistic.
However, if you can identify a reasonable stretch-goal, break it down into realistic tasks to be completed within a workable time-frame, you'll be setting career goals that you can be excited about and confident in your ability to achieve.
Compensation Clarity When Setting Career Goals 
The first thing you might think of when setting career goals is how much you want to increase your wage or annual salary, and you should be thinking about how much money you will make.
Money is important because the more money you have, the greater your options for how aggressively you can pursue your goals. When it comes right down to it, money is freedom - freedom to travel, to contribute, to learn, etc.  
While it's true, money isn't everything, and it won't buy happiness- the fact is that you live in a society where it takes money to live.
While money shouldn't be the goal, it may very well be the means required to achieving your goal. For example, perhaps your goal is to earn your MBA so you will become more qualified for a future position in your company. You'll need money to pay for those classes. The goal is the MBA, but the money is a requirement toward achieving that goal.  
The first thing you should do before setting a monetary goal, is to clearly understand the value of your current position. Use our Total Compensation Worksheet to calculate the value of your entire compensation package.
Before you attempt to negotiate a new deal with another employer, you must have clarity on the full value of what you currently earn. Do not be that person who unwittingly negotiates a higher base salary, but ends up with a worse overall compensation package.  
"If you don't know where you are going.
How can you expect to get there?"
- Basil Walsh

Success Lesson #9: The Miracle of Self Confidence
Your achievement will never rise higher that your self-faith. There is no law or secret by which you can gain success without expecting it, vigorously demanding it, and assuming it without apology.
There must always be a strong self-confidence first.
"If one advances confidently in the direction of his dreams, and endeavors to live the life which he has imagined, he will meet with a success unexpected in common hours."
- Henry David Thoreau
A stream cannot rise higher than its source. A great success must have a great source such as: expectation, self-confidence, and a persistent will.
No matter how great one's ability or talent, how great their intellect, or how splendid their education, their achievement will never rise higher than their ability to believe that they are worthy of a higher place in life.
"He can who thinks he can, and he can't who thinks he can't."
If you were to analyze the marvelous success of many self-made millionaires, you would surely find that when they started out in their career they held a confident, vigorous, persistent thought of and belief in their own ability to accomplish all that they had undertaken.
"If we choose to be no more than clods of clay," says Marie Corelli, "then we shall be used as clods of clay for braver feet to tread upon."
When setting career goals or personal goals, go about life with your back straight and your head up looking to take on the world, and indeed you shall do that very thing.
Download Goal Setting for Success eBook
To download our free Goal Setting for Success eBook, simply subscribe to our free newsletter. You will immediately receive a password that grants access to our entire leadership tools library.
Your privacy is important to us. We never share or sell email addresses. 

Next Goal Setting for Success Chapters