Small Business Funding Options and Resources
Small business funding can feel like an insurmountable obstacle to many aspiring business owners who simple aren't aware of the many funding options available to them.  
Too often, people with a business idea they are passionate about, lack the basic knowledge and skills to make their entrepreneurial dream a reality. But it doesn't have to be that way. There are some great small business funding options and training resources available and we're going to tell you all about them right now.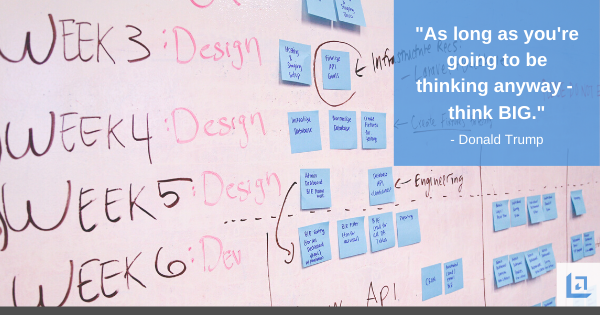 It may be surprising to learn that most people don't go in search of the tools and resources that are so easily accessible to anyone who is interested. It's hard to believe, but so true - to many people just don't make the effort; they don't take that first simple step of seeking out the information they need.
Sadly, as a result of inaction, they allow their dreams to fade while continuing to work at a job they dislike - don't let that be you! Stand up and stake your claim in the world. Educate yourself on what's possible so you can live the kind of life you deserve.  Is it easy? No, but if it were easy it probably wouldn't be worth the effort, right?
Now that we've got you all excited and ready to go, you should know that there are some amazing business owners who realized early in their business-building journey that there are many options available for business training and small business funding. By capitalizing on these resources, you may see a clearer path toward reaching your dream of owning your own business.
It's important that you take a professional inventory of your business knowledge and skills before applying for a business loan. In the eyes of a prospective creditor, it's not enough to have a great idea for a new product or service.   
"Don't be afraid to assert yourself, have confidence in your abilities, and don't let the bastards get you down." 
– Michael Bloomberg

Whether it's your local banker, or any other funding source, they are not going to lend you money unless they are confident in your ability to pay back the loan in a timely manner. You must earn their confidence by sharing with them the specific steps you've taken to ensure that your business will be successful.  This includes providing proof that you have knowledge of the industry; key competitors, marketing factors, financial planning, and more. (See additional details in our free Business Planning Course.) 
Additionally, one of the best online resources for aspiring business owners is SBA.gov. Next, we'll review the many small business tools and resources they provide  

Small Business Training Resources
True entrepreneurs realize that nothing worth having comes easy in life, and unfortunately the challenge of becoming a successful small business owner is no exception. However, with focused attention and persistence, no obstacle to so tough it cannot be overcome.
The SBA Learning Center is a great place to begin your small business education as it provides an entire library of small business training and resource materials in each of the following four categories:
Plan Your Business

 - covers 70 objectives in the areas of How to Write a Business Plan; Legal Requirements; Is Buying a Business Right for You; and Entrepreneurship. 

Launch Your Business

 - includes training on 49 objectives in key categories such as Financing Your Business; Introduction to Pricing; and Understanding High-Tech Products.

Manage Your Business

- provides training on another 50 objectives related to mastering daily business activities like Employee Recruitment and Retention; How to Better Understand Your Customer; Sales Management, and key tips for Selling Your Business. 

Market Your Business

- another 52 objectives are part of marketing strategies, which include Market Research; Basics of Marketing; Developing a Competitive Advantage; and the growing importance of Social Media Marketing. 

Grow Your Business

 - 12 additional small business funding objectives are covered, which include Finding and Attracting Investors; and Pricing Models for Successful Businesses. This course is perfect if you're ready to expand your business to new markets and locations.
Setting aside time each day to work through this comprehensive list of available resources, will help you develop the knowledge and skills you need to qualify for small business funding and greatly increase your chances for owning that successful business of your dreams.  

"Finance is not merely about making money. It's about achieving our deep goals and protecting the fruits of our labor. It's about stewardship and, therefore, about achieving the good society."
- Robert J. Shiller
Small Business Funding Options
The Small Business Administration, or SBA, is a key partner to banks and other financial institutions when it comes to providing higher risk loans to small business owners. While you may not immediately qualify for a loan with the bank because they consider new startup businesses to be too high risk, banks will work in partnership with the SBA if you qualify through one of their many small business funding programs.
This partnership creates a win-win scenario because you get the money you need, and the Bank gets to book the loan at a greatly reduced risk because the SBA has "guaranteed' approximately 75 % or more of the loan proceeds. If you fail to pay, the bank is paid back by the SBA. Of course, that's not going to happen in your case, but it's important you know how the process works.
Several small business funding programs offered by the SBA include:
7(a) Loans - the most common type of SBA guaranteed loan. Often this is used when the purchase of the business includes real estate. However, 7(a) loans can also be used for working capital; to refinance existing business debt, or for the purchase of new business equipment. 
504 Loans - this option is used to finance major fixed assets that promote business growth and job creation in a community. Unlike 7(a) loans that are done in partnership with local banks, 504 loans are processed in partnership with local CDC's, or Certified Development Companies.
Micro Loans -  this program supports small loan requests up to $50,000. The purpose of the program is to help small businesses and start up and expand. The funds provided by the SBA are designated to qualified intermediary lenders which are non-profit organizations with experience in lending. 

Doing your homework on how to successfully apply for any loan program is critical to your success. The act of researching the specific qualifications of each loan program will take you through a pre-qualification process. In essence, as you learn about each program, you are discovering what you need to be able to demonstrate in order to qualify for the loan.
When you first research a program and you find out you won't qualify, that doesn't mean you give up. You create a plan to overcome each hurdle one by one until you have confidence that you will qualify. This is a recommended process for every entrepreneur who is just beginning to research start up business funding options. Read more about each of the programs highlighted above and more at SBA Loans. 
More Business Management Articles