Strategic Leadership Book:
Change The Way You SEE Everything

If you happen to think that all strategic leadership books are dry and boring, then you will love reading this book, written by Kathryn D. Cramer and Hank Wasiak.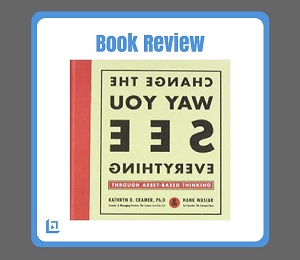 As you can see by the cover, something is very different about this book!
Not only is the cover beautifully designed, every page provides a glimpse of future leadership opportunities and brighter possibilities to achieve more in in your career and in your life. 
Change the Way You See Everything through Asset-Based Thinking
was an absolute treat to read!
As soon as I opened the the book and began viewing all the brilliant picture illustrations and creative captions, I began to read and kept reading for the next 45 minutes until I had completed the book. I think you'll do the same. 

"If a picture is worth a thousand words, then get ready to become inspired by this authoritative book on strategic leadership and asset-based thinking."
I seldom become engrossed in a book like I did in this particular case. The authors obviously understand human behavior and the power of beautiful imagery and it's positive impact on the human spirit.
Although the concept of Asset Based Thinking (ABT) is simple, the book provides a highly thought-provoking leadership guide for making very small, strategic shifts in how you perceive the world, its many challenges, obstacles and opportunities.
Change the Way You See Everything is more than just "thinking positively". ABT offers solid leadership suggestions for living on the side of life where the grass is truly greener than its oh-so-dreary and destructive counterpart DBT, or Deficit Based Thinking.
For better clarity about what I'm describing, watch this short 1 minute video...
High Value Strategic Leadership Ideas
Asset-based thinking is a personal choice you can make multiple times every day of your life - provided you begin now to form the life changing leadership habits that lead to success.
Imagine how much time we would all save and how more grand life would be if we all held the wisdom and self-discipline to magnify and celebrate what is best in us. Then, to be able to quickly turn our attention to proactively tackle what is next on the list of great things to DO.
When I read this strategic leadership lesson, I had to just stop and think about those words, "Magnify What's Best and Focus on What's Next."
This is a perfect example of why this book,
Change the Way You See Everything through Asset-Based Thinking
makes such a powerful impact on the reader.
Whether you are an executive, department manager, athlete, doctor, farmer or other – you CAN benefit from this unique collection of strategic leadership lessons and activities. Just a few of the high-value strategic leadership ideas you will learn, include how to:
Forget perfectionism (it doesn't exist) and see a person in a constant state of growth
Turn destructive anxieties into PURE ENERGY!
Identify five assets for every one negative you encounter
Learn to positively respond versus emotionally react
Anticipate rewards rather than assume disaster
Avoid missing out on abundant leadership opportunities by widening your visual lens
What a gift it is to understand that there is real power and grace in being able to mentally take yourself out of any situation for a brief moment in order to assess the situation from the eye of an observer – then, step back into the situation and respond accordingly.
Imagine how much better your decision-making would be and what a greater impact you can have on others by demonstrating a full command of your actions. Powerful indeed!

"All growth depends upon activity. There is no development physically or intellectually without effort, and effort means work."
- Calvin Coolidge
Think Of The Possibilities
Just think for a moment what could be possible in your own life if you were to improve your strategic leadership effectiveness by focusing your attention on:
Opportunities rather than problems
Strengths more than weaknesses
What can be done instead of what can't?
"When you change the way you see things, the things you see change."
Once you are in the habit of focusing your attention on the good rather than the bad, you will find that fears, anxieties and sleeplessness; will be quickly replaced by enthusiasm, optimism, energy and fulfillment.
Before you discount ABT as being nothing more than "positive thinking", understand that the authors are not talking about having blind optimism or magical thinking. They also do not intend to offer ABT as a quick fix or over-promise results.
Rather, the authors suggest that by using Asset Based Thinking regularly, a leader can sustain efforts to take positive action and gain serious traction in achieving your present-day goals and creating the future you want for yourself and your team. 
It's human nature to see things the way you want to see them. This book provides an opportunity to step outside yourself and see the world through a different lens. We recommend this book for your reading pleasure. 
Author Bio's
Kathryn D. Cramer, Ph.D. is a practicing psychologist, corporate speaker on strategic leadership and author of three books on self development and personal effectiveness.
Hank Wasiak is co-founder of The Concept Farm, a widely popular creative development organization. Mr. Wasiak resides in New York City and Los Angeles.
More Leadership Books