Managing Business Risk
PART VI




Key Risks and Obstacles
Effectively managing business risk is critical to the long-term success of your business. As the leader it is your responsibility to see around corners; anticipate potential pitfalls, and continually plan for the unexpected obstacles that your business may face. Great leaders know that preparing for disaster is the best way to avoid one.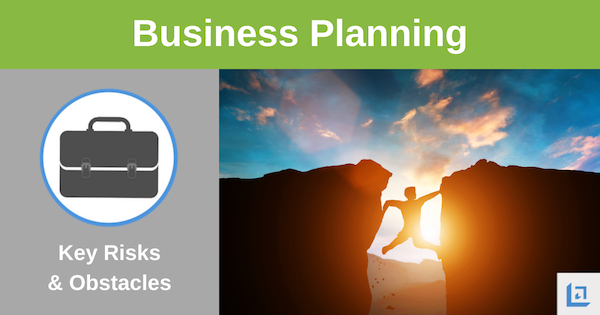 Download Free: Business Planning Course/eBook
Too often business owners aren't comfortable pointing out business risk issues in their business plan. Not only do they wish to minimize potential risk in the mind of the reader, many don't like to address potential obstacles out of fear.
Great leaders, however, understand the importance of proactively addressing potential risks to the business. They know that the best way to effectively manage risk is to call it out by name and prepare how to manage it if it becomes a reality. 
It's important to be the type of leader that sees the future with a sense of optimism. By addressing risk issues directly, you can overcome obstacles as they are presented, and more quickly get on about the business of building a better future for your organization. 
This section of your business plan should demonstrate to the reader that you are keenly aware of the business risks involved and that you have thought through how you will handle risks and obstacles. 
Whether the reader of your business plan is a potential lender or investor, they want to know if you understand the risks involved and if you are equipped to manage risks and obstacles as they occur. These people know that in every business venture there are risks and every business leader should expect there to be obstacles, especially in the start-up phase of the business. 
"Risk is greatly minimized by detailed preparation and planning."

Your awareness of what could negatively impact the business is important as risk planning could be the difference between success and failure. 

Contingency planning, also known as "what if" analysis, is highly valuable as it can assist you in minimizing the impact of unexpected barriers. As the business owner, you may need to make changes in your marketing strategies, operations and financial management to effectively respond when risks become a reality. Use this section to detail how you will guide your organization to overcome obstacles when they occur.
Steps to Manage Business Risks and Obstacles
Do not "sugar-coat" or minimize any identifiable risk that you may face in carrying out your business plan. In fact, by addressed the risk squarely in your business plan you provide an opportunity for others to advise you on dealing with the issue most effectively.
Use the following steps for presenting business risk and obstacles in your business plan:
State the risk or obstacle and the potential negative impact to your business
Explain why you believe this risk factor is something that can be overcome or avoided
Provide your action plan for dealing with the risk issue
Provide a clear timetable. When do you believe the issue may present itself and how long will you need before you will be able to overcome it?
List the potential cost to the business in dealing with the risk or obstacle
What is the potential cost of not being prepared should the risk occur?
Make sure you have researched all possible means for insuring your business against any potential loss for each risk or obstacle. For example, if one of your key leaders has skills that would be greatly missed should he all of a sudden leave the company, or for some reason be incapacitated, the organization may want to protect itself by implementing a succession plan for all key leaders within the business.
By having solid bench strength for key positions, the business can minimize risk to the organization. 
"Yes, risk-taking is inherently failure-prone.
Otherwise, it would be called sure-thing-taking."
- Jim McMahon

Success Lesson #13
Rewards Of Facing Obstacles
Everyone knows someone who regularly complains about how he or she would have been a great talent if only they grew up in a place that was more nurturing. They use the unkind conditions of their youth as a reason for being who they are; the person they aren't totally satisfied with.
We can suggest to those persons who are discontent about their upbringing, that some of the greatest characters in the world's history consist of men and women who struggled through the harshest of realities.
These great achievers would no more trade their early struggles than they would cut off one of their own limbs. They now realize it is in the struggle to overcome adversity that makes men and women great. 
The fight against inhospitable surroundings is what develops extraordinary willpower and determination, which are traits necessary to overcome business risks and obstacles when they occur.
The true strugglers - those born to a heritage of poverty and hard-knocks, and not those who were reared in the lap of luxury, with few exceptions – have become the leaders of civilization. These people are known as the giants of our race: Abraham Lincoln, Martin Luther King, Jr. and Helen Keller are prime examples of this.
"If the creator had a purpose in equipping us with a neck, he surely meant us to stick it out."
- Arthur Koestler
A great number of people are never awakened to their true power until ruin confronts them. They do not know how to call out their reserve energies until they are faced with financial or physical disaster.
Only then are they capable of responding like a thunderbolt to overcome the adversity facing them. What seems at the time to be cruel misfortunes often prove to awaken, inspire and compel people to take action.
At last, having fought the battle and weathered the storm, the boy is a man and the girl becomes a woman; both are now admired for their fortitude and character and are indeed a force to be reckoned with. 
Download Business Planning Course eBook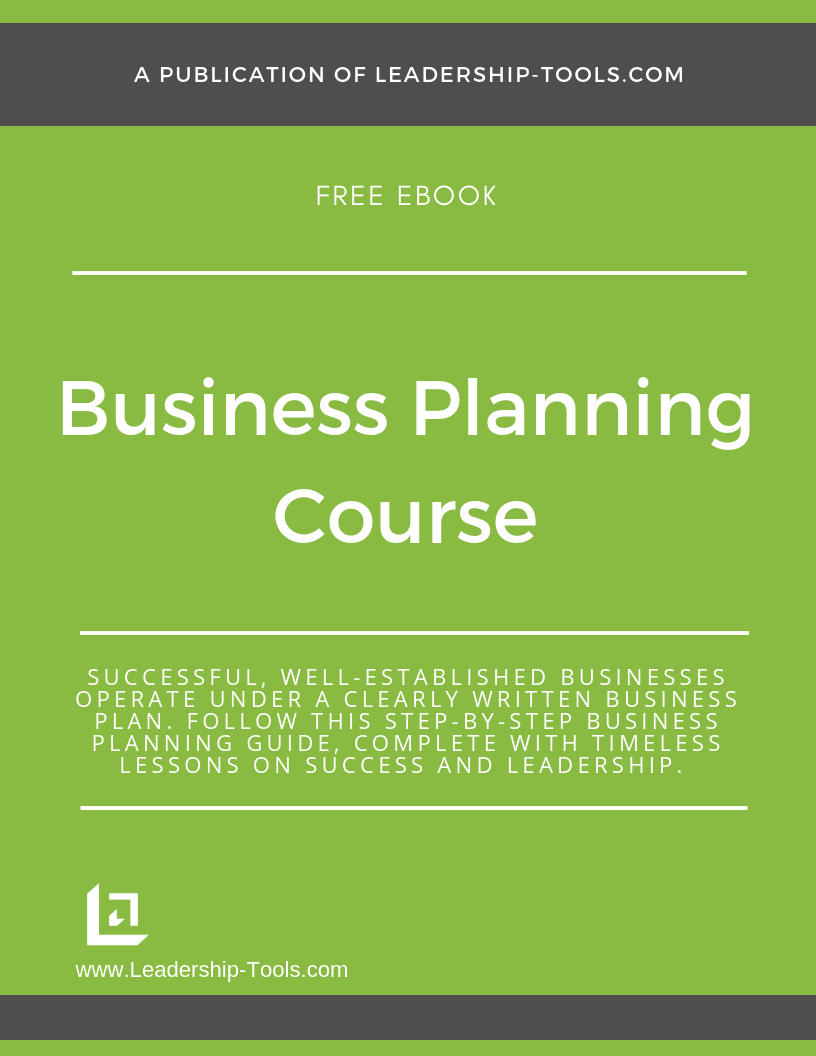 To download our free Business Planning Course/eBook, complete with details on managing business risks and obstacles and step-by-step instructions for planning the future of your business, simply subscribe to our free newsletter. You will immediately receive a password that grants access to our entire leadership tools library.
Your privacy is important to us. We never share or sell email addresses. 

Next Business Planning Course Sections