Quotes on Teamwork for Improved Results
Insightful leaders value teamwork - they understand the power of the perfect team building words to motivate and drive results.
Effective team building requires a skillful team leader - that's you, right?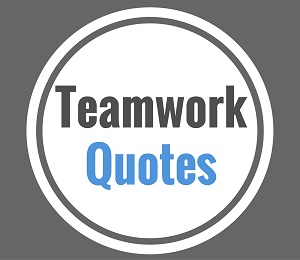 The more leadership and team building tools you have at your disposal, the easier it will be for you to make good decisions. Doing this consistently will add to your credibility in the minds of your team members.
"Excellent! I have learned something in everything I've read in your site. The leadership quotations are inspiring. I will certainly continue to utilize quotations as a valuable leadership resource."
- Joddi Govero

Using teamwork quotes you can more effectively encourage and motivate your staff by making important points, supported by historic facts and timeless wisdom.
Positioned properly, you can solidify key messages in the minds of your people with memorable team building quotes and other leadership related sayings.
Check out the following team building quotes that successful people utilize to influence results-focused behavior.
Top Teamwork Quotes To Inspire Results
"To solve big problems you have to be willing to do unpopular things."
- Lou Holtz, former Notre Dame football coach
"It is amazing what can be accomplished when nobody cares about who gets the credit."
- Robert Yates
"Teamwork is a make or break situation. Either you help make it or the lack of it will break you."
- Kris A Hiatt
"In order to have a winner, the team must have a feeling of unity; every player must put the team first-ahead of personal glory."
-Paul Bear Bryant
"Individual commitment to a group effort - that is what makes a team work a company work, a society work, a civilization work."
- Vince Lombardi
"No problem is insurmountable. With a little courage, teamwork and determination a person can overcome anything."
- B. Dodge
"Coming together is a beginning, staying together is progress, and working together is success."
- Henry Ford
"People have been known to achieve more as a result of working with others than against them."
- Dr. Allan Fromme
"You put together the best team that you can with the players you've got, and replace those who aren't good enough."
- Robert Crandall
"All winning teams are goal-oriented. Teams like these win consistently because everyone connected with them concentrates on specific objectives. They go about their business with blinders on; nothing will distract them from achieving their aims."
- Blanchard and Miller

Start collecting inspirational quotes on teamwork to help support messages that you feel reflect your personal values and beliefs.

By collecting quotations on teamwork and referring to them often, you will begin to incorporate them into your leadership style.
Pay attention to how your people respond to the quotes you use.  Ask them if they have another quote that is supportive of the same message - turn this into a fun team activity.  By using wise words on a consistent basis, people will begin to see you as someone who has their feet planted firmly on the ground.
Leaders who consistently inspire their team members will quickly gain their trust and loyalty - and this should be your ultimate goal.
Have you picked a favorite quote on teamwork yet? If not, don't worry about it, we have many more quotations to offer.  Take some time to review our many other quotation links provided below.  Plus, we are also on Pinterest with additional quote selections for your review.
More Leadership Quotations