How Setting Personal Goals Improves Your Life Experience
Section 3.2: A Change of Plans
Setting personal goals is just part of our Goal Setting For Success tool for aspiring leaders. In this section you'll learn how to cope with a missed deadline or unforeseeable change and effectively adjust your goal plan to stay on track.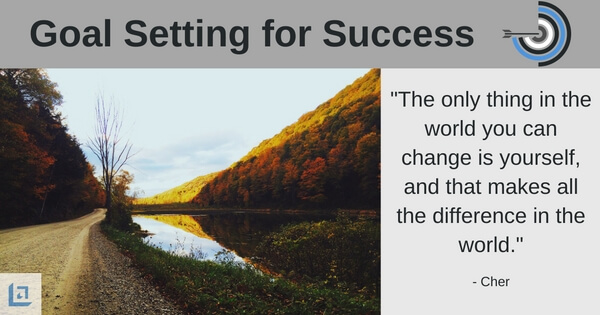 What should you do if you miss a timeline for achieving a task or a goal?
First of all, you can celebrate the fact that you are reading this. By the time you are done you will complete the process of setting personal goals and you'll have a goal plan that will require you to establish written timelines. 
Remember, it doesn't matter where you are coming from. All that matters is where you are going.
If you miss a deadline, make sure you take time to understand why it was missed. Was the timeline realistic in the first place or was it too overreaching? Could it be as you learned in Section 3.1 that you allowed too many smaller rocks, pebbles or grains of sand to get in the way of you focusing your attention on the Big Rocks?
Let's face it, life is complex, and sometimes life just happens.
Life tends to "happen" more often when you have a spouse and children that also require your time. This is an unavoidable fact of life, but it doesn't have to bring you down, or keep you from achieving the things that are most important. 
"Things will occur that take you off your goal plan, but just as wind throws a ship off course, you simply need to adjust the sails and continue on your way."
Rather, you can work to put things into their proper perspective to ensure that when life gets in the way of our goals setting plans and you miss a time target, you simply acknowledge it; assess how you might avoid it in the future, and then quickly press forward.
This is your life, and these are your goals. Yes, the goals you have set are important and your ability to make continuous progress on your goals is paramount. However, one missed time target won't make the sky fall and the sun will once again rise in the morning. Continue to press forward.
Setting personal goals and working to achieve those goals is a process, not a single event; a marathon, not a sprint. You'll get better at it the more you do it. Make every effort to enjoy the entire learning process as you go.
There is no failure in pursuing your goals - unless you quit.
"Only as high as I reach can I grow,
only as far as I seek can I go,
only as deep as I look can I see,
only as much as I dream can I be."
- Karen Ravn

Success Lesson #6 Make A Timely Decision
"When I don't know whether to fight or not, I always fight," said Nelson. This power of prompt and firm decision-making in a desperate crisis helped make Nelson one of the world's greatest naval heroes.
This capacity for setting personal goals quickly with prompt decision making and swift action was one of the secrets of Lord Kitchener's success. Napoleon also had a wonderful ability to decide quickly on important questions and matters of great importance.
"You must have long-term goals to keep you from being frustrated by short-term failures."
- Charles C. Noble
Von Molke's great motto was "First weigh, then venture."
The great German general was very cautious in planning and setting personal goals with great detail, which helped him to quickly determine his next action. Additionally, his resolve was strong and he was prompt in his execution.
Quality decision-making is a mark of a masterful leader. Men and women of unwavering decision are naturally chosen to lead others through difficult circumstances. 

"No matter how poor you may be or how humble your environment, always keep looking upward. Never be afraid to aim high."
It is the positive, decisive man or woman, who can say "No" with emphasis, or "Yes" with vigor, and stick to it. This level of self confidence is sought out by would be followers, as your confidence overrides their own, and this too will help you to win in life.
It is the one who knows what she wants; is effective at setting personal goals and makes a bee line for getting things done, is the one who always seems to "arrive".
Download Goal Setting for Success eBook and Begin Setting Personal Goals Today
To download our free Goal Setting for Success eBook, simply subscribe to our free newsletter. You will immediately receive a password that grants access to our entire leadership tools library.
Your privacy is important to us. We never share or sell email addresses. 

Next Goal Setting for Success Chapters