Writing Job Descriptions for Hiring Success

Writing Job Descriptions is no simple task. However, an upfront investment of time and effort to clear define each role is critical to attracting and retaining the right people for the right positions. 
For any business large or small, it can be a challenge to write comprehensive job descriptions, but it is a worth-while business management practice that supports everyone involved.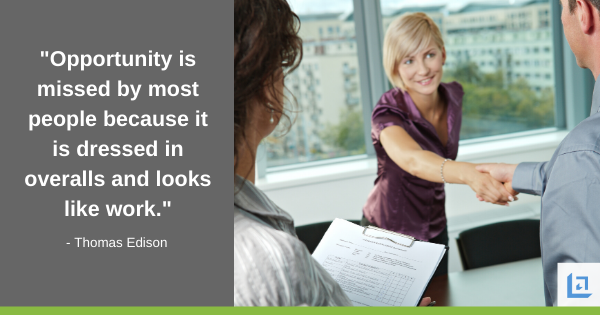 The last thing you want to do is waste a lot of time and money to attract solid candidates for an important open position, only to have them leave after 30 days of hiring because they realized the job isn't what they thought it would be. This happens more than you might think.
The fact is that good employees have options and more than ever they are willing to jump to another organization if they feel they were sold a bill of goods during the hiring process, which doesn't actually materialize once they are firmly in the new role. 
Effective leaders will avoid any confusion or uncertainty by making clear upfront precisely what the job is, and also call out what the job is not. By offering full transparency during the entire interview process, you can minimize risk of attrition and maximize the odds of acquiring and retaining a happy, loyal and long-term employee. 
When beginning the process of writing job descriptions, consider what it is that you want to achieve during the process. This is help everyone involved in the process to key these key targets in mind. 
"I am convinced that nothing we do is more important than hiring and developing people. At the end of the day, you bet on people, not on strategies." 
– Lawrence Bossidy, former CEO of Honeywell International

For example, a comprehensive job description might serve to achieve the following:
Document the important facts about the position
Set clear expectations of the roll up front
Describe and prioritize the tasks, methods to complete tasks and responsibilities key to the success of the position
Coordinate roles and eliminate duplication of effort
Define working relationships with other positions and context to the organization
Outline how performance is measured
Define job training requirements
Avoid a possible future response of, "it is not in my job description"
Outline the job evaluation and compensation process relative to the position
Writing Job Descriptions: Open Ended vs. Closed Ended

It's important that all written job descriptions create a vision that is current as well as dynamic. Realistically speaking, many jobs will naturally evolve due to either personal growth, organizational growth, and/or the introduction of new technologies. Open-ended job descriptions will encourage employees to grow within their position and therefore increase the quality of their contributions.
Let's see if you tell the difference between a closed-ended and open-ended approach when writing job descriptions for an office manager. 
First, consider the following sentence for an area of responsibility... "Routinely order office supplies for the company and keep the storage closet well stocked."
Next, read this slightly different approach... "Develop and implement a system of ordering office supplies that promotes cost savings and efficiency within the company."
Obviously the first approach is more limited, or Closed-ended, whereas the second approach (Open-ended) leaves the door wide open for the employee to be creative in how they choose to accomplish the task. 
Notice how the Open-ended approach also calls out the importance of the task by stating how the company will benefit in cost savings and efficiency. By stating how the task is tied to the bigger picture for the company, you are telling the employee how important their role in the organization can be. 

"It doesn't make sense to hire smart people and then tell them what to do; we hire smart people so they can tell us what to do."
- Steve Jobs
Basic Elements of a Job Description
There are several basic elements that should always be included when writing job descriptions, these include:
Job Title
Job Location
Job Classification, Exempt or Non-Exempt, Full-Time, Part-Time or Flexible
Summary of Essential Functions
Prioritized list of Responsibilities, Duties and Tasks (using Open-ended statements)
Description of Working Relationships and Roles
Job Qualifications such as Education, Experience, Knowledge and Skills required
Other Non-Essential Duties as Assigned
In Conclusion... 
If you are beginning from scratch, take some friendly advice... Don't start from scratch!   
You can save a lot of time by searching online for multiple examples of job descriptions others have written for similar roles before starting to create your own.  Read as many online examples as you can find and highlight various elements of each that you want to include when writing job descriptions for your team.
Pay attention to the format of the job description as well. Once the job description format is finalized, use the same format for all your job descriptions. This will help you to update and manage all roles over time. 
Lastly, here are a few additional helpful-hints for writing job descriptions:

Action words should always be in the present tense
Keep each point clear and concise
Use gender-neutral terminology
Use language that leaves no room for interpretation
Be as specific as possible when describing frequency
While writing job descriptions may be one of the least exciting things you want to do, you should not underestimate the importance of clarifying each role clearly for all future prospective employees. 
More Business Management Articles