Top Customer Service Tips for Service Hero Status
The best customer service tip that must be at the top of every leader's mind is to ensure a consistent customer experience that creates raving fans.
Of course the process of creating and maintaining a consistent customer experience is easier said than done, but very achievable when you know the various elements of a highly successful customer service delivery program. Keep reading for all the exciting details.  But first, what do we actually mean by a consistent customer experience?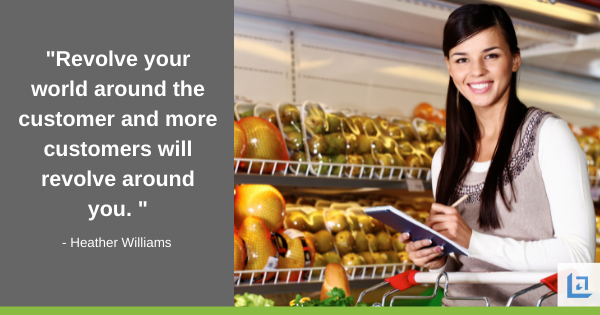 Every time a customer walks through your door, or calls in, or goes to your website, "It's Magic Time".
The late Oscar winning actor, Jack Lemmon, who is famous for his portrayal as Felix Unger in the original1968 movie The Odd Couple, as well as countless other movie and stage roles is also known for a little ritual he would do before a performance. Right before he would go on set or on stage to perform in front of a live audience he would purposefully stop – close his eyes, take a deep breath, and say out loud (but softly under his breath) – "It's Magic Time! "
The purpose of Lemmon's ritual was to clear his mind of everything not associated with his performance, get into his character and make the quality of his performance and the experience of his audience his primary focus. 
How amazing would it be if every employee in your organization was just as purposeful each and every time they interacted with a customer? It would be amazing, and although it may not be realistic to expect perfection 100% of the time, this is still a worthy goal.
When customers are dealing with anyone in your organization, it should be an experience that they remember and one that they look forward to having again. When customers consistently receive a memorable experience that makes them feel good, they will naturally refer their friends and family. Of course, when they have a negative experience, they'll tell everyone they know and anyone who will listen. 
"We are what we repeatedly do. Excellence, therefore, is not an act but a habit."
- Aristotle

As an example, people travel from all over the world to go to Disney World to experience "magic" and to see all their favorite characters, like Mickey Mouse and Cinderella. They want to pass on the amazing experience to their children and grandchildren that they remember so vividly from their childhood. They have confidence knowing their children will have the same wonderful experience they had every single time they return to Disneyland - and that's why people keep coming back over and over again.

Whatever it is that keeps your customers excited, make sure it's there for them every single time. Your customer service delivery must to be consistently positive and the leader must continually protect and defend service quality results.
As we stated earlier, there are various elements to a high quality customer service program so let's dive in to our top supporting customer service tips.
Top Customer Service Tips
Customer Service Tip #1 

Leaders Own The Service Experience - the customer experience cannot be relegated to others, the buck stops with the leader. That's not say a leader cannot delegate or assign key duties to other team members, but service is so critical to the success of the business the person who is primarily responsible for the customer experience is you. You can delegate, but you cannot abdicate this critical responsibility. 
Customer Service Tip #2 

Employee Recruitment - one of the worst mistakes hiring manager make is not qualifying candidates as strong customer advocates during the hiring process. Expectations for customer service should be clearly stated in every job posting, and be a lead topic of discussion during the interview phase. Some companies have recruiting programs where they provide existing employees with special "Caught in the Act - of provided great customer service!" cards. The employee can hand out a card to employees working at other places of business they frequent when they personally receive great customer service. The employee simply hands the worker the card and explains that the company they work for highly values strong customer service skills, so if they are ever interested in posting for an open position, be sure to produce this card so the hiring manager will know I can personally recommend you. 
Customer Service Tip #3 

Employee Customer Service Training - before assisting any customer one-on-one, new employees should complete formal customer service training. An alternative to classroom training might be to pair the new employee with a highly experience employee who is responsible for teaching and mentoring the new employee on all aspects of delivering quality customer service.   
Customer Service Tip #4 

Customer Service Goals - customer service goals must be clearly communicated and employees should have clarity on how you will measure their success. Make certain your employees know what success looks like and what tools and resources are available to them to support their efforts toward reaching their goals. Create goals that are SMART, Specific, Measurable, Achievable, Relevant and Time-Based.  

Customer Service Tip #5: 

Inspect Customer Service Delivery - effective leaders know the importance of "inspecting what you expect". When your team knows that you will be continually verifying the quality of the customer experience they are delivering, they will place greater emphasis on meeting, or exceeding your expectations - particularly if they receive praise and recognition for their efforts. There are several ways to inspect results, which include: personally observing interactions with customers from a short distance or via video; randomly listening to recorded calls when assisting customers, or conducting joint customer calls - which also provides you an opportunity to interact directly with customers. In addition, by monitoring the various tracking reports used to measure customer service results also provides leaders with a means to inspect the overall quality of the customer experience.  
Customer Service Tip #6 

Mystery Shopping - leaders often employee outside "mystery shoppers" to visit their store locations at randomly selected times and basically conduct an undercover inspection on customer service related standards and practices. This can be done using a company like Kinesis (which I know and recommend for their quality results and reasonable cost) that manages the program on an ongoing basis, or you can hire shoppers to work for you on an ad-hoc basis. In either case, it is critical that the shoppers are well trained and scripted for their visits. The shopper should be provided scenarios about why they are visiting the store and be well informed about what is expected from the employees as well as the overall customer experience expectations. The shopper then reports back on what was observed and their perception of the experience. Perception is subjective, but unless you have a clear reason to do so, such as identifying the shopper as biased against an employee, you should not dismiss it. The customer's perception is ultimately what counts. 
Customer Service Tip #7 

Customer Surveys - survey programs are a great way to receive a steady flow of customer service feedback. For example, you might send out a short customer survey each time a new customer opens an account. Surveys can be conducted over the phone, online via an email link or through regular mail. Questions can be centered about standardized elements of your customer service training to ensure employees are using best practices they were taught, such as quickly recognizing customers when they walk in the door, standing up to greet customers, smiling, shaking hands, asking the customers the purpose of their visit, asking needs based questions before making recommendations for products and services, etc. Survey data should be used for reporting, coaching and recognition of top performers.  
"The magic 'mind reading' anticipatory service phrase is: 'If that was me, what would I want?'"
- Steve Cokkinias

Customer Service Tips Continued...
Customer Service Tip #8: 

Customer Focus Groups - one of the best ways to learn how your business is doing in meeting the needs of your customers is to ask them directly. Business owners should be prepared to hear the good, the bad, and the ugly - all of which is good if you use the information to make positive changes to the service experience. First, you need to be clear about the topics you wan to cover with the group. Reach out to customers that you believe will be open and honest in their feedback and offer them some type of incentive to participate as this will demonstrate you value their time as well as their feedback. Focus groups can be very powerful when conducted in front of your entire leadership group, as this will send a strong message to the management team that you are actively engaged in the oversight of the business and want to further improve upon the customer experience, and that you expect the same from each of them. 
Customer Service Tip #9: 

Customer Service Incentive Program - offering incentives is a great way to encourage staff to focus on the most importance aspects of the business. Since the business can't survive without satisfied customers, it only makes sense to provide incentives for your top performers in customer service. Weekly or monthly incentives might include lunch with the boss, treats for their team, a hand written note of appreciation for a job well done, an ecard that says Great Job! - rewards do not have to be high cost to make a great impact. Incentives for longer term performance, quarterly or annual, might include rewards costing more, but only for your best performers. Reward might include a trip to the spa, weekend getaway, invitation with spouse to an awards dinner, or some well earned cold hard cash. 

Customer Service Tip #10

Customer Service Complaint Process - customer complaints get a bad wrap because everyone fears being blamed for a customer service failing. However, you should welcome customer complaints because customers who are upset always have a reason, whether it's reasonable, well intended or not - they have a reason. Every complaint provide the leader and the team the opportunity to assess what happened, attempt to correct it for the customer and possibly save the relationship, and make important changes to ensure the same issue is not repeated. Leaders should encourage employees to report customer complaints into a centralized area so you can recognize trends and respond more quickly before an issue has a greater impact on the business.  
Customer Service Tip #11 

Track / Report / Analyze / Adjust / Repeat - great leaders have a great respect for data - data doesn't lie. Customer service data from surveys, mystery shopping programs, complaints, etc. must be captured and reported on a regular basis. Reports should be analyzed and reviewed with staff so the entire team is aware of what is working well and what areas need additional focus. Your ability to effectively coach your team on service quality requires regular reporting. As the leader, it's you job to share the results and make the necessary adjustments for continual and never-ending improvement.
More Customer Service Articles