Learn How To Set Goals for Success
Chapter 10: 
M.A.P. To Success
Learning how to set goals effectively is something most people simply don't take the time to learn. However, with our free ebook, there is simply no good excuse for failing to achieve your goals.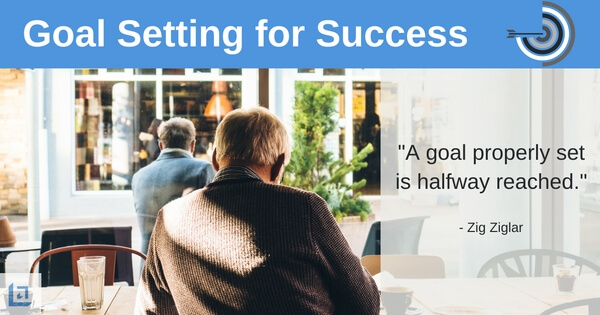 Download Free: Goal Setting for Success eBook
Continuing our goal setting discussion, here you'll discover how to break your goals down into small achievable tasks. Earlier in our goal setting guide we covered the importance of identifying your purpose, and also how you should clearly visualize your result or outcome.
The key to successful goal planning is all about breaking things down into bite-sized chunks. Once this is done, you'll have a firmer belief in your ability to achieve your goals. 
While it does take additional time to thoughtfully identify the things that need to be done, and in the order they need to be accomplished, doing so will exponentially increase your chances of a successful outcome. 
"The best way to reach a goal is by taking action daily, achieving one step at a time."
Earlier we introduced you to our Master Action Plan tool. We explained how you can use this tool to identify the "How much? Of What? and By When?" Assuming you've had some time to internalize the goals you set earlier, now is a great time to go back and fine-tune your action plans.
In the next section, you'll learn the power of applying the Three C process to breaking down your goals.
How to Set Goals Using the Three C Process
Once you've identified your goals, the next obvious question is something like, "Okay, now what do I do?" or "How will I ever accomplish something this big?"
The most successful people understand the importance of identify all of the smaller tasks that will need to be achieved in order to reach the ultimate goal.
To help you identify and organize these smaller tasks, we utilize the Three "C" Process, which includes:
CAPTURE - Sit down in a quiet area, with a pen and notebook, where you can think and write peacefully. Picture clearly the goal you wish to achieve. Picture the goal waiting for you on the other side of a wide river that has many large boulders sticking out of the water. These rocks represent your stepping stones to your success. Determine clearly just how many stepping stones you will need in order to realistically meet your objective. Then, begin to name each stepping stone. Each stone is now a subheading under your larger goal outline. Once you have identified the stepping stones, you will need to take each stone one at a time and identify every single task that will be associated with the stepping stone. Make your list as long and as broad as necessary. We'll work to condense the list next.
COMBINE - Once you've created your list of projects (stepping stones) and associated tasks, you are probably wondering what you've gotten yourself into. Indeed the list is likely to be long. However, the great news is that now you've completed the most difficult part of how to set goal plans. Next you need to review all your tasks and see if you can combine some of the tasks in order to leverage your time and get the most out of every hour you invest. For instance, if one task requires you to make a trip to another city, ask yourself what other tasks you might be able to complete during the same trip, or while you sit in the airport or on the plane. The art of combining your tasks will provide you with an emotional boost as you begin to quickly check off each task as it's completed. By knowing how to set goals and quickly break them down step by step, you'll be making your way across that river to your ultimate goal in optimal time.
COMMIT - The third "C" is provided here simply as a reminder. As you begin to tackle each project and every task, you will run into barriers. Expect challenges to occur in advance. Try to anticipate these obstacles. Be sure to complete the Obstacle section of your M.A.P. too, which will help you to prepare for the unexpected. Commit yourself to conquering your fears and overcoming any obstacle that rears it's ugly head. As you face these barriers and overcome each one, you'll grow stronger in your confidence; you'll continue to build a stronger emotional foundation and you will truly become a warrior in the great battle of life.
By using this simple Three C process, you'll find yourself making greater process in record time. The most importance thing to know about how to set goals for maximum success, is the concept of going after your goals in smaller bite-sized chunks.
"Never be afraid of demanding great things of yourself. No one but you can shut the door to achieving your ambitions, and living a more fulfilled life."
- Richard Gorham

Success Lesson #21: Facing Life The Right Way
The expectation of winning, even though we cannot see how or when, is a tremendous motivator, a wonderful stimulus to effort and a real dynamic force.
Your expectation opens or closes the doors that that are in front of you. If you expect grand things, and work honestly for them, they will come to you - your results will correspond with your expectations.

"There is nothing human beings need quite so much as sweetness and light, as love, friendship, sympathy and unselfish service. These are what make life worth living."
- Unknown
The vast majority of people who fail, anticipate failure - they expect it. Long before they failed, they had a fear of failure, pictured it in their minds, and this fear and mental picturing sapped much of their ability and wasted much of the mental power that if rightly used, would have brought them success.
In learning how to set goals, you must not allow negative images into your minds eye. It will only weaken your chances for victory.
"Hope and determination are mighty factors in the life race."
Dr. Oliver Wendell Holmes said that the important thing is not where you stand but the direction in which you are facing. In other words, it is not your environment; not the place from which you start, and not how far you have gone, but which way you face mentally that counts.
If you wish to change your life, start by changing your outlook on life. Next, start learning how to set goals and begin your new journey. Doing so will not only change the direction you face, but it will vastly improve the quality of your final destination.  
Download Goal Setting for Success eBook
To download our free Goal Setting for Success eBook, simply subscribe to our free newsletter. You will immediately receive a password that grants access to our entire leadership tools library. Learn how to set goals today!
Your privacy is important to us. We never share or sell email addresses. 

Next Goal Setting for Success Chapters