Mission Statement Examples
Effective mission statement examples can be found all over traditional and social media. Virtually every high performing business goes to great lengths to clearly define the mission of their organization, and for good reason. The leaders of these companies understand that a business with a clear mission can grow exponentially!
Download Free: Business Planning Course/eBook
In this section we will provide multiple examples of company mission statements so you get a clear sense of how important the process is to the executive summary section of a business plan.
Every business that is above the ordinary has an inspiring mission that its leaders are called to fulfill.

As stated in the previous section, the mission statement can be as short as a few words or as long as several sentences. The importance thing is that the mission statement makes very clear to your employees, customers and business partners what it is that the business stands for. What is the driving force behind the business?
In other words, the idea that you convey should be obvious to anyone reading the mission statement. There should be no doubt about what the business is working to achieve.

"First say to yourself what you would be; and then do what you have to do."
- Epictitus
There are four specific questions that you should strive to answer when writing the mission statement for your business.  These include:
    What does the business do?

    How does our business accomplish it?

    Who benefits from what our business does?

    What value does the business bring to those it serves?
The mission statement is not the same as a slogan or motto. It's okay to use a little more space when creating your mission statement to ensure you answer the important questions. Next, we'll provide some specific mission statement examples and you'll clearly see the difference between mission statements and slogans. 
Mission Statement Examples
MissionStatement.com is a great resource that provides over 1,000 different mission statement examples. Here is just a short sampling of some very well known, and not so well known, examples of mission statements:

Wal-Mart - "To save people money so they can live better." This coincides with their slogan, "Save money, Live better."
The Walt Disney Company - "To be one of the world's leading producers and providers of entertainment and information. Using our portfolio of brands to differentiate our content, services and consumer products, we seek to develop the most creative, innovative and profitable entertainment experiences and related products in the world."
Nike - "To bring inspiration and innovation to every athlete in the world." Of course, everyone knows Nike's famous motto, "Just do it!"
Microsoft - "To empower every person and every organization on the planet to achieve more."
Amazon - "To be Earth's most customer-centric company, where customers can find and discover anything they might want to buy online, and endeavors to offer its customers the lowest possible prices."

As you can see, the length of mission statements can vary significantly. Whether you create a brief or expanded mission statement for your company is a personal choice. Just make certain that whichever way you go, the mission is clear to your audience. Review the many mission statement examples provided at the above link so you can be sure that the mission statement for your business meets the guidelines provided.
Hopefully the mission statement examples shared here has provided you with great ideas and inspiration to complete this important section of your business plan. 
"A man with money is no match for a man with a mission."
- Doyle Brunson

Success Lesson #3
A Recipe for Wise Living
The business person who is always extending his horizon will never find himself in a rut.
People who leave their mark upon the world, who broaden and enrich the life of their community are constantly learning and growing; feeding their appetite on a whole host of subjects.
The world needs men and women who continue to grow and develop, regardless of their age. Every occupation is crowded with people who have stopped growing; who spend valuable time complaining rather than searching for the next important challenge.
"A successful life begins with a mission, not an intermission."
The one who stops growing immediately begins to deteriorate. Not unlike a muscle that weakens when unused for any length of time, so does the human spirit.
Too often, young men and women graduate from college and then never again lay foot in a classroom. This makes one wonder if they learned anything at all while they were there. The choice to cease learning makes no sense at all.
In the words of a former University President, "Good, roundabout common sense has never been superseded by the college diploma. Alma Mater is no match for Mother Wit."
Let LIFE be your classroom; continue to learn and grow; share the wealth of knowledge you receive with others. In doing so, your life will be lengthened and enriched.
Download Business Planning Course eBook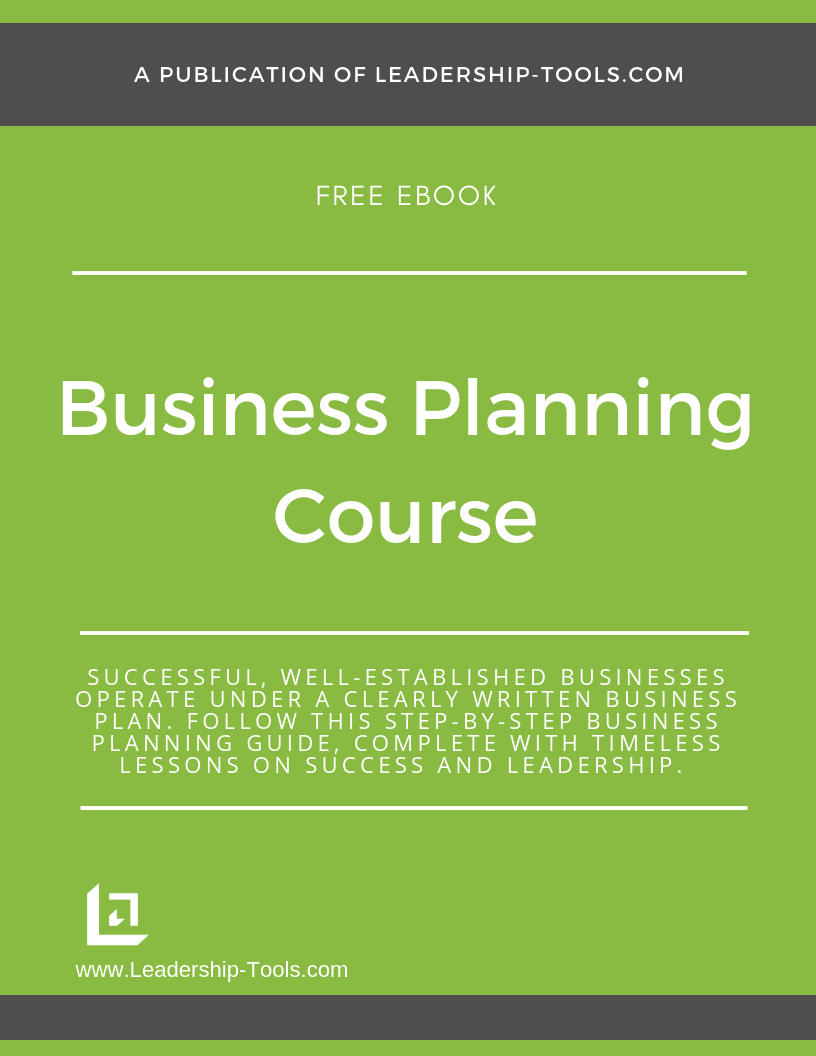 To download our free Business Planning Course/eBook, complete with mission statement examples, tools and step-by-step instructions for planning the future of your business, simply subscribe to our free newsletter. You will immediately receive a password that grants access to our entire leadership tools library.
Your privacy is important to us. We never share or sell email addresses. 

Next Business Planning Course Sections