Managing Motivation and Goal Setting Activities
Section 14.1: It Is Up To Me!
Ensuring your motivation and goal setting progress is maximized can sometimes be a difficult thing to maintain. In the following information, you'll learn how to stay focused in your goal setting efforts.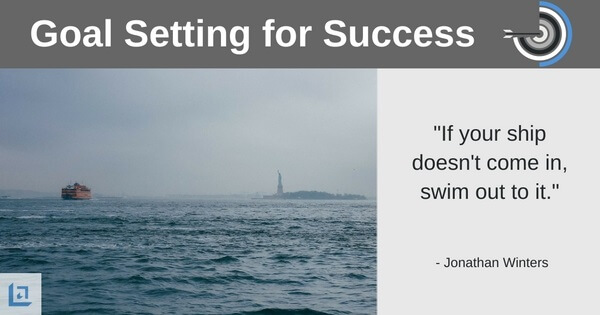 Download Free: Goal Setting for Success eBook
People who are new to goal setting often ask, "Life is so hectic, how do I stay focused and on track with my goal setting efforts?"
The truth is that in order to achieve your goals and objectives, personal accountability and self-discipline are required.  You must be willing to do what's necessary to get from each milestone to the next.
The good news is that the goals you are seeking to achieve are YOUR GOALS.  No one else is setting these goals for you and that makes a huge difference in your ability to remain motivated.
Your motivation and goal setting focus will be continually fueled by your passion.  Your personal goals reflect your values and dreams, making the goals more meaningful to you. 

"Passion is your greatest motivator. Doing what you love keeps you focused."

Use your passion for leverage on your goals.
Continue to push forward toward achieving your most important goals and dreams by remembering why you set each goal in the first place. This will re-energize you anytime you feel your excitement waning.

Motivation and Goal Setting Is Up To "No One But You"
Too often people choose to wait for something external to happen before taking action on their goals. This is lunacy!
They literally wait for something they have no reason to believe will occur - thinking only then will they be motivated or inspired. These folks wait for their ship to come sailing in when instead they should be building the ship.
This reminds us of the following passage by author, Orison Swett Marden:
No one but you can get you out of bed in the morning.
No one but you can decide what you will accept or reject in your life.
No one but you can determine your values and ideals.
No one but you knows what it's going to take for you to become happy.
No one but you can accept what's wrong in your life and what you are willing to do to change destructive patterns.
No one but YOU can live YOUR LIFE the way YOU are meant to live it.
Certainly, life does have a way of taking us off our focus, distracting us from what our true focus should be. This is why we provided the list of ways to gain leverage on yourself, to support you in the goal setting process, in the earlier section on Stick-To-It-Tive-Ness!.
Above all else, remember that your goals must be about the things that you are most passionate about. Personal motivation and goal setting practices are two of your best friends who will always support you as you work to make your life - a masterpiece.
"Winners can tell you where they are going, what they plan to do along the way, and who will be sharing the adventure with them."
- Dennis Waitley

Success Lesson #29: The Open Door
The next time you feel blue and discouraged; when the struggle to make a living seems especially hard; when motivation and goal setting is non-existent; when you may be inclined to grow hard and bitter because you think fate is against you - recall this divine promise...
"Behold, I have set before you an open door which no man can shut."
The open door means a way out of our difficulties, a solution to our problems; and this door which our Creator has opened to us, no man can shut.  
"No matter how poor you may be now, if you assume and hold the right mental attitude, the belief that abundance, not poverty, is your birthright, you will not long remain poor."
- Unknown

The promise is not for only a favored few, but for everyone; and you are the only one that can bar the door that is open for you.
Every so often you hear of someone who states, "this is too good to be true". They don't believe their good fortune will last. Somehow they are convinced they are not even worthy of what has come their way. To these people we should say the following:
"Now this is your challenge, my friend, you don't believe that good things were intended for you; you don't believe that you were ever intended for prosperity or to enjoy luxuries. Ever since I've known you, you have been 'just getting along,' barely existing. You seem to think that this is the natural thing. But the very opposite is true.

This is not the life that was intended for you. There are enough resources in the world to make every human being well off, to make each one prosperous through motivation and goal setting techniques.

We need not be worried about exhausting the world supply. You think your little bit of good fortune is too good to be true. It is foolish of you to entertain such a thought.

There is nothing too good to be true for you or anyone else."
If you think you have no chance; if you are convinced that there is no opportunity for you anywhere on this beautiful earth; if you do not try to enter the open door, but sit down and blame fate or luck repeatedly for your plight - you will in effect be closing your door to happiness.

"It is only fear that keeps you perpetually struggling against terrific odds instead of overcoming them."
If you allow yourself to focus on these destructive thoughts, you will not realize your full potential. Instead use motivation and goal setting guidelines to limit all barriers.
Get rid of fear!
If fear has gotten hold of you and is choking your motivation and goal setting spirit, decide now to remove it from your mind, demand that it leave your presence never to return. In doing so you will re-open your door to all that is rightfully yours.
Download Goal Setting for Success eBook
To download our free Goal Setting for Success eBook, simply subscribe to our free newsletter. You will immediately receive a password that grants access to our entire leadership tools library.
Your privacy is important to us. We never share or sell email addresses. 

Next Goal Setting for Success Chapters