Customer Service Skills & Tips:
Share Your Stories
Customer service skill development and training strategies are in great demand. Business owners seek every opportunity to set their business apart from their competitors. Providing excellent customer service is a great way to do just that!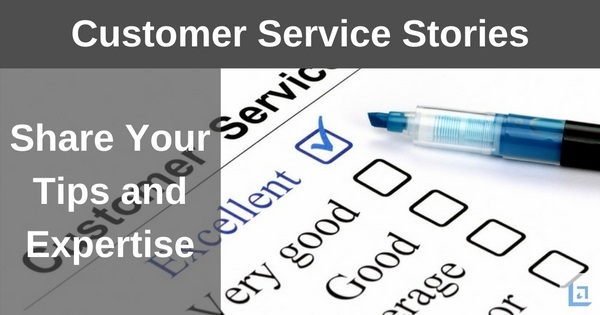 One of the most common mistakes managers make in regards to service is that they forget who is in charge of defining "excellent customer service". Only the customer has the final word on this.
The golden rule for every business owner is to always put your customer first. Meeting the needs of your customers consistently and in a quality manner must be your #1 priority.

The first step a manager should take is to define what "Ultimate Customer Service" looks and feels like to your clients.
You need to have open conversations with your customers about what they expect in terms of service delivery. Then you need to work with your employees to ensure that your team "over delivers" on the customer's expectations on a regular basis.
There are three important expectations that customers have of every business they walk into. Be sure to include these factors in your customer service skill training program:
Acceptance: When they walk into your business, they expect to be acknowledged quickly and greeted with a warm and friendly smile.
Appreciation: Looking customers squarely in the eye and saying "Thank you for your business." or "Tell me how I can best serve you today." tells your customer that you truly care and appreciate them for coming in.
Attention: Listening is the most important customer service skill your employees can have. When you listen intently to your customers they know they have your undivided attention and that you are fully engaged in helping to meet their needs.
This page was created so that you can SHARE YOUR STORIES and customer service training tips and advice. Share your customer service ideas and tell us about customer service tools and resources that you feel are best in class.
Another major factor in customer service delivery is the people you hire. Not everyone is meant to be in a service position. In fact, some people should never be allowed to be in contact with a customer at all.
Success in business is greatly determined on how happy you make your customers. Treat your customer as you would treat your most loved and admired hero!
As humans we all have different personalities, traits and characteristics. While we should all be about celebrating our differences, we need to be very selective in who we allow to be in charge of interacting with the customer.
Ideally, your customers will only be dealing with employees who possess the heart of a servant and possess the commitment of a teacher. These are people who pride themselves on educating the customer and exceeding their expectations.
As you can imagine, many who visit our website do not have the knowledge and expertise they need in order to ensure excellent customer service in their business. That's where you can be of tremendous help. What customer service activities have you used successfully?
VIEW THE SUBMISSIONS OF OTHER READERS for examples of what we're looking for.
Too often new business owners are so focused on creating the best product; leasing the perfect location; keeping costs low and creating an effective marketing plan, that they simply overlook the importance of having a customer service skill training program.
Customer Service Skills: Ideas & Tips To Submit?
As the person in charge of making sure every customer that walks into your place of business is delighted when she walks out, you have a huge responsibility.
No doubt you have learned many important customer service lessons along the way. For instance, here is a short list of items you might feel obliged to share customer service tips on:
How do you ensure reliable and consistent customer service delivery for your business?
How do you respond to customer complaints in order to maintain a good relationship but not give the store away?
"The best thing about giving of ourselves is that what we get is always better than what we give. The reaction is better than the action."
- Orison Swett Marden
How do you make your product or service unique to your customers? Why do they buy from you vs. one of your competitors?
What kind of customer service skill requirements must your employees master? What programs or tools do you provide for customer service training?
What customer service activities are non-negotiable in your opinion?
How do you measure your employee's commitment to customer service?
There are countless subjects related to customer service quality and standards that you can comment on for the purpose of helping others. Ask yourself what you wish someone would have told you early on - then, tell us!
I know you have at least one great customer service best practice to share! Let us have it, won't you?
Share Customer Service Tips & Best Practices!
Delivering and maintaining quality customer service is key to the success of your team or business. What advice can you offer? To submit your story, best practice or customer service tips - complete the form below.
Read Other Customer Service Best Practices
Click below to see customer service contributions from other visitors to this page...

Service Is Sales

I own a small furniture shop, which is located just in front of our house. The shop is quite small as I have not had the resources to expand. Given …
Great leaders don't sit at their desks and tell everyone they are customer focused. They know that they can't "KNOW" what the customer wants until they speak directly to the customer and engage in a quality conversation about how they want to be served.
Make the customer happy. Make it easy for them to buy. Make everything work seamlessly for the customer.
You can help aspiring leaders by sharing your customer service skill expertise. Tell our readers what they should be doing more, less of, better or different - in order to provide the ultimate customer service experience.

Every submission we receive is reviewed and, upon approval, added to our list of customer service contributions.
Thank you in advance for submitting your customer service skill training tips and strategies.