Projecting Cash Flow | Tips and Tools for Success
Projecting cash flow is critical to maintaining a healthy financial position and successfully managing your debt.
Sound financial management requires business leaders to clearly understand how to manage cash flow for their business. They must be able to accurately forecast the cash needs of the business and if necessary effectively plan to borrow in a disciplined way.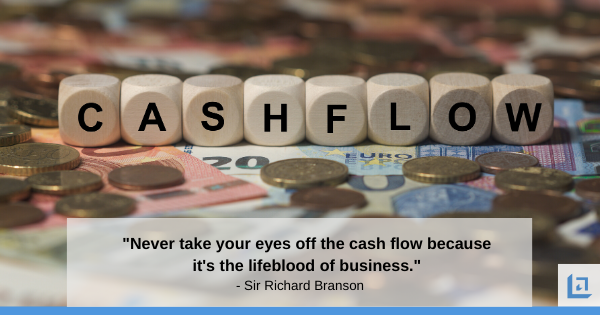 Even a business with respectable sales volume is not immune to the possibility of financial disaster if cash flow is insufficient to meet monthly expenses, and it's often due to poor financial planning. This is why it's so important to not only understand cash flow management, but to actively project cash flow needs well into the future. Projecting cash flow is not a one time event, it's should be an ongoing practice to ensure the financial health of your business. 
A statement of cash flow is different than a Balance Sheet or Income Statement. The monthly cash flow statement focuses solely on - yes, you guessed it, cash flowing in and cash flowing out of the business.  
To project the cash flow needs of your business for the month, first identify how much cash you have on hand at the start of the month. Do not include cash balances that are sitting in non-liquid accounts - only include cash that is readily available to spend. This is typically the balance of cash available in your business operating account. 
Next make a complete list of cash that will be coming into the business during the month. It's important to identify if cash comes in on a steady basis, meaning it flows in daily, or does cash come in more sporadically?  For example, if all the cash comes in at the end of the month, you may not have adequate cash available to pay bills that are due earlier in the month, so timing of your cash flow is important to understand. 
Now that you have a clear picture of cash inflows, it's time to identify how much cash will be going out of the business to pay all your bills. As you consider each of your expenses, pay attention to the terms of payment as this can vary widely from one vendor/debtor to the next.  
"If I had to run a company on three measures, those measures would be customer satisfaction, employee satisfaction and cash flow." 
– Jack Welch

By listing the amount of cash you have available at the start of the month, add all cash inflows, then subtract all cash outflow requirements, this will leave you with cash remaining at the end of the month. Hopefully the balance remaining is positive, but if cash outflows are more than inflows, the amount could be negative. 
If you are projecting negative cash flow, that's a warning sign that is alerting you to make some changes to your business to change that balance from a negative to a positive. You've now completed the process of projecting cash flow for your business, and now we move into the process of "managing your cash flow". 

There are basically two ways to solve for negative cash flow. You need to either increase cash coming in, or you decrease the amount of cash going out of the business. Ideally, you will do both. Next, we'll discuss just how you can do that. 
How to Improve Cash Flow
Projecting cash flow is critical because it tells you if you'll have enough cash on hand to cover your debt requirements.  Whether your cash flow is solid or needs some attention, here's five common ways you can improve your cash flow: 
Understand Cash Flow Cycle - in addition to understanding the timing of cash coming in and cash going out throughout the month, it's also important to understand the seasonality of your business. For example, if you best months are in the summer due to tourism, you need to save more during those good months so that you'll have adequate cash reserves during months when tourism is low. 
Sell More - it's time to "grind". Hit the streets and work to increase revenues levels of the business. Offering "cash only" discounts or special sales is a great way to create urgency with customers. This is also a great way to turn your inventory more quickly.
Reduce Inventory - maintaining large inventory can put a strain on your cash flow.  By limiting the level of inventory you have on hand, you can reduce the monthly payment required to support inventory. 
Negotiate Payment Terms with Customers and Vendors -  Give cash flow a kick start by offering incentives for customers to pay you more quickly. At the same time, negotiate better payment terms with vendors that reduces your debt and allows more time for payment before it is considers late.  
Identify Emergency Sources of Cash - you want to maintain a positive credit score so you must make payments on time to your creditors. Things happen unexpectedly for any business so it's important to have a plan in place so you can act quickly when challenges arise. Have an operating line of credit available is common for businesses to use to temporarily fill a cash flow gap.  
"Entrepreneurs believe that profit is what matters most in a new enterprise. But profit is secondary. Cash flow matters most."
- Peter Drucker
Projecting Cash Flow Tools and Resources
As an entrepreneur, you want to minimize the risks to your business and maximize your chances for long-term success. By seeking advice and assistance when it comes to projecting cash flow, you are taking responsibility for the operational details that can make or break your business.
Whether you feel confident in financial management practices or not, it is wise to contract with a local CPA, Certified Public Accountant. A qualified CPA will also assist you in projecting cash flow and minimizing your tax burden.  
Before you enter into contracts, have a Business Attorney review the language to be sure that the contract works in your favor and that you understand how any agreement will affect your cash flow - remember you are legally bound by these agreements so make certain you know what you're getting into before signing on the dotted line.
Create a strong relationship with a Local Business Banker.  Establish an operating line of credit that can quickly address temporary gaps in cash flow. A knowledgeable banker can also provide a ton of industry knowledge, which can help you to become more competitive in your business. 
Using cash flow templates and tools are a great way to quickly identify your cash flow position and begin making any necessary changes to improve the cash flow of your business. One of the best free tools for figuring cash flow is the following Cash Flow Calculator - check it out. 
Additionally, we offer this Daily Cash Flow Management Template for your consideration. It's simple and works great for projecting cash flow for your personal or business needs.
More Business Management Articles